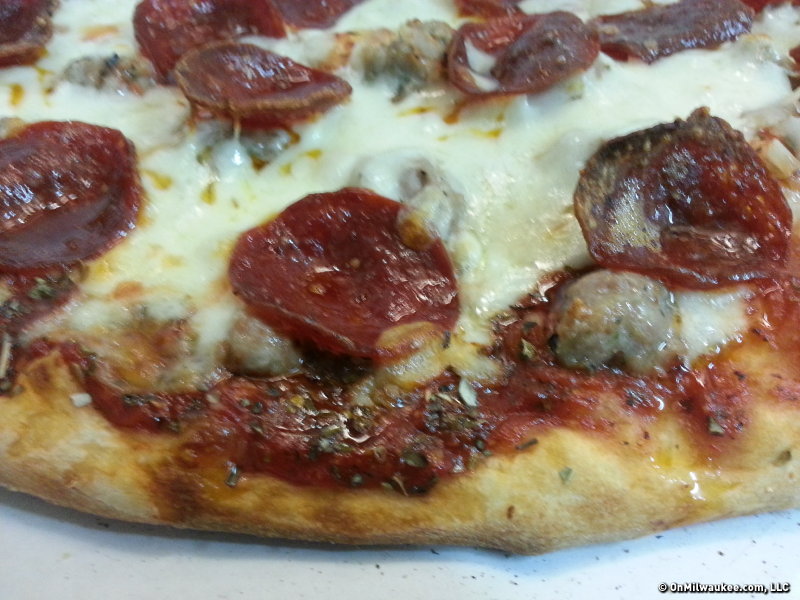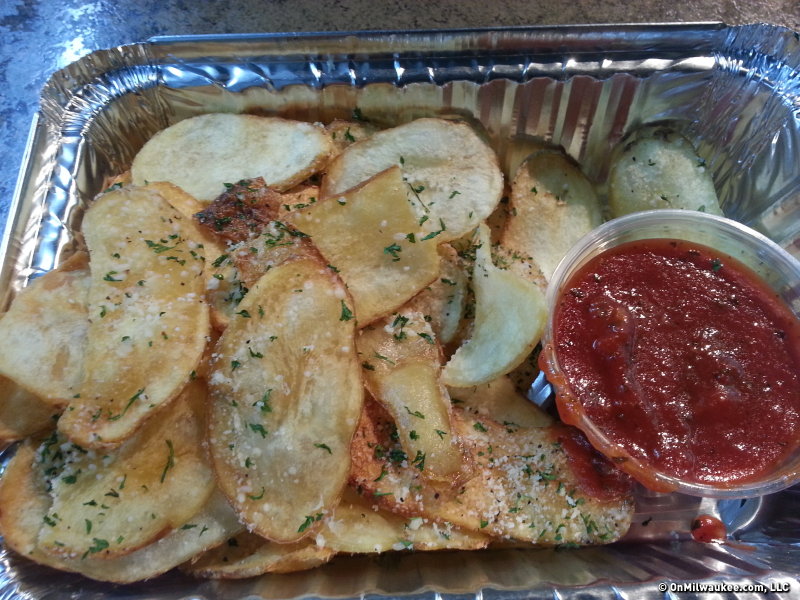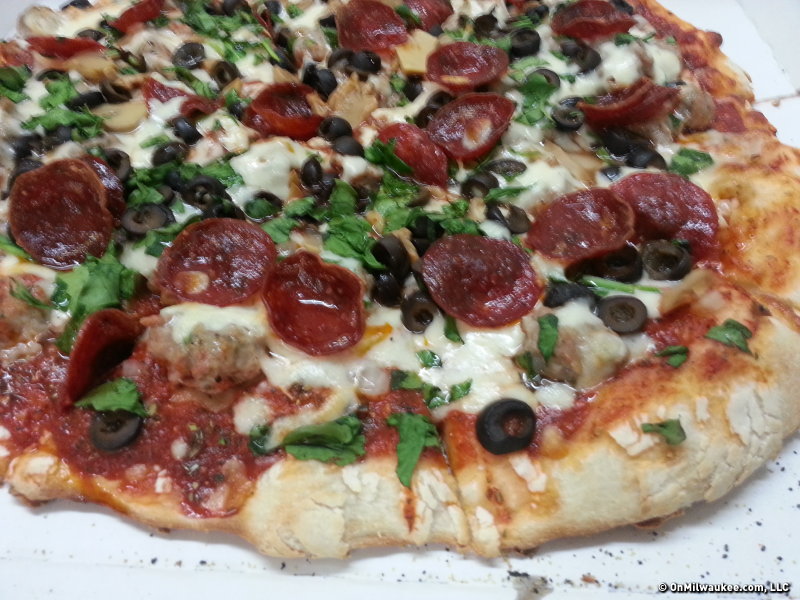 In search of the perfect pizza: Antonio's Pizza
On my many visits to the east side, I've driven past the intersection of Weil and Locust. I've noticed a pizzeria there before, but a few months ago, I noticed a name change.
Antonio "Tony" Balsamo opened Antonio's Pizza, 1000 E. Locust St., around two months ago. He and his family have plenty of experience in the industry. Balsamo started out at his father's pizzeria, Angelo's on 16, which holds a special place in the hearts of Marquette University Alumni. The Balsamos and Albinos operated that business since 1956 and sold it three years ago.
Antonio Balsamo was looking for another opportunity and established Antonio's Pizza in Milwaukee's Riverwest neighborhood.
On my visit, I was greeted outside the door by Balsamo and warmly welcomed in. I had the opportunity to talk with him and then watch him work his craft.
I noticed a couple of things immediately. First, this guy loves to cook. He makes all of the pizzas and has a constant smile on his face while he makes them.
Second, Balsamo may be the best dressed cook you'll find in a kitchen. Wearing a black dress shirt, black dress pants and black shoes, you'd think he was headed for a night out on the town, but this is what he wore to work. The man has style.
Balsamo was very friendly and easy to talk to. He was proud of his family's accomplishments and put his heart into every dish he made. I quietly observed his technique while adding toppings and seasoning, as well as his attention to detail on presentation.
He wanted the pizza to look delicious, as well as taste delicious.
While I waited for my pizzas, he coached one of his staff members on creating the seasoning mixture for one of their appetizers, the Potato Chips Romano, which are homemade potato chips dusted with Italian seasoning and served with a home-made marinara dipping sauce.
I soon found out those chips were being made for those of us in the lobby placing orders and picking them up. I was lucky to be there at the right time. They were quite tasty. The chips were perfectly cooked to obtain a crispy texture without the unattractive brownish, "over-cooked" appearance commonly found with home-made potato chips.
Antonio's menu is simple, which I like. I think some pizzerias overdo it a bit. I'm a big believer in small businesses maintaining low overhead.
Sandwiches feature a Sicilian Steak, meatball, Italian sausage patty, pizzaloaf, and Hot Italian sandwich.
You'll find contributions from Balsamo's ninety-year-old "Nana" with lasagna and meatballs. She still works in the restaurant for an hour or two regularly to make her special meatballs from scratch.
She actually called while I waited in the lobby to ask if Balsamo wanted her to come down and make meatballs. It was pretty warm in the kitchen, and Balsamo didn't want her to work in that hot environment. He asked his staff member to thank her but stated it would not be necessary at that time.
Spaghetti and ravioli dinners with choice of meatball or meat sauce, served with garlic bread or Sicilian bread round out the rest of non-pizza items.
Balsamo's mother contributed Antonio's Stuffed Pizza. If you're a fan of Chicago Style stuffed pizzas, you should definitely give this one a try. The crust is thick, crispy, and strong enough to hold together when you pick it up, even with the weight of tomato chunks, sauce, toppings and two layers of cheese.
Balsamo butters the two-inch deep pan, carefully places the dough, adds more butter to the crust, a layer of Romano and Mozzarella cheese, then toppings, olive oil, and fresh minced garlic, seasoning and another layer of Romano and mozzarella cheese, and then bakes the pie.
Around 20 minutes later, he pulls the pie from the 550-degree oven, looking for the golden brown coloring on the cheese and crust, and then he tops it with their pizza sauce, tomato chunks, oregano and more seasoning. Then the pie goes back into the oven for another ten minutes.
More oregano and special seasoning blend is added to the top of the finished product, and when I took my first bite, I had a "wow" experience.
It's been a while since I had a wow experience while visiting a pizzeria. The combination of Antonio's seasoning blend, the spicy sauce, the fresh minced garlic, and the Italian sausage in the pie all worked together to create a flavor explosion.
The deep dish pizza comes in one size and for $22 you can have as many toppings as you wish.
I'm not big on deep dish pizzas but I thought this one was a winner.
Typically I find deep dish or Chicago style pizzas to have entirely too much butter on the crust, which makes me nauseous.
Other times, I'll order a deep dish pizza and find that it is simply a thick crust pizza, missing a key component to the "deep dish" style, which is the deep dish itself. How do you call your pizza "deep dish" if you aren't cooking it one?
In my opinion, Antonio's Pizza does it right. Someone you may prefer that heavy dose of butter on your deep dish pies, and more power to you. I prefer mine prepared Balsamo's way.
Other Specialty Pizzas include Antonio's Special topped with cheese, sausage, mushroom, and onion and Antonio's thin crust BBQ chicken pizza topped with onions, chicken, roasted red pepper, and Sweet Baby Ray's BBQ sauce.
Vegetarians should enjoy the Veggie Pizza with tomatoes, mushrooms, onion, green peppers, black olives and fresh spinach.
The Super Special includes onions, sausage, pepperoni, black olives, green peppers, mushrooms and anchovies.
Specialty pizzas start at $14 for the 12-inch and $18 for the 16-inch pies.
Build-your-own pizzas start at $10 for a 12-inch cheese pizza and $13 for a 16-inch. Additional toppings start at $1.
Antonio's also offers an eight inch "Bambino" pizza with cheese and two toppings for $8. Additional toppings are $.50 each.
I also ordered Antonio's Special but added pepperoni because I love pepperoni, and it's a key component to my search for the perfect pizza.
The crust was hand-tossed and came out of the oven crispy and slightly chewy. The crust wasn't just crispy around the edges. It was crispy all the way to the center and the triangular slices held the toppings well, unless I tilted the slice downward to let the cheese and topping slide off. How else would I isolate the sauce?
This was one of the best pizza sauces I've tasted. It was spicier than any of the other spicy pizza sauces I've had, but not too spicy where you couldn't enjoy the flavors of the blend of seasoning.
The pepperoni was crispy but mild and missed a bit on flavor. Luckily the sauce and Italian sausage more than made up for it.
The sausage is made with a special recipe for Antonio's Pizza by Glorioso's. Yes, that Glorioso's.
The large chunks of sausage were spicy and delicious, bringing their own flavors to the pizza party. This was very likely the best Italian sausage I've had on a pizza.
The mushrooms come from a can and the onions were diced to tiny pieces. I barely noticed either, but it didn't matter. The crust, sauce and Italian sausage stole the show.
I confirmed the hours for the shop because I'd noticed it closed on a couple of passes, and a staff member explained that had a challenge with getting the perfect fit with staffing and there were also family members who had fallen ill and needed tending by Balsamo.
They expect to be running full throttle within the next month, but in the meantime, call ahead to make sure they're open. I hope you'll enjoy your visit the way I did.
Facebook Comments
Disclaimer: Please note that Facebook comments are posted through Facebook and cannot be approved, edited or declined by OnMilwaukee.com. The opinions expressed in Facebook comments do not necessarily reflect those of OnMilwaukee.com or its staff.