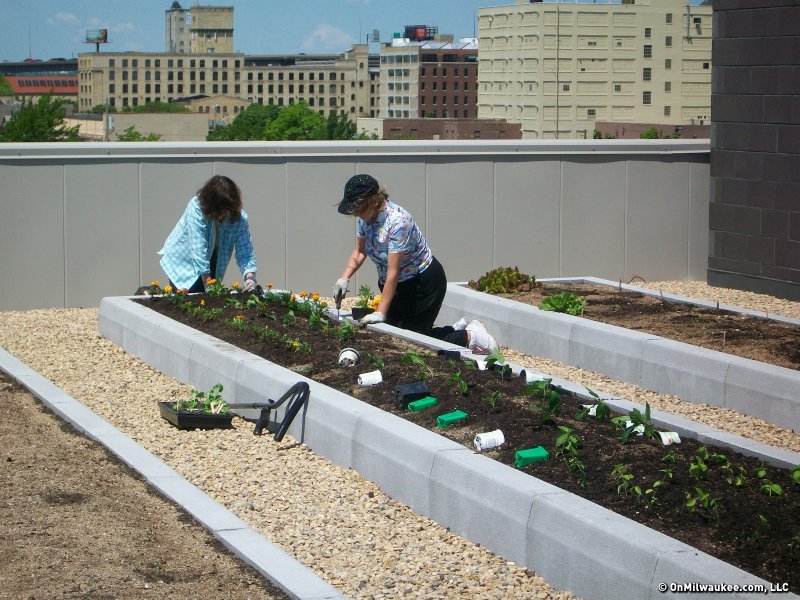 Grazing the Roof: Rooftop farmer's market comes to Walker's Point
Imagine you've just moved to a brand new country. You've left behind a home where you shopped daily at a community market where vendors of all stripes sold farm fresh produce, freshly butchered meats, and plenty of other fresh and prepared foods.
Imagine settling in your new home and finding that, during most months of the year, the only place to find fresh produce and meat was at a supermarket, where most of the produce has been shipped across the country or imported from another country. Envision your disappointment when the mangoes you purchase – which were always ripe, juicy and luscious at home – are firm, green, pithy and flavorless.
Picture your disappointment when, in order to find farm-fresh produce, you have to make multiple stops – one at the farmer's market, another at the supermarket, and maybe another yet at a butcher shop.
This scenario is an everyday occurrence for a variety of immigrant populations in Milwaukee.
Two or three years ago, Core/El Centro, a non-profit organization in Walker's Point which offers natural healing therapies to individuals of all income levels, conducted a nutrition and environment study looking at healthy options in the neighborhood.
The study focused on healthy options available in area grocery stores – which included Pete's Fruit Market, El Rey and Walmart – and the eating habits of area families, many of whom are Mexican immigrants.
"There were sufficient fruits and vegetables available," says Stephanie Calloway, garden and nutrition coordinator. "But people weren't eating enough of them. People cited lack of taste as a factor in the reasons why women in the Mexican community weren't choosing to purchase fresh foods."
Calloway cites a phenomenon called the Latino paradox which stems from the idea that health is wealth.
"In Mexico,"she says, "People live at a lower income level, but they tend to be healthier than their counterparts in the U.S. However, when they move to the U.S. their health gets progressively worse. Some of it is mental health related, or related to racism and other issues. But, the rest is directly related to the U.S. food system."
In American culture, there's a big disconnect for people about where their food comes from. Most children don't know that potatoes grow under the ground, or that pork comes from a pig. But, immigrants from other countries often have a far more intimate connection to their food supply.
"That fed into the desire to build a community food system," Calloway explains. "For our clients coming from South or Central America, it's an important step when we can reconnect them with an element of home."
As part of an overall effort to do so, Core/El Centro has started a weekly farmer's market, held on the rooftop of the Clock Shadow building at 130 W. Bruce St.
The market, which began June 1, will take place every Saturday morning from 11 a.m. to 1:30 p.m. through mid-September. Some fresh fruits and vegetables for the market will come from the Edible Skyline Project, a rooftop garden program utilizing 1,000 square feet of garden beds where produce and fresh herbs are grown in accordance with USDA organic standards. The beds are tended daily by clients, staff, and volunteers of the Clock Shadow building tenants.
But, the space can also accommodate approximately seven vendors, and will be comprised of a motley crew of folks, including those selling produce, meats, eggs, tortillas and prepared foods.
"Part of the barrier to going to other markets is that it's time consuming," Calloway explains. "Our clients can't get everything all in the same place. The market is an effort to give them a better option."
Calloway says that so far she has contracted with The National Café, who will be bringing healthy prepared items like yogurt parfaits to the market, Lorganix, an urban farmer using space in West Allis to practice vertical farming, Mai Yang, a family farm from Brookfield, Torterilla El Sol, a fresh tortilla maker, Rushing Waters, and Pete's Fruit Market.
A rotating selection of artisan crafters will also be present. Meanwhile, Clock Shadow Creamery will be offering a coupon to market goers which can be used downstairs at their shop. Calloway is also working on getting a coffee vendor, as well as someone to bring fresh eggs, chicken or beef.
"We have a holistic view of health at Core/El Centro – it's community health, planet health," Calloway says. "The farmer's market is the epitome of all of those things. Foods are fresh, and there's a greater chance that there are more nutrients in them. A lot of the farmer's we're working with have minimized the pesticides they use. And you're supporting the local economy, which is important."
Calloway also hopes that the market, which sports a gorgeous rooftop view of the Hoan Bridge and lakefront, will be a draw to the larger community.
"Somewhere deep within all of us, we have a farmer inside," Calloway remarks. "It's time to reconnect."
For more information about the Rooftop Farmer's Market and the other wellness programs offered by Core/El Centro, visit their web site at core-elcentro.org. Read more about the Edible Skyline project at edibleskyline.blogspot.com. Vendors interested in participating in the market should contact Stephanie Calloway at stephaniec@core-elcentro.org.
Facebook Comments
Disclaimer: Please note that Facebook comments are posted through Facebook and cannot be approved, edited or declined by OnMilwaukee.com. The opinions expressed in Facebook comments do not necessarily reflect those of OnMilwaukee.com or its staff.