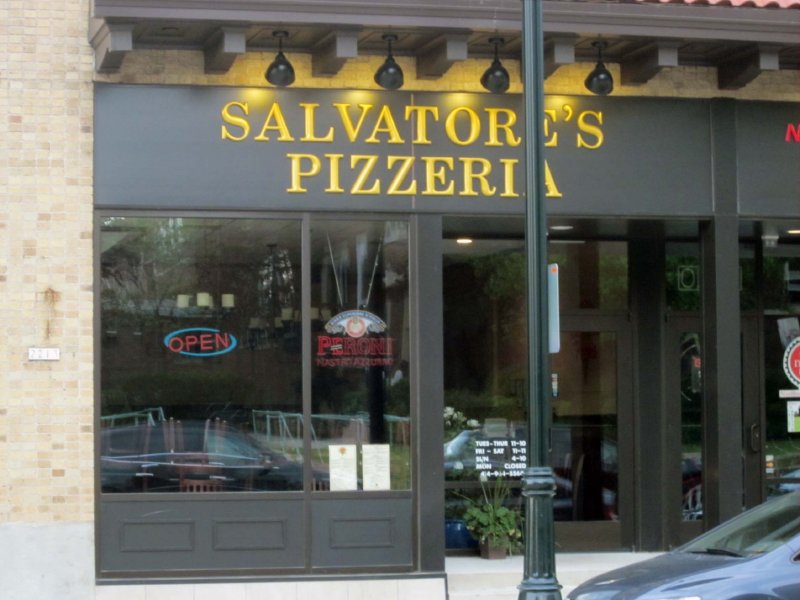 Sciortino's owners bake a different kind of pie
Raising his family in the Brady Street neighborhood, Salvatore Vella would stop into the Peter Sciortino's Bakery to buy the shop's famous Italian bread. As his children grew up, Maria, Joe and Luigi found jobs at the store.
"We all started at a young age. Summer, weekends, whenever we were off school, we were always here," Joe Vella recalled last week.
"We grew up in here. It didn't seem like work."
I was sitting at a table in the shop with Joe and Luigi. Maria was behind the counter.
Peter Sciortino had founded his bakery on the corner of Humboldt and Brady in 1948, and when he decided to retire 15 years ago, he offered to sell the business to the Vella siblings. Although they were in their 20s, they jumped at the opportunity.
The company has flourished, and now the two brothers have added a new venture. Salvatore's Pizzeria opened May 17 at 2213 E. Capitol Dr. in Shorewood.
The restaurant, which seats 30 and also serves a few pasta dishes, is a long-time dream of Joe's. "I have always wanted to have a small pizzeria," he explained.
Asked why he would want to take on the time consuming responsibilities of owning a restaurant when he is also heavily involved in a busy bakery, Joe said, "I don't fish, I don't hunt, these are my hobbies."
The Vellas have tripled Sciortino's wholesale bakery business since buying the company. Their bread and desserts are on sale at Sendik's, Grasch Foods, Glorioso's and some Sentry and Piggly Wiggly stores. Sciortino's also supplies restaurants, including the Italian Community Center and the Bartolotta Restaurant Group.
Inside their own store, the siblings have greatly broadened the variety of the bakery's traditional offerings, adding more Italian cookies, Italian fruit tarts, cassatini, specialty cakes, a Vienna torte, tiramisu, Napoleon squares, seasonal and holiday specialties, and gelato. Everything, including the gelato, is made on the premises.
Unbaked pizza dough, sold in a one-pound ball, is among Sciortino's most popular wholesale items, and that increased Joe Vella's itch to open a pizzeria.
Named after their father, Salvatore's makes 8-, 12- and 16-inch pizzas, starting at $8.95, $10.95 and $12.95. Each topping adds $1, $1.25 and $1.50 to the bill, and they are all traditional. "I'm not into putting pineapple on pizza," Joe said, speaking as a true son of a Sicilian immigrant.
Pasta dishes include spaghetti and meatballs ($9.95), lasagna ($12.95) and pasta primavera ($12.95). The sauces are from family recipes.
Imported and domestic bottled beer is available, and Salvatore's offers four red and four white wines by the glass and bottle.
The restaurant is open for lunch Tuesday through Saturday, and it is closed Mondays. Delivery service is available by calling (414) 964-5560. A website is coming.
Salvatore's is in a space formerly occupied by Gianelli's Pizza. "We renovated it from A to Z," Joe said. "It is a whole new build out."
He likes the location because it is across the street from St. Robert's, where his children go to school. Noting that Sciortino's is across the street from the old St. Hedwig's Church, now called Three Holy Women parish, Joe added, "being across from a church has been good for this business."
Facebook Comments
Disclaimer: Please note that Facebook comments are posted through Facebook and cannot be approved, edited or declined by OnMilwaukee.com. The opinions expressed in Facebook comments do not necessarily reflect those of OnMilwaukee.com or its staff.