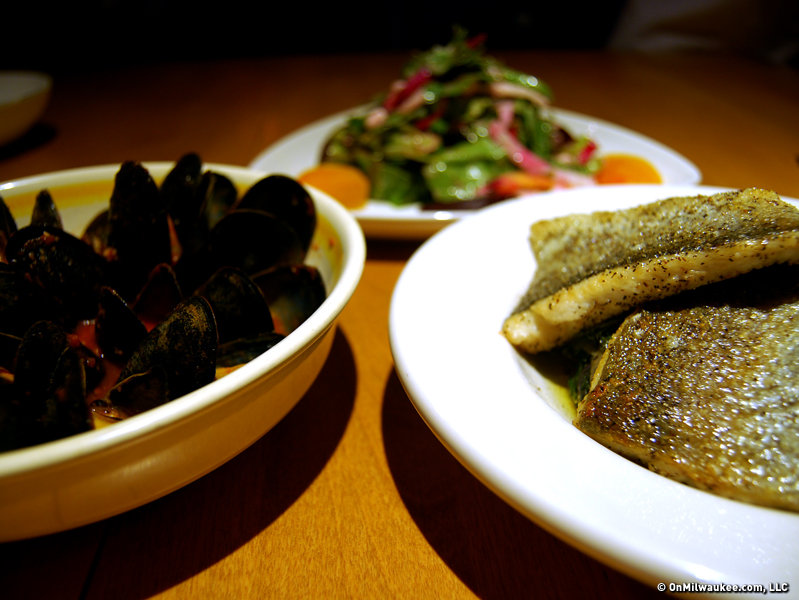 Chefs embrace seasonal foods for fresh fall eating
It's the way a grilled ear of corn tastes on at your Fourth of July cookout. It's that cup of warm apple cider on Thanksgiving. There's a reason we associate certain foods with specific times of the year. It's when they're freshest and in their prime. Ideally, it's the only time they should be eaten.
But that's not how we Americans eat. Thanks to mega supermarkets and huge, commercial food distributors, we're able to enjoy almost any fruit or vegetable during the Wisconsin winter because it's shipped thousands of miles from South America or elsewhere.
The system is not only wasteful and harmful to the environment, but it also rips off consumers in the taste and nutrition departments. Produce is at its peak when it's ripe, which is why more and more restaurant owners and chefs are steering away from the Syscos of the world and turning to providers in their own region for fresh, local, seasonal foods.
It's a national trend and here in Milwaukee, several restaurateurs are beginning to cook seasonally and shape their menus around what Mother Nature giveth. With autumn well under way and winter on the horizon, late-season vegetables like squash and potatoes are appearing in creative ways, and rich cheese and sage brown butters are compiling our comfort foods.
Peter Sandroni, owner and executive chef at La Merenda, 125 E. National Ave., tries to revamp his menu quarterly to reflect the changing seasons. While there are some dishes that are permanent fixtures at the international tapas restaurant -- the sambal goring udang, an Indian shrimp dish with tomatoes, coconut milk, ginger and sambal; tostones, fried plantain chips served with salsa verde and guacamole and the Argentinean style beef, grilled tenderloin marinated in chimichurri sauce served over mashed sweet plantains with crushed walnuts -- the rest of the menu is a carefully planned environmental practice.
Sandroni rolled out an autumnal menu in late October that is ripe with weather-appropriate offerings.
His summery spicy shrimp and pineapple ceviche has been replaced with a scallop ceviche, featuring fish marinated in fresh citrus juices, mixed with red bell peppers, scallions, cilantro and coconut milk. It sounds a tad tropical, but Sandrone points out that the scallions, cilantro and peppers are all locally-sourced.
"We try to buy as much local food as we can," he says. "I just got back from the West Allis Farmers Market with the last of the carnival squash. We did a ravioli last year and it was a big hit so we're doing it again this fall."
The ravioli takes a classic Italian recipe, which mixes squash with nutmeg and Amaretti cookies, and adds Gorgonzola cheese, walnuts and sage brown butter to make a rich and creamy cool weather meal.
La Merenda's winter menu continues in this tradition, boasting items like roasted beet salad -- Sandroni then uses the leftover beet juice to dye his ravioli red; look for it during the holidays -- trout from Rushing Waters farms in Palmyra, and his new favorite dish, lamb briouats: Strauss meat braised in Moroccan spices stuffed in phyllo dough.
La Merenda is a member of Milwaukee's Restaurant Supported Agriculture (RSA), a system started by Braise Culinary School and funded by a "Buy Local, Buy Wisconsin" grant that connects local farmers and restaurants to keep food spending within the state's economy. A significant portion of Sandrone's produce sources from Pinehold Gardens in Oak Creek and other area farms. Page 1 of 2 (view all on one page)
Next >>
rzfeebbesaytrayxyuyafrutreefqwavxf
rzfeebbesaytrayxyuyafrutreefqwavxf
Facebook Comments
Disclaimer: Please note that Facebook comments are posted through Facebook and cannot be approved, edited or declined by OnMilwaukee.com. The opinions expressed in Facebook comments do not necessarily reflect those of OnMilwaukee.com or its staff.