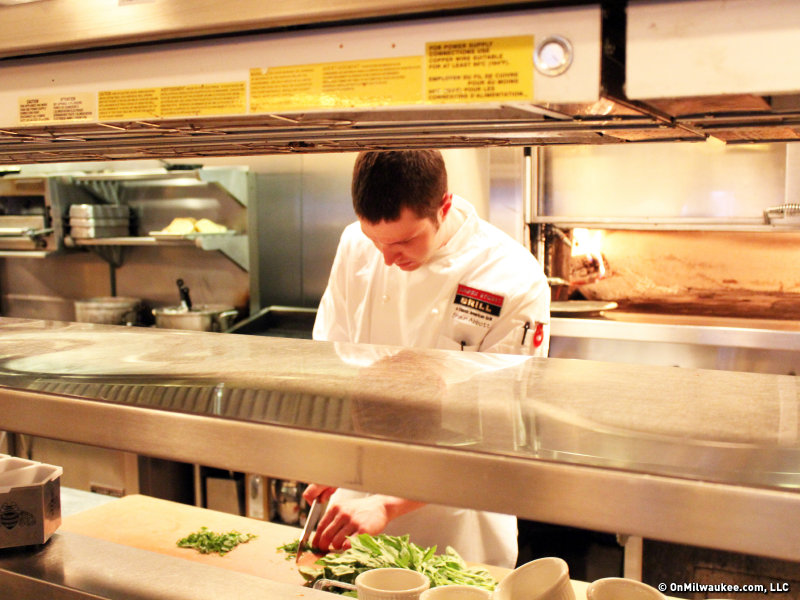 Sous me: Shaun Abbott of Mason Street Grill
Sous chefs may end up in the shadows of their executive counterparts. But, that certainly isn't a sign that they don't deserve credit for the hard work they do. Shaun Abbott, Sous Chef at Mason Street Grill, has more than 17 years' experience in the restaurant and hospitality industry.
Born and raised in Georgia, Abbott started experimenting with food at a very young age. His professional culinary journey began when he worked as a line cook at Seven Sisters restaurant, a destination specializing in fine, Southern cuisine. For the next 10 years, Abbott honed his skills in Georgia kitchens focusing on fine dining and high end seafood, handpicked from the South Carolina fishing boats.
In 2008, Chef Abbott joined the team at Mason Street Grill at The Pfister Hotel in Milwaukee. Working alongside Executive Chef Mark Weber, Abbott creates innovative and seasonal menus, focusing on the freshest, highest quality ingredients available.
But what makes Abbott click? We took the time to ask him about his current job at Mason Street Grill – what he loves, what he doesn't – how he feels about the sous chef role, and where he thinks his aspirations will take him in the future.
OnMilwaukee.com: What made you choose food as your career?
Shaun Abbott: There are a few factors that influenced my choice, the first being that I grew up in the restaurant environment. When I was a child, my mother was a chef with her own catering business and my father owned a few restaurant/bars throughout the New Jersey and New York area.
The second reason is my passion for good food. I have always been curious about how dishes were cooked, or what gave things the taste that I enjoyed. I love the whole art and science side of cooking.
OMC: What do you wish you had known when you took your first sous chef position?
SA: I would have to say more knowledge in general. I know that's a broad statement, but a broader knowledge of various foods, along with the knowledge of what exactly my chef would prefer or expect from me. This pertains to the team of individuals I would be leading as well – what are the right choices to make when leading a culinary staff. I guess no matter how much you know, one will always encounter situations that are new or become learning experiences.
OMC: From your point of view, what's the most important role a sous chef plays?
SA: Being a team leader. A sous chef almost binds the back of the house together – or sometimes it may just feel that way. The sous chef often becomes the communication between the employees on the team and the executive chef or other upper management. Additionally in troubled moments, the sous chef is normally the one that has to take control and guide the team out of the mayhem and back into the clear without hesitation.
OMC: What's the most challenging part of your job?
SA: I would have to say the most challenging part of my job is learning my guests and their personal preferences or expectations. Every table of guests varies from the next. People come to high end restaurants because they enjoy exceptional food with exceptional service. As the sous chef, it is my responsibility to do my best to ensure that each person receives both of these.
OMC: What's the best part?
SA: The best part of my job is leading my team to great achievements. The satisfaction of my guests along with the satisfaction of my team gives me a great amount of self-satisfaction. At the end of the day, it makes me enjoy my job and want to come back and do it all again tomorrow.
OMC: What have you learned most about yourself while working in the kitchen?
SA: I've learned that humility pays. Many say that humility comes before honor, and I have found that this is true.
OMC: Of the chefs you've worked for, from whom did you learn the most? Why?
SA: Well I do have to give each and every chef that I have worked with credit for teaching me something. I believe that I have taken some sort of knowledge away from every job. I do have to say that Mark Weber has taught me a great deal in the five years that I have been working with him. He takes the time to teach his insight and knowledge of almost everything that we work on together, and this means a great deal.
OMC: How would you describe your cooking style or philosophy about food?
SA: I am a strong believer that the more senses I can stimulate positively with a dish the more the person eating it will enjoy it. People devour food with more than just their mouths. It's an art that all the senses can enjoy unlike painting that only stimulates the eyes or music that only stimulates the ears. In one good dish you can set off the senses of smell, touch, hearing, sight and taste.
OMC: What's the one thing you wish people knew about sous chefs?
SA: I would say that sous chefs work more hours in an average year than people in any other career field. The job calls for a lot of time to be given. It sometimes can be a lot to handle. Being a sous chef takes much dedication to your job, but it's a choice that we make to hopefully move forward one day.
OMC: Where do you envision yourself five, ten years from now?
SA: Within the next five years, I would like to see myself in an executive chef position, if I am not still where I am at today. Within 10 years, I would possibly like to own my own establishment or food service company. I would like to get into the food supply side of the business such as organic produce farming or even owning a commercial fishing company.
OMC: If you could call the shots on the menu, what would you cook?
SA: If I had my own restaurant, I would focus on the foods of the region. Depending on where in the U.S. my restaurant would be located, I would design my menus to work with the best of what's around. Each region of the U.S. has its own local staples, and I think that it's best to exploit those things in new and creative ways that will leave everlasting memories or impacts on the people that chose to enjoy them.
Facebook Comments
Disclaimer: Please note that Facebook comments are posted through Facebook and cannot be approved, edited or declined by OnMilwaukee.com. The opinions expressed in Facebook comments do not necessarily reflect those of OnMilwaukee.com or its staff.