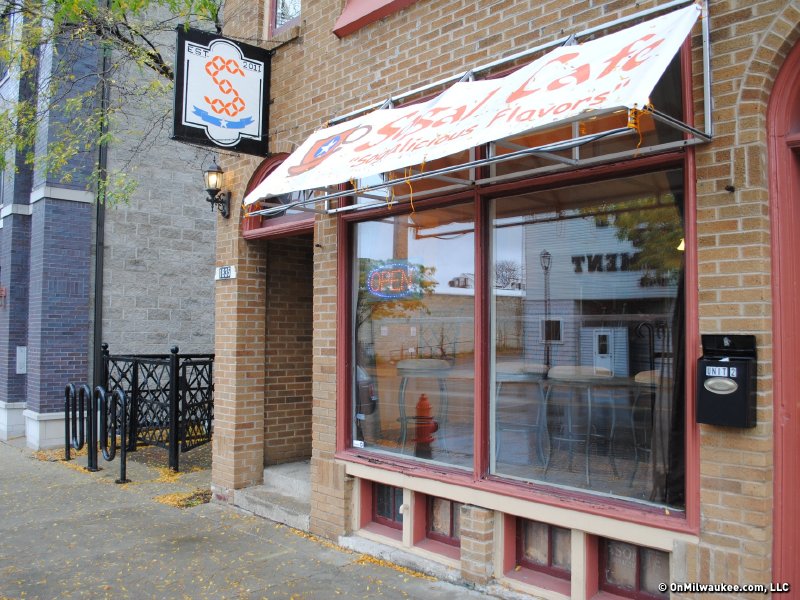 Sogal Cafe aims to be "sogalicious"
For the fifth straight year, October is Dining Month on OnMilwaukee.com, presented by Concordia University. All month, we're stuffed with restaurant reviews, delectable features, chef profiles and unique articles on everything food, as well as the winners of our "Best of Dining 2011."
"How do you feel about goat meat?" asks Aziz Ahmed, owner of the Sogal Cafe, 1835 N. Martin Luther King Dr. The recently opened cafe offers specialty African food and unique tasting American food, in addition to coffee, espresso, tea and smoothies.
Goat is a staple Somali food. "In Somalia, if you respect your guests, you prepare goat for them. I want to bring that tradition over here and introduce it to my American friends," says Ahmed.
This is only one reason Ahmed started Sogal, which means "come in" in Somali. The cafe offers new perspectives on many American beef and vegetarian dishes, including an interesting line of wraps with names like "cow on the carpet" and "two turkeys talkin'."
Another reason is the growing African community in Milwaukee, which Ahmed says numbers over 100 families now.
After months of planning, Sogal Cafe opened on Saturday, Oct. 8. Ahmed has been very pleased with how things have developed in the short time since.
"I am happy. So far, we've received a lot of support from the African community as well as from the neighborhood," says Ahmed, who is already a business owner, having opened the Sogal Market, 1745 N. Martin Luther King Dr., four years ago.
Customers at the convenience store told Ahmed they wanted more food options in the neighborhood. Ahmed also realized that there weren't any restaurants near his store -- you either had to go Downtown or to the Subway on North Avenue to get something to eat. Listening to his customers and residents in the neighborhood, Ahmed heard that the community wanted something different from what the average cafe offers, and the idea for Sogal formed around Somali cuisine.
Sogal Cafe has a small but comfortable seating area on the floor, two high-backed padded chairs in a nook perfect for reading the paper and sipping one's morning coffee, a counter with stools on an elevated platform that looks out onto the street and outdoor seating on a pleasant, shaded patio that's tucked between Sogal and the building to its south.
Ahmed developed the menu over a two-month period with a friend who Ahmed says has "in-depth knowledge of the food industry." They refined several Somali dishes, such as goat and potatoes and a goat and pepper soup, and created new versions of other soups, paninis, wraps and salads.
Sogal offers a couscous salad, tossed with dried cranberries, celery and spices and one called "a stroll in the garden," which is spinach, arugula and romaine, mixed with basil, cilantro, cucumbers and tomatoes.
Sogal's sambusa, a version of the triangular pastry that's served across Africa and Asia, can be stuffed with either beef or spinach and chickpeas. The Somali rice rounds out the African options on the menu, along with the sweet potatoes, seasoned with cardamom and other spices.
More traditional approaches to the wraps, like the mozzarella fresca (with pesto, basil and tomatoes) are joined by the "cow on the carpet" and "two turkeys talkin'." The dressings on these two meat-lovers specialties will make the roast beef and smoked turkey pop.
Sogal has a changing soup of the day, served with Basmati rice, and a beef stew and peanut soup, which are menu staples. The peanut soup has a chicken stock base and is made with tomatoes, carrots, red bell peppers, sweet potato and a creamy peanut butter, which Ahmed experimented with.
This author, being more a "non-meat eater" than a vegetarian, was tempted by the goat but ultimately had to pass. But the chicken stock base in the peanut soup didn't bother me and upon trying it I found its spiciness to be a real treat. The soup is thick, not stew-like, but certainly richer and creamier than most peanut soups, which often seem watered down.
Add the collard greens and grilled vegetable sandwich of marinated eggplant and zucchini on sourdough bread, and I had an excellent sampling of what Sogal has to offer: well-done cafe food that's appropriately spiced to allow all the flavors of the ingredients to come out.
Most menu items are priced between $5 and $7, the paninis and wraps are all $6 or $7. The most expensive menu item is the $10 meal of Somali rice, seasoned goat meat, drink and a banana.
"But it's worth it," Ahmed says.
Sogal offers Kenyan and Ethiopian coffees, espresso, Somali teas and specialty drinks such as the Madagascar vanilla milkshake and the Belgian chocolate shake. Sogal uses Belgian chocolate in its cafe mocha as well.
Ahmed, who lives near 60th Street and Brown Deer with his two kids, is a single dad. Ahmed came to the United States as a war refugee on Sept. 26, 2001.
"My port of entry was New York and later that same day I flew to Milwaukee. I was not conscious of the terrorist attacks, about what was going on in the U.S. I came looking for work, for the opportunities and to be safe," Ahmed says.
Ahmed could tell there was "a mood" in the nation, after the fact, but he plowed forward for himself and his family, his daughter was five years old and his son was just three when they arrived. He worked five years in a clinic handling medical records and customer service before opening the Sogal Market in January 2008.
"To be honest, I haven't experienced prejudice in Milwaukee. People helped me find a job. There was a good atmosphere here, better than the circumstances of being in a war-torn country," he says.
Now 15, Ahmed's daughter is doing well at Ronald Reagan College Prep and his son attends Golda Meir School, just down the street from dad's businesses.
The cafe currently has two employees. Ahmed has a chalkboard below the television display that lists what's playing: ESPN for soccer and, currently, CNN. Ahmed plans to to have Al Jazeera English soon.
Ahmed's immediate goal is "to serve the local residents and the African community." He envisions Sogal as being an African and community meeting place and plans to have live African performances on the elevated platform, where the stools can come off and make a nice stage.
Sogal Cafe's tagline, "Sogalicious flavors," comes from Ahmed hearing the early comments on the cafe's recipes: "so delicious."
"You take, 'so delicious' and, playing with the words, I kept hearing 'so-del-icious, so-gal-icious,'" Ahmed says, with a laugh.
Facebook Comments
Disclaimer: Please note that Facebook comments are posted through Facebook and cannot be approved, edited or declined by OnMilwaukee.com. The opinions expressed in Facebook comments do not necessarily reflect those of OnMilwaukee.com or its staff.