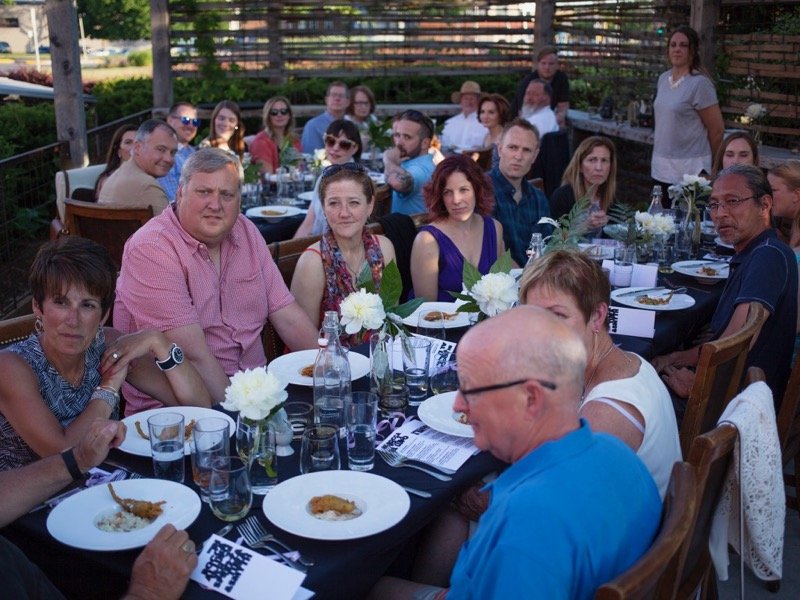 Sept. 24 Sprezzatura pop-up will capture the flavors of ancient Rome
The folks behind the Italian-inspired pop-up, Sprezzatura, are hosting another themed event later this month. This time, the themed dinner will feature an expanded cast of characters in collaboration for a cause.
The dinner will take place on Sunday, Sept. 24 at 6:30 p.m. at Amilinda, 315 E. Wisconsin Ave., and it will harness the talents of Sprezzatura's chef Erik Hansen, bartender Jordan Burich and designer Caressa Givens, along with chef Gregory Leon of Amilinda, Lisa Kirkpatrick of Goodkind, Theresa Schuenke of Hello Falafel, Nathan Heck of Phoenix Cocktail Club and Thi Cao of Buckley's.
Guests will be treated to five unique courses, which conjure the ingredients and flavors of the Mediterranean provinces of ancient Rome in the context of creative contemporary dishes.
Each chef will represent a particular ancient Roman province: Hispania/Lusitania (Leon), Italia (Hansen), Judea/Syria (Schuenke), Aegyptus/Cyrene (Cao), Illyricum/Macedonia (Heck) and Gaul (Kirkpatrick).
And the cause?
According to Burich, proceeds from the event will go to support Malta-based organization MOAS (Migrant Offshore Aid Station), a flotilla of non-profit rescue ships that provide food, life vests, medicine, and safe passage to Europe for Syrian and North African refugees who are crossing the Mediterranean and Aegean Seas.
The dinner, he says, has multiple purposes. The first is an exercise in both context and creativity.
"As someone who studied ancient Mediterranean archaeology," notes Burich, "I'm really excited to be able to look back in time and see us cook contextually—restricting ourselves somewhat, by going 'ancient Roman' will allow us to tease out more creative approaches. We tend to think that creativity and collaboration go hand-n-hand."
But, it's also about making a statement.
"We've got a really talented group of chefs working together on this dinner," notes Givens. "There are some seasoned veterans and some up-and-coming talents, so that's really cool. We were also initially struck with Chef Leon's bold stance on sanctuary restaurants. It really spoke to our sense of social justice and equality.
"We decided that this dinner should evoke that, and the refugee crisis in the Mediterranean is something that we feel strongly about. This is an opportunity for us to use our talents for positive change."
The cost for the dinner, which includes five courses, dessert and complimentary wine pairings is $85 per person. For more information and to purchase tickets, click here.
fcevxbawdebeedtfaezwcaxqsbfyrfzr
Facebook Comments
Disclaimer: Please note that Facebook comments are posted through Facebook and cannot be approved, edited or declined by OnMilwaukee.com. The opinions expressed in Facebook comments do not necessarily reflect those of OnMilwaukee.com or its staff.