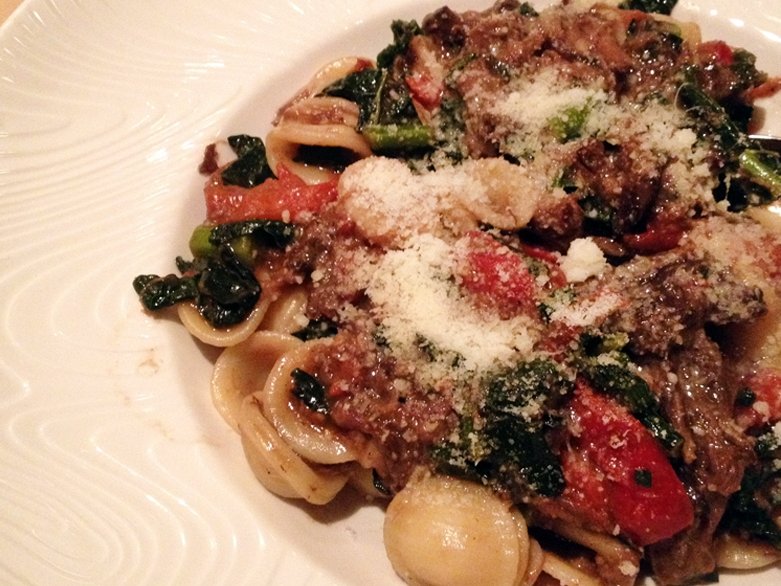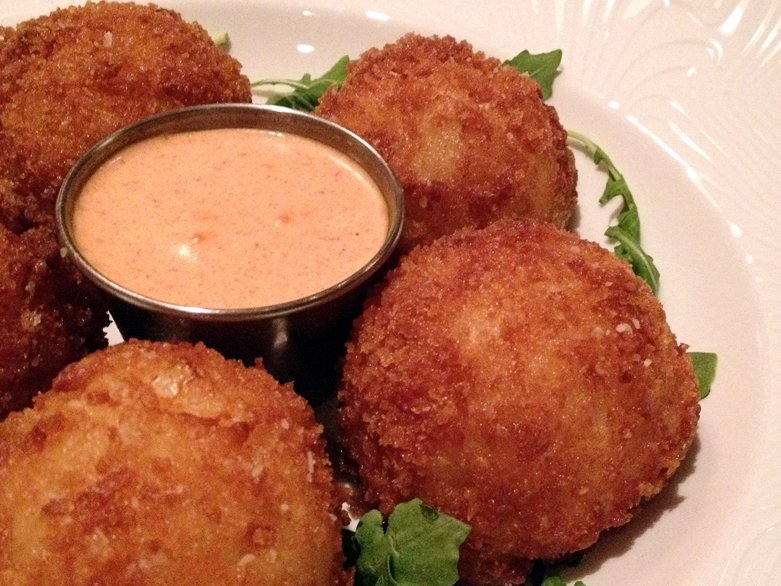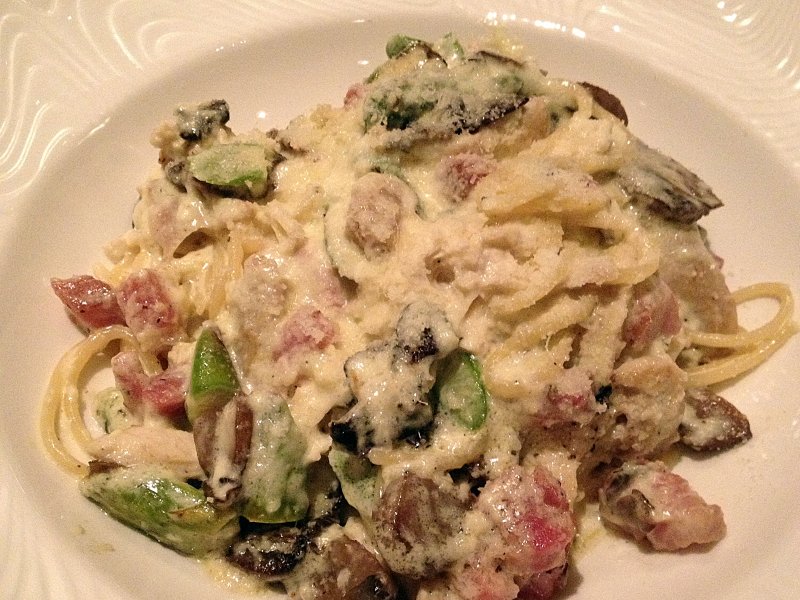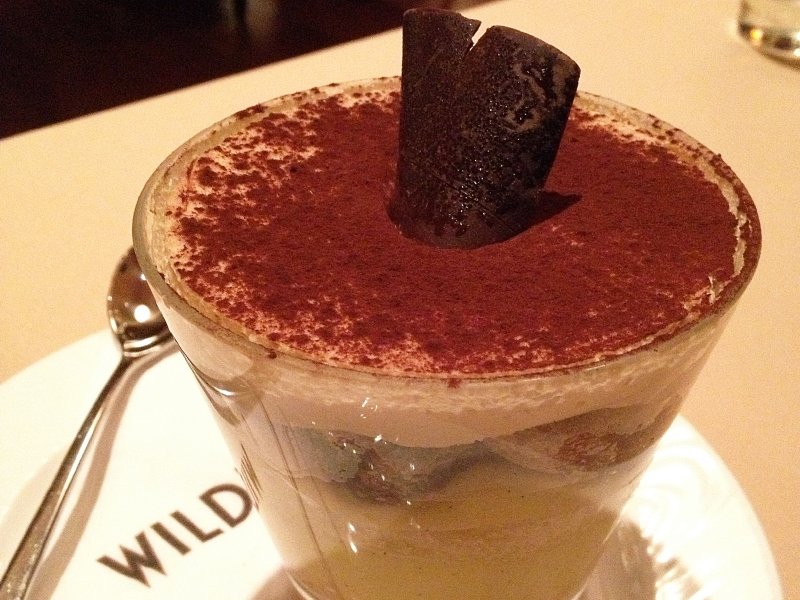 Table for two: Wild Earth Cucina Italiana
SAVANAH: So this week we ventured to the Menomonee Valley to dine at Wild Earth Cucina Italiana, an authentic Italian restaurant located on the second floor of Potawatomi Bingo Casino. I have to say that the name of this establishment threw me off at first. To me, the term "Wild Earth" doesn't really conjure up the idea of Italian cuisine. Either way, the restaurant did supply what it promised: an approachable menu with a variety of local ingredients.
EVAN: Yeah, the name definitely reads more "organic health food store" than "traditional Italian restaurant." But I've never had to walk through a smoky casino to get to a health food store. I spent all of three minutes on the casino floor and could smell the smoke on me when I got home. Even the smoke-free second floor wasn't immune. I don't know how we ever used to live like that. Suffice it to say, it was not a promising start.
You mention the local ingredients, and I definitely appreciated the list of local sources they included for all their food. And, I agree, the menu – modest as it is in size – was full of appealing options; everything from salads and flatbreads to pastas and entrees. The pear and prosciutto flatbread with Gorgonzola, dried cherries, spinach and a balsamic glaze was one item in particular that caught my eye. But, I hate to say it, I left underwhelmed.
What did you think?
SAVANAH: I feel as though this restaurant is experiencing a bit of an identity crisis. As we already discussed, the name really doesn't relate to the type of food they serve. I also felt that the reasonable prices didn't seem to match the almost overly fancy decor. Once I got there and stepped inside, I felt as though I was under-dressed. After seeing the other patrons, however, I realized that jeans and a T-shirt were the norm. I suppose I can't take too many points off for this, though; people usually don't dress up to go to a casino (especially on a weeknight).
I did appreciate the variety of items on the menu. Hearing that Wild Earth was an Italian eatery, I expected to encounter the usual pasta options with garlic bread. I was pleasantly surprised when I saw how much more they had to offer.
What did you end up ordering?
EVAN: Yeah, at the end of the day it's a restaurant in a casino. It is what it is – it caters to a specific clientele, and there are certain things about that fact that some people simply won't enjoy. It'd be like if we were reviewing a strip club and complained about the dark lighting and coming home covered in glitter. It comes with the territory, and people should be prepared for that going in.
Now to the food. As I said, there were many things on the menu that piqued my interest. But since it was only me and my wife, we were somewhat limited. To start, we ordered the Italian sausage sliders, which were probably the highlight of the meal. Two to an order (I could have easily eaten half a dozen and went home perfectly happy), the little sausage patties were topped with fresh mozzarella and pickled red onions. To me the onions were key – they offered just a snap of acid to balance out the richness of the sausage and cheese. There was also a side of house-made tomato sauce, which had a sweetness to it that I enjoyed. My wife also ordered the minestrone soup. I honestly don't think I've ever had minestrone soup before. I thought it was fine; my wife thought it was very good.
SAVANAH: The arancini, the appetizer that we selected, was my favorite part of the meal, as well. This dish consisted of five parmesan and fontina risotto fritters with a sweet pepper sauce on the side. The generous portion, along with the attractive presentation, got me excited right away (I was pretty hungry). The creamy texture of the risotto contrasted perfectly with the crunch of the fried batter, and the sweet pepper aioli gave it all a sharp kick.
As for the main course, my boyfriend ordered the ragu napoletano, slow-braised beef in red wine, garlic and seasonal vegetables served over orecchiette pasta. I selected the chicken carbonara (chicken with asparagus, mushrooms and pancetta served with spaghetti in parmesan cream sauce). Both were pleasant, although the ragu napoletano may have won by a hair. The taste was unique, and the beef was so tender it almost fell off the fork.
EVAN: I also ordered the ragu napoletano. "Pleasant" seems fitting. You're right, the beef was amazingly tender and the vegetables were all fresh and bright – especially the Swiss chard. But, overall, I felt it was lacking in depth of flavor. It was just sort of "eh." The same goes for the spaghetti and meatballs my wife ordered. The sauce was good (the same that came on the side of slider appetizer) but the meatball fell flat. Everything could have used a (not-so) healthy dose of salt and perhaps some other herbage. Also – and this is almost certainly a matter of preference – the meatball was off-puttingly fluffy. Not mushy, mind you, but far too light and airy for my liking. Almost like a matzo ball.
This sort of brings me to a bigger issue with Italian food. Don't get me wrong – I love Italian food as much as the next guy. But with the exception of pizza, I rarely ever go out for it. I feel like what makes Italian food so great – its simplicity and adherence to superior ingredients – also makes it probably the easiest cuisine to re-create at home. I can whip up a half-decent meatball in about 10 minutes. Or, better yet, I can pick up half a dozen great meatballs and some sauce from Glorioso's for a few bucks and pretend I made them. So why go out and pay $13 for it?
SAVANAH: I agree with that. I think part of the reason I enjoyed the beef dish more was because it was something new for me, and I couldn't see myself making it at home. When I think Italian restaurant, I definitely think pizza. And after visiting Wild Earth, I see that that's fairly close-minded of me.
Did you two go with any dessert? We decided on the zuppa misu, which consisted of caramel sauce, vanilla pastry cream, sponge cake, ladyfingers and coffee mousse. As with the main dishes, it was delicious, but nothing to write home about. All of the ingredients came layered in a glass dish, and the flavors sort of all mixed together. For example, I don't remember tasting any coffee notes from the mousse.
EVAN: Yeah, we also went with the zuppa misu (which, according to Google, isn't a thing). I assume it has some relation to tiramisu, since it's basically just that without the liquor. Vanilla pastry cream. Sponge cake. Coffee mouse. Caramel sauce. You couldn't get a dessert that's more perfect for me. But, again, it fell flat flavor-wise. It was rich and decadent, but sort of one-note. And, yeah, I definitely didn't taste any coffee.
I don't think either of us went to Wild Earth with high expectations, but it seems they were more or less met. Ultimately, I think the place is fine. Our server was attentive and friendly and the space is warm and comfortable. It gets major points for some inventive menu offerings (the sautéed duck with Lambrusco-fig reduction was another item I wish I could have tried) but ultimately the food failed to deliver on the promise of the descriptions. And that's a real shame.
Talkbacks
rkerhin | Dec. 14, 2012 at 10:40 a.m. (report)
Agreed, it seems a little strange that an adult who chooses to review restaurants has never tasted minestrone. Especially one who can "whip up a meatball in 10 minutes". That being said, I wouldn't eat at any restaurant attached to a casino, I prefer to abstain from giving them my money.
bayviewguy80 | Dec. 12, 2012 at 5:10 p.m. (report)
The writers in these "reviews" are obviously not qualified to be reviewing restaurants. Pizza is your view of Italian cuisine? And to think that you can whip up Italian food at home very easily, I'd like to see you whip up Osso bucco or make fresh pasta easily. OMC really needs to revamp this whole idea with people that actually know food atleast to some extent.
feelinfine | Dec. 10, 2012 at 2:31 p.m. (report)
A food critic that has never had minestrone soup? Another food critic who the FIRST thing that pops into their head when they think Italian Restaurant is pizza? That's kind of like saying when someone thinks of a French Restaurant, they think of french fries or french toast. Ugh. I'm not a food snob (ok maybe a little), but couldn't OM get a better twosome than this? Reading these articles is kind of like rubber necking a car accident. You don't want to look...but for some morbid reason you do.
Facebook Comments
Disclaimer: Please note that Facebook comments are posted through Facebook and cannot be approved, edited or declined by OnMilwaukee.com. The opinions expressed in Facebook comments do not necessarily reflect those of OnMilwaukee.com or its staff.