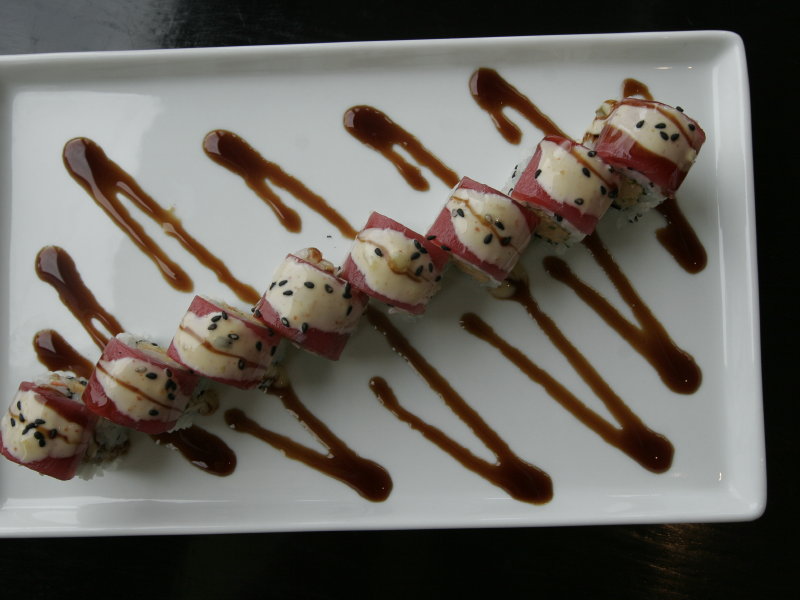 Thai-Namite looks south for its inspiration
It may be painful to acknowledge, but Milwaukee dining culture owes some of its richness and diversity to the big city to the south.
We enjoy Chicago dogs, Chicago-style pizza and Italian beef sandwiches, which were invented in Chicago.
The owners of Thai-Namite, a Thai bistro and sushi bar that debuted on Brady Street last summer, tell us theirs is a Chicago-style Thai restaurant. And what would that be?
Combining a sushi bar with authentic Thai cooking under one roof is a Windy City trend that hadn't arrived in Milwaukee until Thai-Namite opened, according to Kim Kongsin, who owns the business with Nini Buranabunyut and Dear Panyasopa. Kongsin emphasizes that Thai-Namite is not an Asian fusion restaurant. Its Thai offerings are straight from her native country.
Chicago represents a slightly different culinary style, too. "From my perspective, Chicago Thai restaurants cook with less sauce. Here the stir fry is more soupy," Kongsin says.
She should know. Kongsin learned the business working as a server in a Chicago Thai eatery.
Milwaukeeans who like their Thai dishes "soupy" need not worry when they visit Thai-Namite. Extra sauce is available.
The three owners are friends. Panyasopa's mother, who runs the Thai-Namite kitchen, has been a chef in Thailand and the U.S., and with Kongsin's restaurant experience, they decided to go into business together.
Scouting the East Side for a location, they settled on a vacant storefront on the corner of Brady and Astor. While a general contractor handled the plumbing and electrical improvements necessary for a restaurant, the partners and their friends made the interior design a DIY project.
They chose the eatery's look and painted the walls. They built the six-seat sushi bar and all of the tables. The restaurant seats 58 and expands onto a small patio and the sidewalk in the summer.
Thai-Namite's owners are young and they wanted the bistro to reflect the East Side, so the decor is not traditional Thai. "Modern and cozy was our goal," Kongsin says.
Understated Asian accents are evident in the dining room, which is painted gold and several shades of green. The space has a fresh, chic look.
The kitchen produces Thai mainstays as well as some unusual items. Pad Thai ($10) is served wrapped in thin pan-fried eggs, which is more authentic than the typical plate pile presentation seen in Milwaukee restaurants.
Thai-Namite offers its signature curry ($12), featuring Mussaman sauce, with the unleavened Indian bread, roti, rather than rice.
Kongsin says she discovered the joys of roti back home in Thailand. "It is especially good with our rich curry," she adds.
Red, green, yellow and panang curries ($10) are also on the menu. They are served with jasmine rice.
Andaman Karee ($15) is squid, shrimp, sea scallops, bell peppers and onions stir fried with a karee curry sauce. Other specialties include a deep fried red snapper fillet ($14) topped with sauteed vegetables and a choice of sweet chili or prik khing sauce, and a grilled salmon steak ($14) marinated in Thai spices and served with steamed vegetables and a house mango curry sauce.
The varied sushi menu ranges from vegetarian maki ($4-$7) to the exotic -- the Thai-Namite maki ($14) consists of octupus, cilantro, jalapeno, crab stick topped with shrimp and Thai-namite sauce.
Thai-Namite serves beer, wine and saki. Food delivery is available on orders of at least $20.
fbyrwrxfddxuzfqfwac
Facebook Comments
Disclaimer: Please note that Facebook comments are posted through Facebook and cannot be approved, edited or declined by OnMilwaukee.com. The opinions expressed in Facebook comments do not necessarily reflect those of OnMilwaukee.com or its staff.