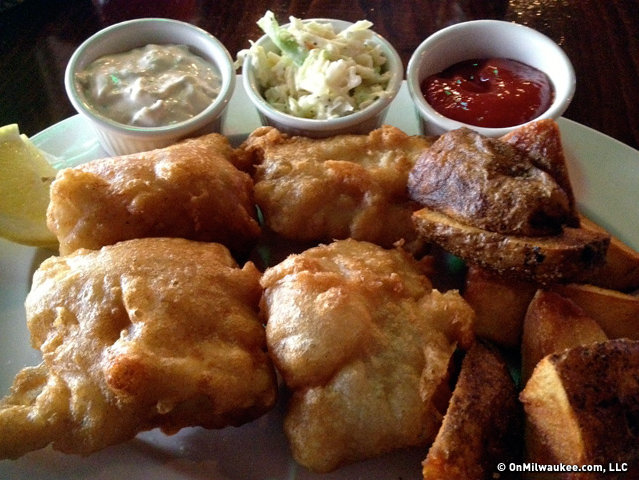 Finding fish - and more - at The Eatery on Farwell
The kitchen at The Eatery on Farwell, 2014 N. Farwell Ave., has such long hours that it can really boast something for almost everyone, and at almost any time of day.
The restaurant opens at 8 a.m. weekdays (9 a.m. weekends) and serves breakfast, lunch and dinner. The kitchen's open until 1 a.m.
While not everything is available all day at The Eatery – which has a nice raised patio out front that's covered in the cool weather – there is some opportunity to delay – or get in early – for one's meal. Breakfast, for example, is available until 3 p.m. And the dinner menu is also available at lunch.
I stopped in on a Friday, of course, so I could try the fish fry ($10.95) and I was pleasantly surprised by what must certainly be one of the better batter fries on the East Side.
The plate comes packed with fish – four big pieces of cod – in a batter that has a nice peppery finish. For a battered fish fry, The Eatery's example is also on the less-greasy side, which is always a plus.
Arranged across the top of the plate are three dipping bowls with ketchup for the fries (you can choose fries, steak fries or a baked potato), a pickle-y tasting tartar sauce (I liked it, but I like pickles) and a really creamy, sweet, almost milky-tasting coleslaw.
My only, ahem, beef with the fry was that the super thick-cut steak fries were a little underdone, making them a bit hard. Next time, I'd likely opt for the garden-variety french fries.
When I stopped in at about noon, there was a bit of a short-lived dip and the restaurant and bar was pretty quiet. But owner Ryan Oschmann assured me that when a restaurant is open from 8 a.m. until 1 a.m., there are always highs and lows.
And he was right.
By the time I finished and walked back out into the damp afternoon, The Eatery was doing a brisk lunch business.
Talkbacks
CoolerKing | Nov. 14, 2012 at 7:43 a.m. (report)
This is great to know. After all of the failed restaurants that have been in that building over the last twenty five years I was convinced the place was cursed.
Facebook Comments
Disclaimer: Please note that Facebook comments are posted through Facebook and cannot be approved, edited or declined by OnMilwaukee.com. The opinions expressed in Facebook comments do not necessarily reflect those of OnMilwaukee.com or its staff.