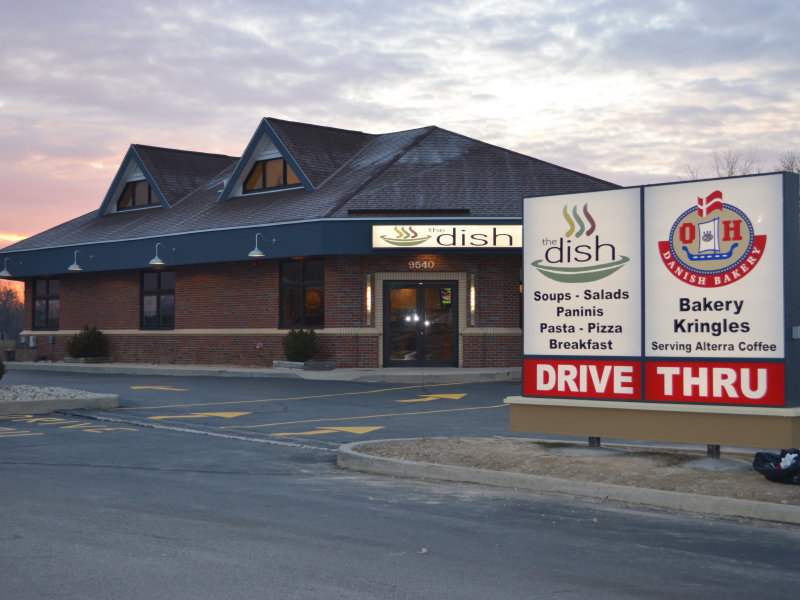 Drive-thru pasta in under four minutes
Several restaurateurs may be cooking up a new dining concept in the Milwaukee suburbs – quickly prepared Italian dishes that don't taste like fast food. Orders are placed at a counter and eaten at tables or carried out.
Portabella Bakery & Cafe officially opened in the fall in New Berlin after spending the summer gradually morphing from being an Atlanta Bread Co. franchise. It has a full bakery operation, and the owners are looking to expand to other locations.
The Dish opened in Oak Creek last month with an even greater commitment to speed. A customer can place an order for a pasta entree at a drive-thru window and have it handed to him in less than four minutes. Pizzas, available in three sizes, are delivered to a car in 12 minutes.
The restaurant also has an attractive dining room, with modern art on the walls and a soaring cathedral ceiling, that seats about 35. The first O&H Danish Bakery location outside of Racine County shares the space. O&H is legendary among kringle connoisseurs.
Breakfast, lunch and dinner are served at The Dish, which opens at 6 a.m. on weekdays and 7 a.m. on weekends. A full range of breakfast items and platters are offered, from sandwiches ($1.69 and $2.89) and french toast ($2.95 for a half order and $4.50 to full) to buttermilk biscuits and gravy ($2.50 and $4.25) and a farmer's platter ($5.99) that includes scrambles eggs, a hashbrown casserole, toast and bacon, sausage or ham. A wide assortment of bakery items from O&H are also available when the restaurant opens.
The menu for the rest of the day is eclectic and extensive. Small plate offerings include coconut shrimp served with a raspberry melba sauce ($7.99), deep fried calamari with marinara sauce ($6.99) and N'awlens crab cakes accompanied by chipotle ranch sauce ($7.99).
Among the salad selections are a steak gorgonzola featuring beef tenderloin medallions and a seafood with grilled ahi tuna and tiger shrimp, both priced at $10.99. Sandwiches run the gamut from braised chuck roast with grilled onions and mushrooms on a pretzel roll ($6.99) and cajun chicken breast with bacon, provolone cheese and red pepper mayo on ciabatta bread ($6.99) to grilled ahi tuna with lettuce, tomato and wasabi mayo on grilled flat bread ($8.99).
A range of panini ($5.99 to $7.99) is also offered. But pasta and stone hearth pizza are at the center of The Dish. Pasta selections include wild mushroom ravioli ($8.99), lasagna with spinach, sausage and pepperoni ($8.99) and shrimp, mussels, langostinos and tomatoes over angel hair noodles. ($10.99).
Beef stroganoff is served over egg noodles for $8.99. Diners can build their own pasta dishes from a broad variety of items.
Page 1 of 2 (view all on one page)
Next >>
Talkbacks
olderwiser | Jan. 9, 2012 at 11:00 a.m. (report)
So I am curious. Is the food nuked in a microwave to be ready in four minutes? I can do that at home. Will try the bakery place for sure.
Facebook Comments
Disclaimer: Please note that Facebook comments are posted through Facebook and cannot be approved, edited or declined by OnMilwaukee.com. The opinions expressed in Facebook comments do not necessarily reflect those of OnMilwaukee.com or its staff.