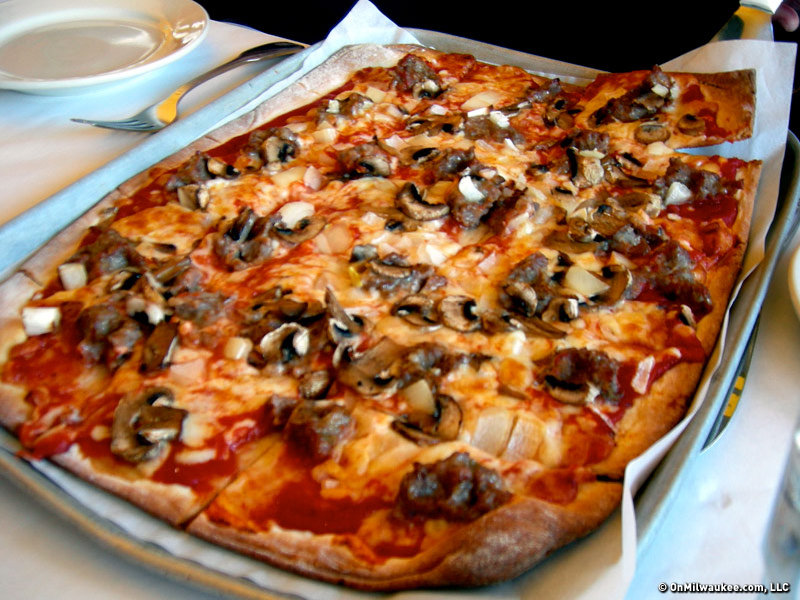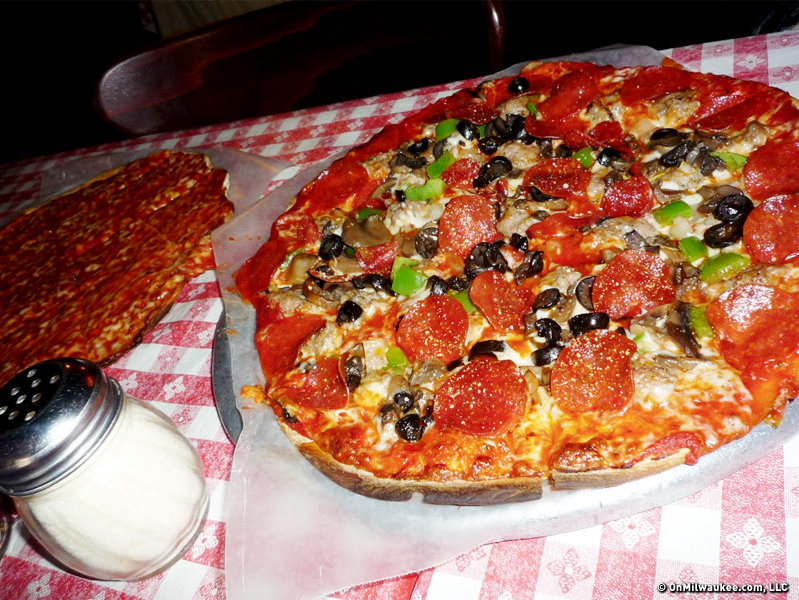 Take the Milwaukee challenge: Calderone Club vs. Zaffiro's thin crust pizza
A couple years ago we had Zaffiro's and Pizza Man face off in a Milwaukee pizza challenge. Pizza Man won that contest handily.
This time, we wanted to focus on thin crust pizza and Zaffiro's has the thinnest around. Also, of course, Pizza Man isn't here at the moment -- though, hopefully, it will be back in the future -- so we went looking for a different challenger and we found Calderone Club Downtown.
Run by a family that played a role in bringing pizza to Milwaukee (and all of Wisconsin) at the admittedly late date of 1945, via the Caradaro Club, Calderone Club also makes a very thin, crispy crust.
We sampled two pies at each place. One was a basic cheese (although Calderone owner Gino Fazzari added prosciutto to that pie) and the other was each place's "specialty" pizza. At Zaffiro's that means the "Everything But Fish" -- mushrooms, pepperoni, sausage, onions, peppers, black olives -- and at Calderone it's the sausage, mushrooms, black olives and onion.
Although everyone agreed that both places make darned good 'za, all but one picked Calderone Club as their fave and so, congrats to the Fazzari family for its victory in this latest Milwaukee Challenge!
Here's what we had to say ...
Molly Snyder Edler
Staff writer
Pick: Calderone Club
Prior to this challenge, I thought I was a hardcore Zaffiro's fan. I really do love the mom and pop atmosphere, but I just couldn't overlook the lack of cheese on the super-thin crust or the canned vegetables on the "EBF" (Everything But Fish) pie.
I had not eaten a Calderone pizza in years, but I was very satisfied, and consequently, fine with paying the extra $5 compared to Zaffiro's counterpart. I liked the thicker crust -- still technically "thin crust" -- but heartier and less "crackery." I also appreciated the generous amunt of cheese, and the fact that the sauce was spicy, not sweet like Zaffiro's.
Julie Lawrence
Staff writer
Pick: Calderone Club
Let me preface this blurb by saying that I am hardly a picky pizza eater. For the most part, the combination of crust, cheese and sauce can do no wrong to my taste buds. I also love a good thin crust over a chewy thick crust. But I think I may have met my match in the Zaffiro's cheese pizza.
I know we Milwaukeeans appreciate a paper thin cracker crust, but in my opinion, it should have a decent amount of food on top of it to make it a satisfying meal. To me, Zaffiro's pizza wasn't just thin in the crust, the cheese was almost non-existent, leaving me with a salty red-sauce cracker dabbled with cheese. I think I could have eaten the whole medium myself.
Calderone, on the other hand, offered slightly thicker (yet still thin) crust, which held together much more nicely on my plate. The sauce wasn't overly salty like Zaffiro's and even had a twinge of sweetness to it, which I enjoy. With plentiful toppings, this pizza held its own and is my winner in the Milwaukee Thin Crust Challenge.
Drew Olson
Senior editor
Pick: Zaffiro's
I love pizza almost as much as I love cheeseburgers, but I'm hardly a pizza snob. On some nights, I can be very happy with a frozen pizza from the "5 for $10" bin in my grocer's freezer. I can't remember the comic, but the guy nailed it when he said "Pizza is like sex -- when it's good, there is nothing better. When it's bad ... it's still pretty damn good." I still get excited about what I consider "good" pizza, which I consider a treat. My first choice would not be thin crust. I prefer a thicker, New York-style slice (cheese only, please), but am perfectly happy to eat thin if it's available.
The offerings from both Calderone and Zaffiro's qualify as "good" pizza. The Calderone Special is a terrific pie, with a thin, crust and fresh toppings. I'd be happy to enjoy one a week and would consider it a favorite ... if not for Zaffiro's. For some reason, Zaffiro's pizza hits my palate in a perfect way. The crisp (and thinner) crust and blend of spices feels right -- especially if I've consumed a frozen pizza recently.
I'd recommend both restaurants -- Zaffiro's for pizza and Calderone for its amazing pasta dishes. You can't go wrong with either thin-crust pie, by my personal preference lies with Zaffiro's.
Page 1 of 2 (view all on one page)
Next >>
Facebook Comments
Disclaimer: Please note that Facebook comments are posted through Facebook and cannot be approved, edited or declined by OnMilwaukee.com. The opinions expressed in Facebook comments do not necessarily reflect those of OnMilwaukee.com or its staff.