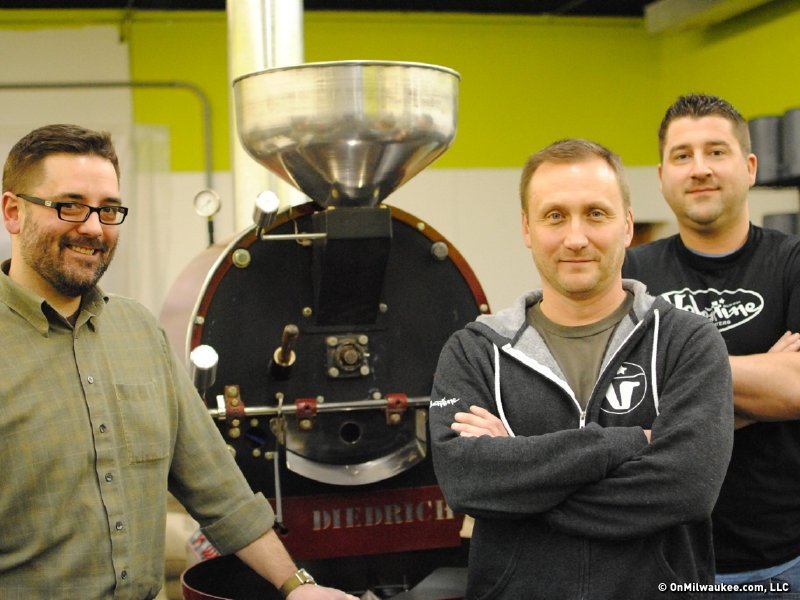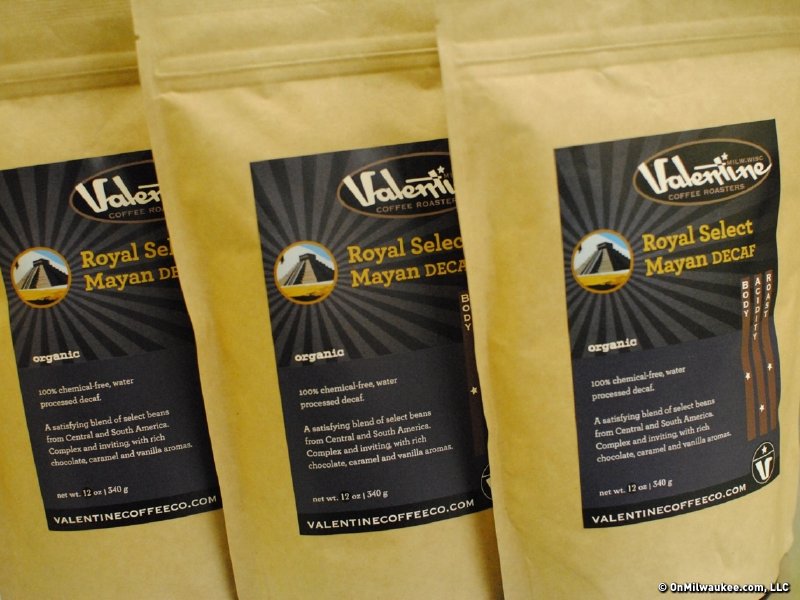 Valentine Coffee Roasters unfolds unique product, business plan
Robb Kashevarof is the founder of Valentine Coffee, a burgeoning newcomer on the local coffee roasting scene located at 5918 W. Vliet St. We recently sat down with Kashevarof and business partners Joe Gilsdorf and Marshall Harting to hear about their unique journey and vision.
"In the beginning, there was coffee," says Kashevarof, starting his no-joke business story with a splash of humor.
The truth is, although Valentine Coffee officially started in 2009, Kashevarof and Gilsdorf have been talking about coffee and "all things sensory evaluative" including beer, wine, food and coffee for about 14 years.
Originally, the two were employed by the Milwaukee Ale House. Then they both worked in the wine industry and over the years continued to meet for lunch regularly.
"A lot of our conversations were built around tasting stuff and breaking stuff apart, sharing opinions. We really thought and talked about things on the next level – not one that everyone as a consumer thinks about," says Gilsdorf, who co-owned Nessun Dorma in Riverwest from 2002 to 2008 and then moved to Napa Valley, Calif., for three growing season before returning to Milwaukee to commit to Valentine.
The conversations happened over dinners, too. The two friends took turns cooking for each other and their significant others and would discuss and deconstruct whatever food and drink they were tasting.
"We were always trying to find that sweet balanced cup of coffee," says Kashevarof. "But it took 10 years for for us to finally say, 'are we going to roast our own coffee, or what?'"
Finally, Kashevarof started roasting 10-12 batches of coffee every day on a home coffee roaster with the intent of buying a larger one. He did this for about a year.
"I sensory evaluated every batch. I was figuring out what happened when I changed one thing, just one thing, and then I'd take notes and figure out how it all works," he says.
Kashevarof bought a larger roaster in 2009 from an Idaho-based company named Diedrich. He bought the roaster with a tax return and a credit card, and without a plan as to where he was going to put it.
"At the time I knew I was going to roast coffee, I just wanted a great cup of coffee," he says.
Kashevarof thought about many possibilities for where and how to roast and sell the coffee. He created a business plan which he shared with several friends, one of whom was restauranteur Joe Bartolotta, who thought it was a solid plan.
"He asked me where I planned to roast. I said I just needed four food-safe walls, I just wanted to mess around with this and he said I could lease some space from him to get started. And that's what I did," says Kashevarof.
Hence, the first Valentine Coffee roastery was three blocks away from the current space, where they moved in September 2012.
This spring, Valentine will open a tasting room in the currently empty space in front of the roastery. They describe it as a "walk-up Italian espresso bar meets winery tasting room."
"We are sidestepping words like 'cafe' and 'coffee shop,'" says Gilsdorf. "They conjure up a lot of images of couches and tofu scrambler and syrups and blenders and that's not what we're going to do. You don't go to the winery tasting room to have lunch. We're doing one cup at a time."
At this point, Valentine does not plan to open multiple cafes around town or even offer more than the one tasting room. But even though they have a different business vision than other local coffee roasters, is there still a strong sense of competition?
"You can't get around the fact we're competitors, but we're also all ambassadors for the coffee industry," says Kashevarof. "But we will not be opening cafes all over Milwaukee. We're not here to be the biggest – just the best."
Gilsdorf says the more people who are interested in quality coffee, the more they are going to be interested in other quality coffee experiences, too.
"If someone has a great cup of coffee at Anodyne or Alterra or Stone Creek, they're going to be interested in having a great cup of our coffee. As long as they're interested in great coffee, we're going to be fine. It's the only healthy way to look at it. There's enough business to go around," says Gilsdorf. Page 1 of 2 (view all on one page)
Next >>
bqvtqqbacuxazecescscqfu
Talkbacks
kevinb | March 5, 2013 at 11:04 a.m. (report)
Thanks for the article on Valentine Coffee! Seriously, the best, freshest, most amazing coffee you can buy in Milwaukee area or anywhere for that matter! Certainly there are other very fine roasters in our area that do a good job, but there is something about Valentine that sets them apart. These guys know coffee!
Facebook Comments
Disclaimer: Please note that Facebook comments are posted through Facebook and cannot be approved, edited or declined by OnMilwaukee.com. The opinions expressed in Facebook comments do not necessarily reflect those of OnMilwaukee.com or its staff.