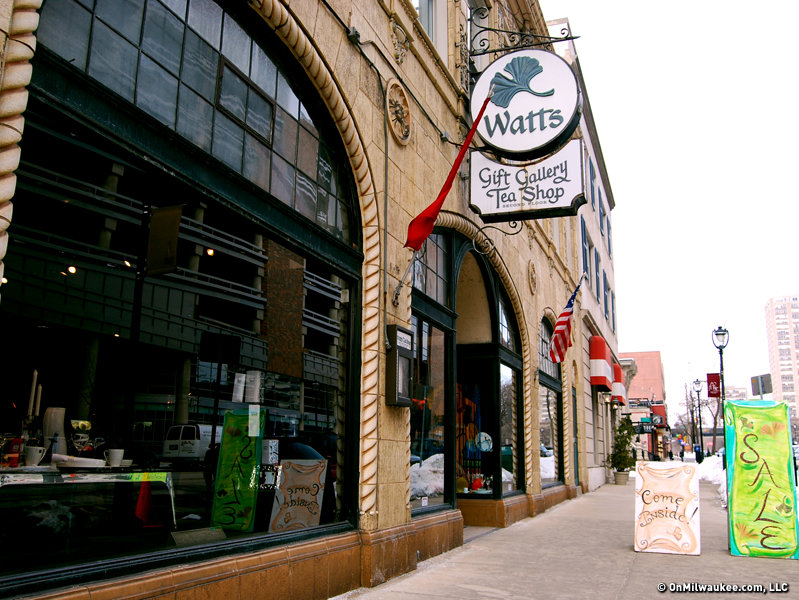 Watts Tea Shop serves tasty food and tranquility
I love a cup of good, freshly brewed tea, dainty sandwiches and piping hot, homemade soup, so I suppose it's no surprise that I enjoyed two recent visits to George Watts Tea Shop, 761 N. Jefferson St.
The Tea Shop is located above Watts' historic crystal shop. To get there, you have to walk through rooms of crystal to a small elevator leading to the second floor, where tables are decorated with crisp white linens and reservations are expected. In the middle of a bustling work day, Watts offers a quick, old-fashioned getaway that can't help but bring a little peace during your visit.
The Tea Shop doesn't serve anything out of the ordinary. Soups, salads, sandwiches and light entrees are the order of the day for lunch. Traditional breakfast selections start at 7:30 a.m. for those looking for early morning nourishment Downtown. Everything is simple, fresh and consistent. The service is polite and prompt; you can easily be in and out -- fully stuffed and happy -- in less than an hour.
Homemade soups are offered daily, as is a quiche selection of the day. Two recent visits brought cups of piping hot cream of asparagus soup and tomato bisque ($2.95 for a cup, $3.75 for a bowl), and both successfully took the edge off cold winter afternoons. A basic turkey sandwich paired with a cup of soup ($6.95) was a nice combination with the roasted turkey deli meat piled high on rye bread with fresh tomato and lettuce and served with a side of sweet pickles and sliced cantaloupe.
The classic chicken pot pie ($12.95) arrived rich and creamy in a large single-serve ramekin with puff pastry atop the tender chicken breast and vegetables. The pot pie was preceded by a house salad, which accompanies all luncheon entrees and was a good mix of baby greens and tomato and carrot slices. One of the nice things about entrees at Watts is that while the servings are generous, few of the selections are heavy, so you can eat a full luncheon meal without being plagued by food coma for the rest of the day.
Salads are popular, too -- with good reason. Chicken salad with fruit ($9.95) nestles a juicy, all white meat chicken salad over mixed greens and grapes, apple and orange slices for a lovely, light mid-day meal. Strawberry gorgonzola ($11.95) comes with a strawberry Dijon vinaigrette, toasted pine nuts, red onions, and, of course, strawberries and gorgonzola for a fresh and filling combination. And don't miss Watts English muffins, which can be ordered with any salad and are always perfectly buttered and toasted.
In addition to an entire hot tea menu, Watts also features freshly brewed iced tea and a flavored iced tea of the day and several dessert options if you're just looking for a cup of tea and something sweet. Whatever your tea preference, there is something about this place that makes you forget you're in the heart of downtown. You're bound to be drawn in by the antique charm and classic menu. The surroundings will simply force you to relax while the hustle and bustle of the afternoon continues below.
Talkbacks
Poeartemer | Feb. 3, 2009 at 2:43 p.m. (report)
It is a wonderful place with excellent fare...Grandmother or not!!!
older/wiser | Feb. 2, 2009 at 12:52 p.m. (report)
Good food, nice atmosphere, but definitely old lady vibes here. I hear raves about the English muffins, but not sure why. They are really just English muffins. The longevity of the Watts' Tea Shop is commendable and every large downtown needs this type of women's club type of restaurant, so it was nice to read your pleasant review.
mypetfish | Feb. 2, 2009 at 12:35 p.m. (report)
Nice place to go with your grandma...
Facebook Comments
Disclaimer: Please note that Facebook comments are posted through Facebook and cannot be approved, edited or declined by OnMilwaukee.com. The opinions expressed in Facebook comments do not necessarily reflect those of OnMilwaukee.com or its staff.