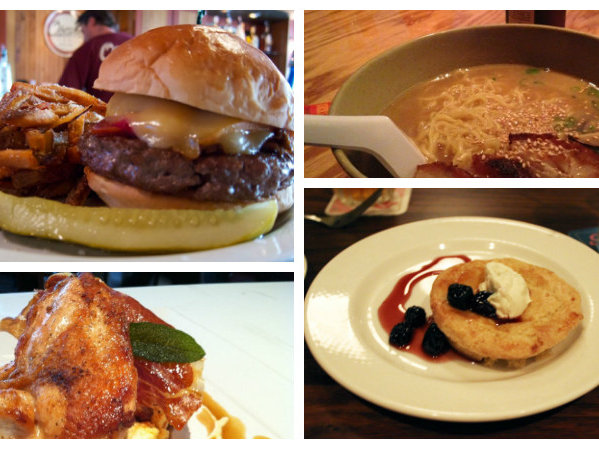 #WeWant: our favorite Milwaukee meals, here and gone
For the 10th straight year, October is Dining Month on OnMilwaukee, presented by the restaurants of Potawatomi Hotel & Casino. All month, we're stuffed with restaurant reviews, dining guides, delectable features, chef profiles and unique articles on everything food, as well as voting for your "Best of Dining 2016."
In honor of Dining Month this week's edition of #WeWant shares some of our favorite dishes – both here and gone – around town. Bon Appetit!
Dessert: Basque cake at Goodkind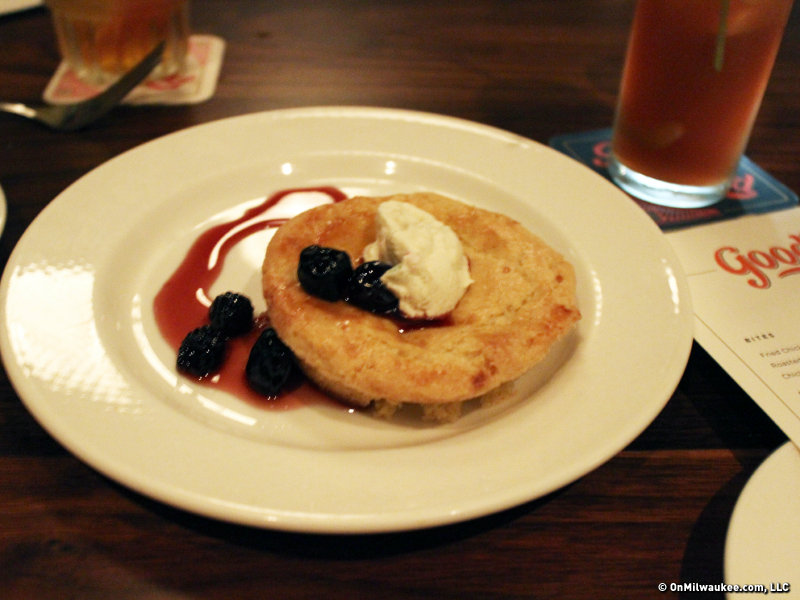 There are way too many great things around town to eat, and so many menus are seasonally inspired that it can be tough to go back for a favorite dish once it's gone. But a perennial favorite of mine is the Basque cake at Goodkind. Even though I don't have a big sweet tooth, it pulls me in every time with its addictive almond flavor and rich texture. So good. - Lori Fredrich
When Xankia announced it would serve bahn mi just blocks from our office my mouth immediately started watering. The sandwiches run from grilled pork to meatballs to pate and more, but the sardine sandwich with the special mayo sauce is the one that immediately piqued my interest. It's a little fishy, a little crunchy and a little sloppy. Along with the subtle taste of the shrimp chips (eat them slowly for maximum enjoyment) it's the perfect lunchtime bite. Just make sure you have enough napkins on hand. – Jason McDowell

Wing it: Maple bourbon wings at McGinn's
I'm a big fan of the wings at McGinn's – especially during baseball season – where I can watch the game and always order a trio of flavors: jerk dry rub, original Buffalo and maple bourbon. It's a great collision and counterpoint of flavors and textures: dry vs. saucy, spicy vs. sweet. But if you told me I could only order one, my sweet tooth would demand the gooey maple bourbon, which, as I've written before have a rich maple flavor and a hint of bourbon bang. – Bobby Tanzilo
Rib it: Ashley's
When I try to pick my favorite dish my criteria is what would I have if it was the only thing I could eat the rest of my life. The first answer I come up with is barbecued ribs. I used to love Speed Queen, and still do. But Ashley's on Center Street has become my favorite in the last few years. These are spare ribs, the kind with long rib bones and not as much meat as there is, for example, on baby backs. But I like being able to chew my ribs, not have them fall off the bone. Spare ribs are the most tasty because they've got a lot of fat on them. Not healthy, but absolutely wonderful. I get the slightly spicy sauce on the side because the ribs alone are the best I've ever tasted. Ashley's also has a place in Walker's Point, but nothing beats the to-go-only original on Center. – Dave Begel
I'm a not-so-simple girl with simple pleasures, and I pretty much go out to eat for burgers, wings or Mexican. That said, I'm gonna holla at this classic favorite of mine, a burger that features not one but three meats (Black Angus beef, bacon and chorizo) along with chipotle Jack cheese, smoked gouda, fried onions, jalapeños and guacamole. It's so good I eat it despite my lactose issues and suffer the consequences. Also, for $7.25 (includes good, crispy fries) it's a total steal. Plus, The Big O pairs perfectly with a Bloody Mary and a hangover. – Molly Snyder
It's easy to roll your eyes at ramen; after all, when most of us think about the dish, we think of the little packets and pouring flavor dust onto boiling noodles in a dorm room. But let Red Light Ramen change your mind on the dish, because there, it's a complete meal – and completely delicious. Perfectly cooked pork belly with a succulent broth, mixed in with some nori, pickled wasabi greens, bamboo shoots and mushrooms (and I don't even like mushrooms), all popping with flavor. It's not just the city's best late night eats; it's one of the city's best eats, period. – Matt Mueller
Dream of it: chicken saltimbocca from Graffito
I still have dreams about the chicken saltimbocca from now-defunct Ryan Braun's Graffito. That chicken saltimbocca resting atop a bed of polenta with fontina sauce was the perfect melding of flavors for me – and I just haven't found another dish that I love or miss as much! If you know of a saltimbocca dish in town that I should try please please please let me know. For reals. – Carolynn Buser
Missing it: Osteria del Mondo's tagliatelle verde al ragu
Sadly, my favorite Milwaukee dish – the former Osteria del Mondo's amazing tagliatelle verde al ragu doesn't exist anymore. But, another great Italian dish. Calderone Club's capellini alla caprese does. Oddly, this is about the only time I ever eat prosciutto. It's not only a treat but a moderately priced, amazing entree. Sure, there are more fancy dishes in and around town, but I love the Calderone Club's Downtown location and its capellini alla caprese simply never fails. Let me a cheat a bit and add another one. The braised veal short ribs at La Merenda. These Strauss Free Raised short ribs are braised in red wine and tomatoes and served over amazing caramelized carrot risotto. So very good. Oh, and fresh spring rolls from Thai-namite. And, the ribs at Alexander's at The Wisconsin Club. Wow! I could add many more, but won't. Make your own awesome dishes list, or use these. Either way, go dine out in Milwaukee. Now. Right now. – Jeff Sherman
frfxxrdsdcdubfzbtddyftazvbbddazrdz
frfxxrdsdcdubfzbtddyftazvbbddazrdz
Facebook Comments
Disclaimer: Please note that Facebook comments are posted through Facebook and cannot be approved, edited or declined by OnMilwaukee.com. The opinions expressed in Facebook comments do not necessarily reflect those of OnMilwaukee.com or its staff.