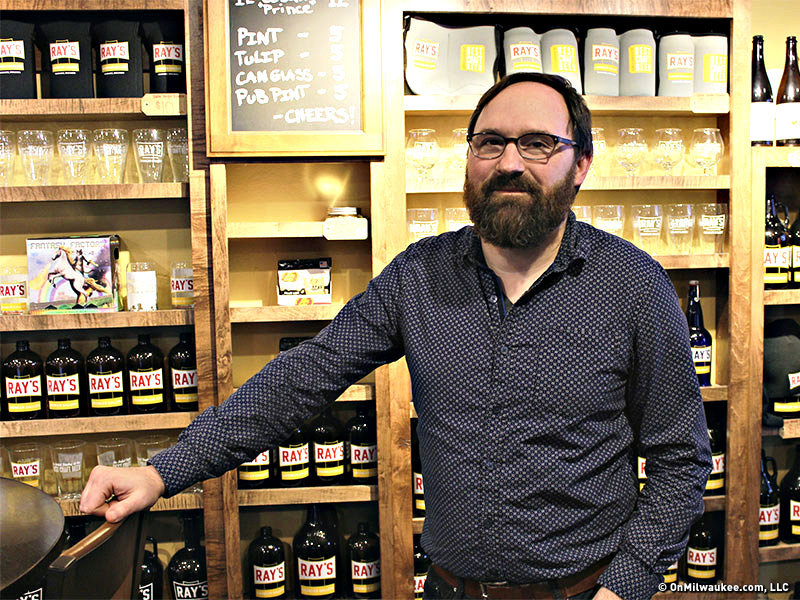 What to drink now: 6 wine recs from Nate Norfolk of Ray's Wine & Spirits
Stuck in a wine rut? Or just looking for something more interesting to pair with your next meal? We've got your number. For this series, we'll be talking to some of the best and most qualified wine experts in Milwaukee and getting recommendations for wines that you should be drinking right now.
This week, we spoke with Nate Norfolk, director of wine and spirits at Ray's Wine & Spirits and Ray's Growler Gallery & Wine Bar.
Norfolk is a certified sommelier Norfolk who has worked in the beverage industry since 1998. During that time he's worked as manager for Downer Wine & Spirits and dunked his feet into the wholesale world as brand manager for Purple Feet Wines.
Over the last 15 years, Norfolk has organized hundreds of wine-related events, including tasting classes at Ray's Growler Gallery & Wine Bar.
He lives on the East Side with his wife Tea, who recently became a legislative analyst for the city, and their two children, Noah and Violet. When it comes to wine, he has a particular affinity for the varietals of Piedmont, Champagne, France's northern Rhone Valley, and the Mosel region of Germany. However, most often he finds himself drinking wines from California's Central Coast and Oregon.
Txomin Etxaniz 2015 Getariako Txakolina
Spain
"Despite the almost unpronounceable name, this is an approachable lively, bright white wine from vineyards on Spain's northern coast within sight of the ocean. Txakolina is the definitive wine to have with traditional tapas. As friends in the wine industry likes to say, it tastes like summer in a glass, light, crisp, with a touch of a spritz and bursting with citrus fruit flavors, and faint aroma of ocean air."
Try this if you love: Sauvignon Blanc, Dry Riesling, or Vinho Verde
Retail price: $19.97
Királyudvar 2012 Tokaji Furmint Sec
Hungary
"For hundreds of years the wines of the Tokaji region of Hungary were incredibly expensive and mostly drank by Europe's nobility, and then due to political turmoil and greater competition they were nearly forgotten on the international market. Typical this region is associated with dessert wines, but this bottling from Királyudvar is a hedonistic and rich dry white wine with flavors of toasted nuts, pears, and some tropical fruit. One of the most unique and pleasurable white wines I have had in the last year."
Try this if you love: Chardonnay, Chenin Blanc, rich white wines
Retail price: $23.99
Benoit Mulin Non-Vintage Cremant du Jura
France
"Simply put this is 50% Pinot Noir, 50% Chardonnay made in exactly the same manner as Champagne at roughly half the price. If you like dry sparkling wine of any type I can't recommend this enough!"
Drink if you love: Champagne, Prosecco
Retail price: $23.99
Roth Estate 2014 Heritage Red Blend
Sonoma County, California
"Few wine regions in the world can succesfully grow such a wide array of grapes as Sonoma County, and this blend of Malbec, Cabernet Sauvignon, Syrah, Zinfandel, and Petite Verdot shows off a host of Sonoma's best red grapes in one rich and approachable bottle. This full-bodied and soft red has a balance of ripe fruit and savory flavors that are missing from most California wines at twice the price, an absolute value"
Try this if you love: full bodied and silky red wine
Retail price: $19.97
Chateau de Segries 2015 Tavel
France
"Dry rosé wine sales are exploding, this is one of the finest examples in the world, darker than the Provencal style, with ripe red fruit, and a zesty chalky dry finish. Versatile with almost any food, but perfect for dishes with lots of garlic."
Try this if you love: food and life
Retail price: $18.99
Casa Santos Lima 2012 Reserva do Monte
Lisboa, Portugal
"Portuguese red wines are among the world's greatest wine values, and this luscious blend is currently my favorite red wine under $10 a bottle. This is a rich red that can pair with hearty foods like pizza and burgers, and at the same time it offers ripe dark fruit flavors, velvety tannins, and a complex spice character."
Try this if you love: Zinfandel, Cotes du Rhone, Syrah
Retail price: $9.97
Facebook Comments
Disclaimer: Please note that Facebook comments are posted through Facebook and cannot be approved, edited or declined by OnMilwaukee.com. The opinions expressed in Facebook comments do not necessarily reflect those of OnMilwaukee.com or its staff.