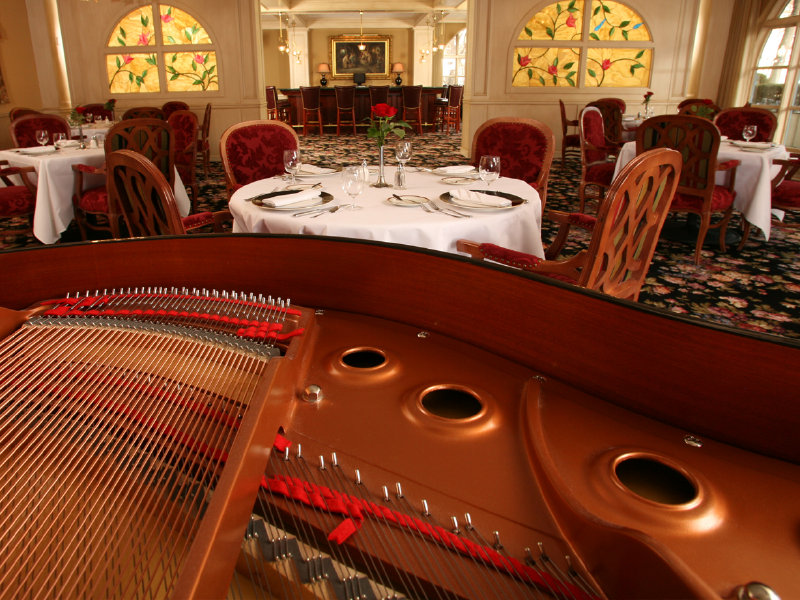 The Wisconsin Club: A peek inside a private club's restaurants
For the sixth straight year, October is Dining Month on OnMilwaukee.com, presented by Concordia University. All month, we're stuffed with restaurant reviews, delectable features, chef profiles and unique articles on everything food, as well as the winners of our "Best of Dining 2012."
The Wisconsin Club's Downtown facility, former home of banking magnate and congressman Alexander Mitchell, is exactly what you would imagine it to be: an enclave of quiet Victorian gentility in the middle of Downtown's loud, agitated bustle.
High-backed armchairs, fresh flowers and austere mahogany walls. Paintings bearing plaques indicating original ownership by an Uihlein or some other member of the beer peerage. Historic photographs chronicling the Mitchell family and the Deutscher Club to which they sold the house in 1895 after Alexander's death. A bust of Billy Mitchell, Alexander's grandson, situated next to an elegant stairwell.
Lifelong Milwaukeeans can drive by the mansion every day of their lives and never see its interior. Such is the nature of private clubs. But perhaps they don't realize that they're missing out on more than just elbow-rubbing and opulent banquet facilities.
As it happens, the dining experience at the Wisconsin Club might be best thing that may never happen to most of us. Although the Club does host several wedding receptions and events each year, so one of those may be your way in.
We all have our favorite restaurants, our homes-away-from-home where the waitstaff might even know our name, give us our favorite table and remember to ask about our family. But at the Wisconsin Club, the cuisine – and the service – is on a different level entirely.
"I think that when people come here they can feel comfortable that things will be done the proper way," said John Constantine, general manager of the Wisconsin Club. "Buying nothing but the freshest quality, no shortcuts, presentation, everything, all of the above. I mean, it's 101, but a lot of people forget that. But that's what we are all about."
The club actually comprises two locations – a "city club" on Wisconsin Avenue and its "country club" counterpart at 6200 W. Good Hope Rd. (formerly Brynwood Country Club, it was assumed by the Wisconsin Club in 2011).
The opportunity for both urban speed and rural relaxation is something that sets the Wisconsin Club apart. Only several private clubs in the nation have both a city and country club. Membership has swelled to over 1,400 since Constantine took over, and the club's banquet and catering facilities were in high demand.
"We used to have four weeks a month," said Bret Clark, manager of the city club. "Now, with the country club location open, as well, we have eight."
The city club is busier in the winter months, when the shuttle and limo service is popular for members who want to attend sporting events and shows downtown after eating. The county club is packed during the summer months, when members take advantage of the golf course and pool.
Between the two locations there are seven different dining options and two executive chefs, Allen Boltik and Greg Abbate, who have been at their posts 21 and 16 years, respectively.
"One of the reasons we are by far the busiest private club in the state is because of these two individuals," said Constantine. "This is one of the top dining experiences in Milwaukee."
The city club, Boltik's realm, offers three dining options: the Mitchell Room, the veranda, and Alexander's. The county club, where Abbate presides, has the Oak Room, the Grille Room, outdoor dining and a Poolside Café.
The Mitchell Room, formerly the Mitchell family greenhouse, was renovated in 2005. It is a large, light-filled room with a baby grand piano, fresh roses and white linens on every table. It is most popular for lunch, like its country club counterpart the Oak Room, which overlooks the golf course. Both serve breakfast, lunch and dinner.
The Mitchell Room's veranda has wicker furniture clustered around large tables, a set-up that affords plenty of privacy. If not for the view of the Marquette campus across the interstate, you might think you were in Hyannis Port. The country club has several decks and the Poolside Café caters to the summertime cravings of swimmers and sunbathers.
Downstairs in the city club there is Alexander's, a bowling-alley-turned-sports-bar since 1994. Friday night fish fries are especially popular with families, since there are arcade games for the kids and plush green leather seats for the parents. At the country club, the more casual option is the Grille Room, serving lunch, dinner and Sunday brunch – also with spectacular views of the golf course.
Two locations, one organization, one goal: superiority in cuisine and presentation.
This ship is tightly run, and everything is done – as Constantine noted – the proper way. Dedication to a life of service, in the Victorian sense of the word, is something almost unheard of in modern society. But Boltik, Abbate and their staff would beg to differ.
To them, service is a challenge, an opportunity and above all it is an art form.
"You watch these TV programs and you see that the chefs are bigger than what they're producing," Boltik said. "They become bigger than the food. Even as the executive chef, I am a servant. I'm here to serve at the whim of the membership, to make sure that they are having an enjoyable time as soon as they walk through the door."
If you think that comment smacks of feudalist sensibilities, think again. Boltik doesn't have an inferiority complex, and he is not a slave to any class system. Rather, he is a talented chef who is grateful to hold a position that requires him to respect culinary tradition while simultaneously pushing the expanse of his gastronomic repertoire.
Page 1 of 2 (view all on one page)
Next >>
Talkbacks
bfavre | Oct. 8, 2012 at 4:22 p.m. (report)
mouse droppings? http://www.todaystmj4.com/features/dirtydining/126387858.html
Facebook Comments
Disclaimer: Please note that Facebook comments are posted through Facebook and cannot be approved, edited or declined by OnMilwaukee.com. The opinions expressed in Facebook comments do not necessarily reflect those of OnMilwaukee.com or its staff.