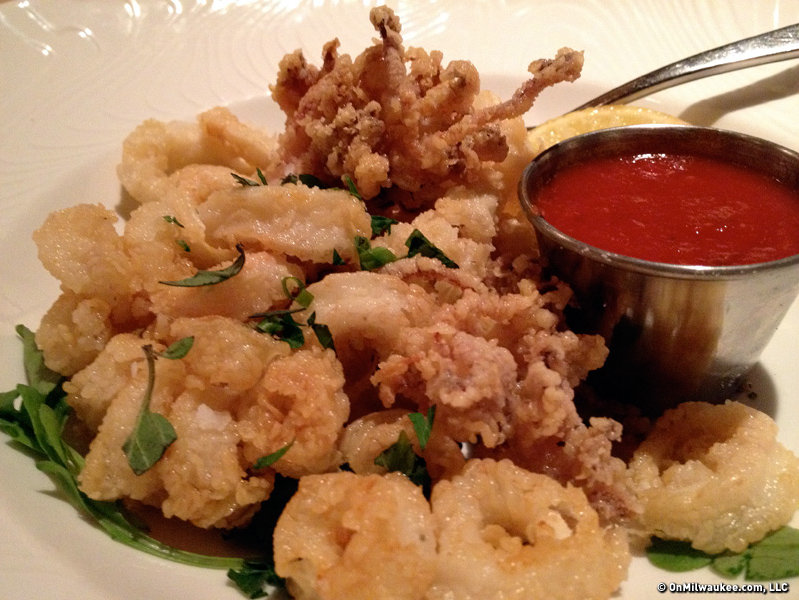 First look: Wild Earth Cucina lunch
For the seventh straight year, October is Dining Month on OnMilwaukee.com, presented by the restaurants of Potawatomi. All month, we're stuffed with restaurant reviews, delectable features, chef profiles and unique articles on everything food, as well as the winners of our "Best of Dining 2013."
After an early hiccup, Wild Earth Cucina opened at Potawatomi Bingo Casino in September 2012, under the watchful eye of Chef Audrey Vandenburgh.
The restaurant has since become a popular dining destination for Menomonee Valley gamers, but that would appear to have been expected, according to the casino's own research.
"Before opening the restaurant we surveyed our guests and they requested an Italian restaurant," Vandenburgh told OnMilwaukee.com when Wild Earth Cucina opened in a space that briefly housed an earlier, eponymous incarnation that also was led by the chef.
"Italy has a very diverse culinary landscape and it has been fun exploring the different regions to see what local products are highlighted in their cooking. Everything in Italian cooking is very fresh and vibrant, and we want our food to reflect this."
As of about a month ago, Wild Earth Cucina has dipped a toe into the lunch waters, opening from 11 a.m. until 3 p.m. on Tuesdays, to offer more options to visitors on the casino's popular Senior Day each week.
The dinner menu, Vandenburgh has said, was also developed with input from guests, which means, by default, that the new lunch menu was, too, because it is basically a slimmed down version of the dinner menu.
"The inspiration behind the menu at Wild Earth Cucina Italiana is a mix of traditional Italian dishes and more contemporary interpretations of them," said Vandenburgh. "It was important for my team and me to create an Italian menu that was familiar but still exciting."
For lunch, Vandenburgh kept most of the familiar options – spaghetti and meatballs, fettucine alfredo, a fish fry, fried calamari – and replaced the weightier dishes – like roasted chicken with sage and prosciutto, carved flank steak and Alaskan wild king salmon – with a quartet of sandwiches.
Diners can choose from a trio of appetizers, like arancini, calamari and fried artichokes ($7-$9). The latter are especially delectable and served with a lemon wedge and a cup of white truffle mayonnaise. Two salads ($6 each) and a minestrone are also on tap, as is a soup and salad combo for $8.
In addition to a pair of long, rectangular flatbreads on a crispy crust are the four sandwich options: a meatball sub, sausage sub, chicken pesto sandwich and veal parmesan sandwich that run $10-$11.
Entrees include lasagna ($13), cannelloni ($12) and a fish fry ($11). Being a Tuesday, I tried the fish fry, since it may be Milwaukee's only Tuesday-only lunch fry. Three pieces of battered cod were served atop a bed of crisp "Italian" herbed fries with a side of sweet and creamy coleslaw for $11.
There are also four pasta dishes that range from $10 for the fettucine alfredo to $12 for pasta Margherita, with linguine tossed with olive oil, garlic, fresh mozzarella, roasted tomatoes and basil. In between, at $11 each, are spaghetti with either meatballs or a sausage link.
There is also a trio of desserts available at lunch: cannoli ($5), gelato in a variety of flavors and sizes ($3, $6) and the delicious, rich – and generously portioned, for lunch – zuppa misu, which riffs on tiramisu but with caramel sauce ($7).
After a few weeks of service, the Wild Earth Cucina lunch service did moderate business, but staff said it's been improving week to week as word spreads that the eatery, formerly closed during most daylight hours, is open for midday meals.
Facebook Comments
Disclaimer: Please note that Facebook comments are posted through Facebook and cannot be approved, edited or declined by OnMilwaukee.com. The opinions expressed in Facebook comments do not necessarily reflect those of OnMilwaukee.com or its staff.