A word on paczki and 7 spots to get your fix
Next week marks the beginning of Lent. And that means a host of Milwaukee bakeries are battening down their hatches and baking up a storm in preparation for "Pączki Day," which takes place on Tuesday, Feb. 9.
The holiday originated as a way to use up the fats and eggs before beginning a traditional Lenten fast. It's important to note that pączki aren't just jelly filled doughnuts. In fact, what sets them apart is their dough, which is a rich, sweet yeast dough consisting of eggs, butter and milk.
With that in mind, it's never too early to start thinking about pączki, especially since – if we were in Poland where they celebrate TłustyTłustT Czwartek (Fat Thursday) – we'd already be celebrating today, deep fried deliciousness in hand.
Before you say the word
Now that you know the difference between pączki and doughnuts, it's time to respect the word pączki and use it properly. So, before you venture out into the world and start throwing around the term pączki (or even worse, pączkis), here's a quick lesson in how to really pronounce it.
Pączki is pronounced PAWNCH-key and is the plural form of the word (really the only one you need, since you can't eat just one, right?). Pączek, on the other hand is pronounced PAWN-check and refers to just one lonely Polish-style confection.
And, if you'd prefer, here's a video that illustrates the point quite well.
Where to get pączki
So yeah, you can just grab a few jelly doughnuts at the grocery store (because these days, almost every one will have them; and they'll call them pączki to boot). However, since you've got time to think about it, here are some spots you might want to check out for your pączki fix.
Keep in mind there is a superstition that if you don't eat at least one paczek on Shrove Tuesday, bad luck will follow you for the rest of the year (so just do it!).
1. Cranky Al's
6901 W. North Ave., (414) 258-5282
crankyals.com
The folks at Cranky Al's aren't really cranky, although they will get cranky if you mistake a regular old bismarck (jelly doughnut) for a pączek. This year, they'll have raspberry, Bavarian cream, cheese, apricot and prune (special order only). Pączki are $1.75 each or $19 per dozen. King cakes will also available for $30 each. All pre-orders must be made before 2 p.m. on Sunday, Feb. 7.
2. Grebe's Bakery
5132 W. Lincoln Ave., (414) 543-7000 grebesbakery.com
Grebe's has the goods every year, and this year will be no exception. Choose from flavors like sugared prune, cherry, raspberry, sugared lemon, caramel iced apple, cinnamon sugar cheese, chocolate iced, chocolate iced custard and blueberry iced blueberry. They've also rolled out a new flavor for 2016: peanut butter and jelly. Pricing is $0.79 each, six for $4.74 or $8.49 for a baker's dozen. Pączki will be available on both Monday, Feb. 8 and Tuesday Feb. 9.
3. Holey Moley Coffee + Doughnuts
316 N Milwaukee St., (414) 308-1616
holeymoleydoughnuts.com
Holey Moley will have pączki for $25 a dozen in flavors like strawberry, blueberry and custard. Order yours online before Feb. 8 to guarantee availability. Might as well order a big ole box of Hawthorne coffee for the office while you're at it.
4. Le Reve Patisserie and Cafe
7610 Harwood Ave. (414) 778-3333
lerevecafe.com
Le Reve will offer pączki in three flavors including apricot, raspberry and cheese for $2 each. Some pączki will be available for sale on a first-come first-served basis; however, pre-orders are recommended.
5. National Bakery
3200 S. 16th St., (414) 672-1620
13820 W. Greenfield Ave., Brookfield (262) 827-4097
5637 Broad St., Greendale (414) 423-4620
nationalbakery.com
The National Bakery will be offering authentic pączki in prune (glazed and powdered) and raspberry (iced, glazed, sugared or powdered) and raisin (glazed) for $0.99 each or $11.88 per dozen. You can also get regular filled doughnuts with a non-butter dough; but why would you? If you prefer, king cakes are also available for pre-order at $17.95.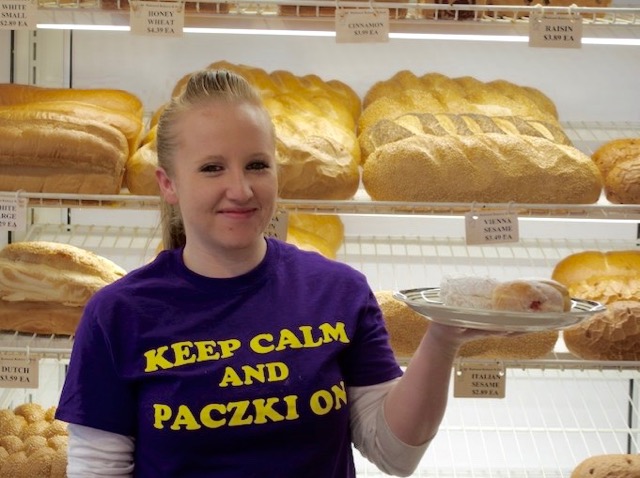 6. The Polish Center of Wisconsin
6941 S. 68th St., Franklin
polishcenterofwisconsin.org
The Polish Center of Wisconsin will offer pączki from 7 to 11:30 a.m. on Feb. 9. Pricing is $1.50 per pączek; enjoy a cup of coffee with yours for $3.
7. Sweet Perfections Bake Shop
1501 Paramount Dr., Ste. C, Waukesha (262) 446-2253
sweetperfections.com
If you're looking for something a bit different – and as far from traditional as they come – Sweet Perfections offers up "Top Shelf Paczki" available in flavors like Brandy Old Fashioned Sweet, Raspberry Vodka Shooter, Spiced Bananas Foster, Bailey's Cherry Bombshell, Kahlua'n Mudslide and Rumchata Crunch. Top shelf paczki are $3 each or $33 per dozen and are available for pick up or delivery around town. Preorders are highly recommended.
Bonus: Rocket Baby Bakery
6822 W. North Ave. (414) 502-7323
rocketbabybakery.com
Apologies in advance if you got excited thinking that Rocket Baby would have pączki… because they won't (but kudos to you for reading this far). However, I'm not leaving you empty handed. After all, the bakery will have something else you might want for your Mardi Gras celebration: king cakes for $15 each. Bonus: they're bigger than any pączek you'll find, and just as delicious. Pre-orders are recommended.
Facebook Comments
Disclaimer: Please note that Facebook comments are posted through Facebook and cannot be approved, edited or declined by OnMilwaukee.com. The opinions expressed in Facebook comments do not necessarily reflect those of OnMilwaukee.com or its staff.