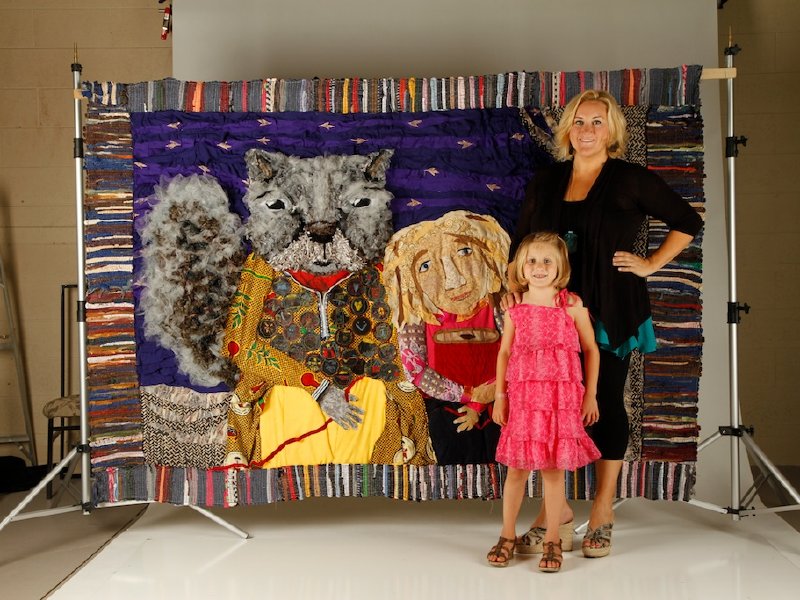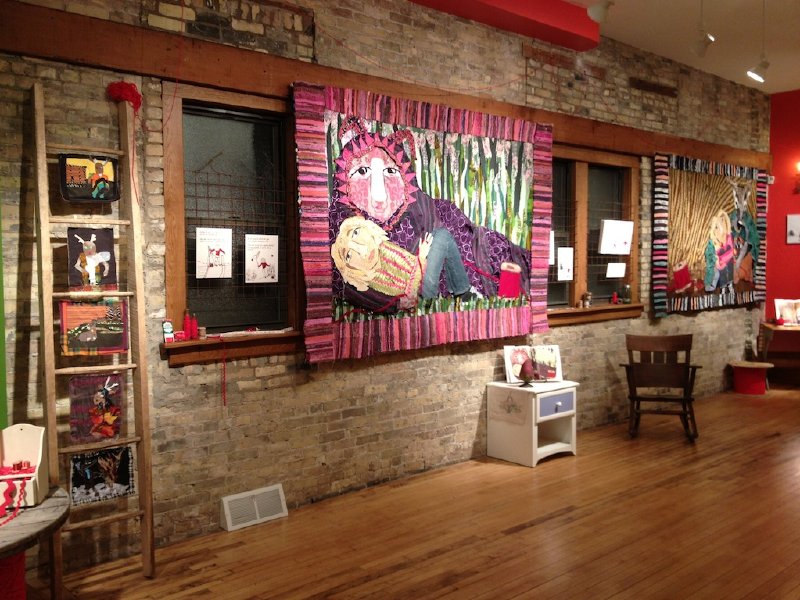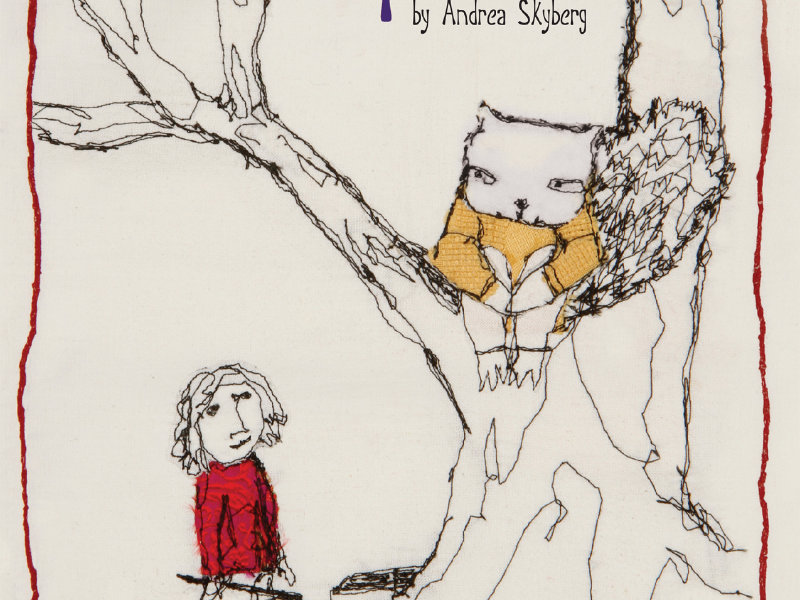 Skyberg's "Squircle" teaches kids about interconnectedness
For the past three years, Milwaukee artist and author Andrea Skyberg worked as an artist educator in local schools creating large-scale sculptures, mixed-media assemblages and dolls out of masking tape.
She started working with schools through her first book, "Snickeyfritz." When Teri Sullivan from Arts@Large, 908 S. 5th St., was given a copy of the book, she contacted Skyberg and asked her to do author visits and art workshops at her gallery.
Recently, Skyberg created a new book called "Squircle." The book coincides with a gallery exhibition at Arts@Large called "Threads That Connect: Fiber Art & Community," which showcases the artwork created for the book. The exhibition runs through Jan. 4, 2013.
Before writing "Squircle," Skyberg led students in a project in which they discussed emotions such as love, compassion, happiness and creativity.
"Each student made a wish that would help manifest a more positive world. With that wish in mind, each child worked to create an image that could represent the essence of her or his wish," says Skyberg.
Then, all of the pieces were put together to form a large assemblage sculpture. Skyberg says the positive energy used to create the piece made it radiate love and beauty, and inspired her to use a similar style of creation for "Squircle."
Hence, Skyberg collaborated with Wisconsin students to create the book.
"I believe it has more depth and beauty because so many hands worked on it and so many hearts were invested in it," she says. "I love creating meaningful art with children and watching them get to express themselves creatively."
The overall theme of the book is that we are connected to everything and everyone. It tells the story of a little girl named Evie who tries to catch a squirrel and ends up wandering through the forest on a magical adventure. Along the way, she unexpectedly meets a circle of woodland friends who inspire her to live in the moment, listen to her inner voice and go with the flow of life.
Evie eventually overcomes negative emotions, such as anger, fear and loneliness, and finds her joyful spirit. She then realizes that she's never alone, and in fact, she's connected to everything around her, even the squirrel.
Skyberg wrote "Squircle" partly because she wanted to teach her daughters things she had learned as an adult that made her happier, and also to help her remember some of the important conclusions she made during her quest to live a more peaceful and connected life.
"By talking with children about the idea of interconnectedness, they can discover that the good we do for the world we also do for ourselves. The threads that connect us to each other create the large tapestry of life. By seeing the connection we have to everything and everyone, we widen our compassion, creating a more loving and peaceful planet," she says.
Skyberg is working on her third children's book, "Shimmerling." The story has been written and she is in the process of editing it. The book will be published March 20, 2014.
Currently, she is looking for partnerships, specifically five schools or community programs to work with her on a residency. (Interested schools can contact her at andreaskyberg@snickeyfritz.com for more information.)
Skyberg has lived in Milwaukee for over 10 years, but is originally from northern Minnesota. She earned her undergraduate degree in Baltimore and moved to Milwaukee to get her MFA at UWM. She is married and has two daughters, Evey, 6, and Celia, 2.
"I've stayed here because I absolutely love Milwaukee," she says.
Skyberg started writing children's books after having her first daughter. Her studio is attached to her children's playroom, so they are often around when she's creating. She describes this as both wonderful and challenging. Skyberg also works a lot after the kids go to bed.
"I like the freedom that being my own boss allows. I have a more flexible schedule, which allows me to spend more time with my family," she says. "I think finding the balance is a little easier because my husband, who is also a writer and artist, and I collaborate so often. Creating things together is what we love to do."
Facebook Comments
Disclaimer: Please note that Facebook comments are posted through Facebook and cannot be approved, edited or declined by OnMilwaukee.com. The opinions expressed in Facebook comments do not necessarily reflect those of OnMilwaukee.com or its staff.