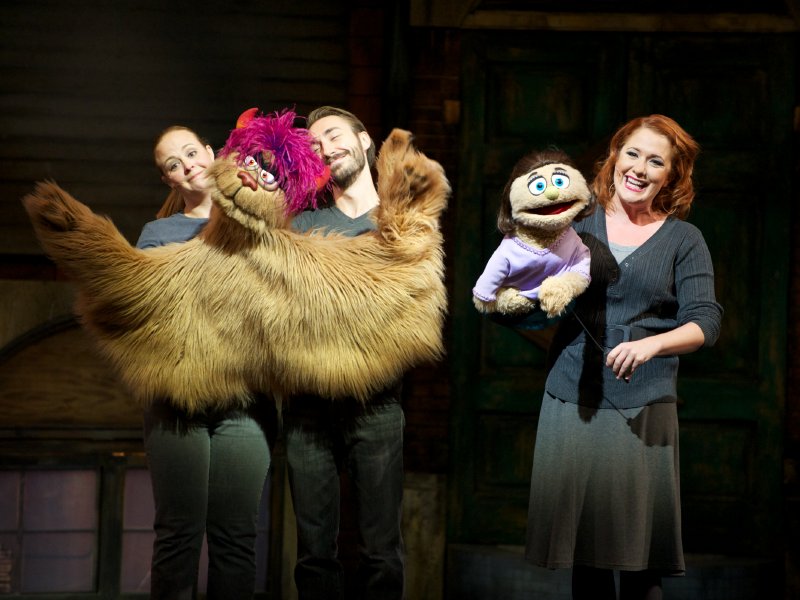 Sass, heart make "Avenue Q" a winner
The first thing you want to do is wash their mouths out with soap and water.
Then you want to give them a lecture on what's appropriate for mixed company.
Then you want to tell them to get a job, be nice to people, don't be so d*mn self-centered, take a risk or two and stop worrying so much about today.
After you are done with all that, you can sit back in your seat at the Skylight Music Theatre and enjoy the best performance you will have seen in a long time in Milwaukee.
Skylight opened the wonderful "Avenue Q" Friday night to a loving audience that embraced this adult "Sesame Street" with all the joy of the birth of a new child into its family. The evening is full of happiness, sadness and lots of wondering about which is which.
The story is an easy one. It's about a group of searchers who live on Avenue Q, a seedy block in an outlying corner of some New York borough. But if the neighborhood is falling down, the people who live there are fighting to grow up and find some sense of purpose to their lives.
Let's get the technical part of this amazing performance out of the way first.
The show is a mixture of people and puppets. Flesh and felt. But the puppets are on stage and being maneuvered by puppeteers who you see as well. The puppets talk to other puppets and to the people characters. But the puppeteers don't talk to anyone, including the other puppets.
If it all sounds confusing, it's not. For the first 10 minutes of the play you catch your breath at the marvelous feat of legerdemain taking place before your very eyes. But then you stop looking at the tricks and begin to think of those puppets as real people, with hopes and dreams just like the rest of us.
We watch as Princeton and Kate fall in and out of, then back into, love. She longs for romance in her life and her sadness as Princeton hooks up with Lucy the Slut tears at us. Our hearts break as she struggles to make him notice her not as a friend, but as a dreamy goal.
We suffer with Rod as he hides being gay, then almost swoons into love with his straight roommate, Nicky, and then finally comes out of the closet to find the sun shines brightest on those of us who both face and tell the truth.
We roar with laughter at Trekkie Monster, who spends his life watching porn – which he claims the Internet was invented for – and then taking the millions he made investing in porn to help build Kate the school she has always wanted.
The magic of the theater is when you get a great play, great direction and great performances. The whole becomes so much more than the sum of its parts.
That's this evening at the theater. The songs are both cute and memorable. The acting is full of abandon, humor and pain. The choreography is a delight. And the message is such a vital piece of our lives.
Every parent has said it to a child. Every young adult has said it to a friend. And every almost-adult has said it to himself or herself.
As Milwaukee's own Rick Pendzich (one of the real people) sings to a despondent, broke, brooding and lonely Princeton:
"There is life outside your apartment.
I know it's hard to conceive.
But there's life outside your apartment.
And you're only gonna see it if you leave."
As if that's not enough truth for your cup of tea, Kate, mired in melancholia over her half-empty bed, sings:
"There's a fine, fine line between a fairy tale and a lie;
and there's a fine, fine line between 'You're wonderful' and 'Goodbye.'
I guess if someone doesn't love you back it isn't such a crime,
but there's a fine, fine line between love and a waste of your time."
The laughs come quick and furiously in "Avenue Q," but the truth, the beauty and the music will stay with you much longer. Run, don't walk.
"Avenue Q" runs through Oct. 14. at the Broadway Theatre Center. Tickets are available at the box office at (41) 291-7800 and online at skylightmusictheatre.org.
Facebook Comments
Disclaimer: Please note that Facebook comments are posted through Facebook and cannot be approved, edited or declined by OnMilwaukee.com. The opinions expressed in Facebook comments do not necessarily reflect those of OnMilwaukee.com or its staff.