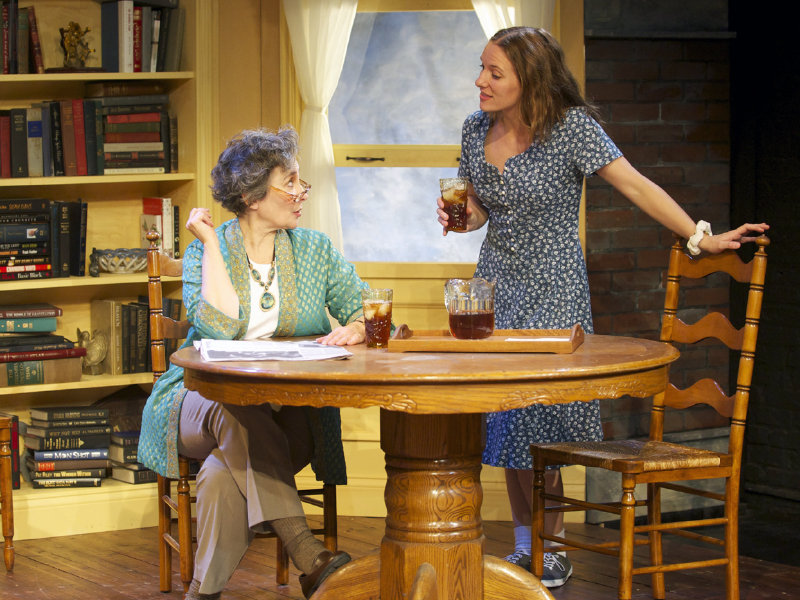 "Collected Stories" better left to collect dust
There is a point early in the play when you want to grab Lisa Morrison by her shoulders, shake her and shout, "Stop acting like a baby and grow up or you are going to your room."
But Lisa is not some 5-year-old in the middle of a childish rant.
Instead she is at least in her mid-20s, a graduate student, a writer of some promise and a lonely soul in search of approval and some form of love.
That's the kickoff to "Collected Stories," a play by Pulitzer Prize-winner Donald Margulies, which is being mounted by Milwaukee Chamber Theatre.
The story, which sprints over a period of six years, is about Lisa and Ruth Steiner, an aging and successful writer of short stories. Ruth is also a teacher, and Lisa is an idolatress in her class.
Lisa arrives at Ruth's apartment on a late summer day for a tutorial and lands a job as Ruth's assistant. The six years move her from an over-the-top worshipper to colleague to hot young writer gaining raves in the New York Times.
As Lisa grows as a writer, Ruth begins a slow slide toward either isolation or death. But to the end she remains feisty and, we think, concerned only with honesty in prose.
The magnificent veteran actor Sarah Day gives Ruth a humanity and spirit that soars over every inch of a stunning set designed by Stephen Hudson-Mairet. The creation of a living space for an old Jewish writer misses no details and gives the actors wonderful opportunities for places to play.
Day guides Lisa with her humor, and with her ethic while we go along for this ride.
Laura Frye, who plays Lisa, has decided somewhere along the line to create a character for whom no grovel seems too low.
Her initial appearance in Ruth's apartment has her breathless and fawning as if this is the first time she has had the chance to talk to any adult. It is so over-the-top one wonders where she can possibly go from the place she has planted her flag.
The answer is not very far. Over the course of six years a lot supposedly happens in the relationship between these two women, one the mentor and the other the mentee, but Lisa doesn't give us much change.
Ruth grows and shrinks before our very eyes and we expect that Lisa, so hungry for wisdom, will grow in some respect. But she remains a shallow and frightened character given to histrionics that only confuse the issue.
What we need from Lisa, and this may be the fault of either the playwright or the actor, is a sense of what she really is. Where is her core? It is not enough for her to have success and to become a peer to Ruth. We need to see her sorrows or joys or her somethings.
All we are left with at the end is her blatant theft of the greatest moment in Ruth's life, which Lisa turns into her first novel. Ruth's discovery of this emotional and immoral theft leads to the most memorable moments of the play, largely courtesy of Day.
The robbery by Lisa is a sinister act and we need to see the sinister side of Lisa. But she is unable to admit, even to herself, that she knows what she did and she knows it was wrong.
For the longest time this play seems to be on the slow lane of the freeway. We keep waiting for something to happen that will make us sit up and take notice, but waiting until the very end seems almost unfair.
For great theater to happen, every chapter in the book needs to be in place. When the pages turn oh-so slowly and not everyone is on the same one, you leave with the book unread and laying in a dusty overstock bin in the store.
Facebook Comments
Disclaimer: Please note that Facebook comments are posted through Facebook and cannot be approved, edited or declined by OnMilwaukee.com. The opinions expressed in Facebook comments do not necessarily reflect those of OnMilwaukee.com or its staff.