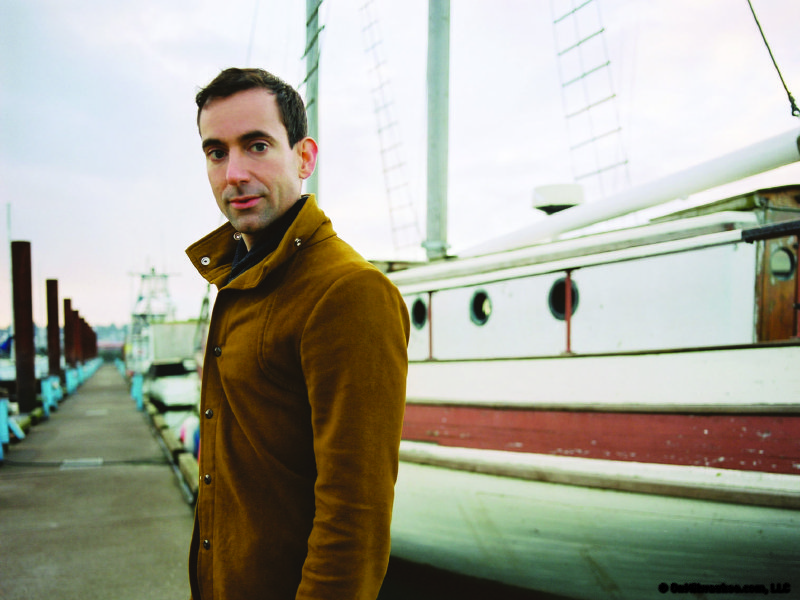 Former Milwaukeean pens graphic novel masterpiece
Graphic novelist Craig Thompson grew up in a fundamentalist Christian family in Marathon, Wis., and his only access to the arts were through the Sunday "funnies." Deeply inspired by comics, Thompson decided early on that he wanted to be an artist or film animator.
In 1999, he released his first graphic novel, "Goodbye Chunky Rice," and, the same year, started working on what would become his 600-page autobiographical novel, "Blankets," that would later receive critical acclaim. Time magazine named "Blankets" the no. 1 graphic novel of the year in 2003 and it received numerous other awards.
In 2004, Thompson started working on "Habibi," which was published by Pantheon in September. The 682-page book is inspired by Arabic calligraphy, makes allusions at times to and draws explicitly from western religious mythology.
The coming-of-age story revolves around Zam, lovingly referred to as "Habibi" by his caregiver Dodola, who rescues him from slavery and lives with him in a boat in the middle of a desert. Zam has feelings for Dodola that change over time. As he ages, he sees her less as a mother and more as a soul mate.
Uncomfortable with himself and his burgeoning sexuality, for lots of reasons including religious, Zam ultimately agrees to have his penis cut off, and lives for a time in a community of eunuchs. This happens during a period of separation from Dodola, who has been kidnapped and sold back into slavery – this time to complement the harem of the local sultan. The rest of the book details how they are able to come back together – and what happens once they do.
"Habibi," which is a pet-name like "honey" or "baby," is a beautifully told and drawn story, as complex in its narrative as in its drawings. Thompson spent many years researching western religions. It's a sort of post-apocalyptic vision, but its historical time is never really pinned down and in a sense is located across history into the future.
The depictions of sex and of women's bodies are explicit (and, of the latter, often beautiful), but like any Hollywood film not wanting an explicit rating, the main reproductive organs are not depicted.
OnMilwaukee.com recently caught up with Thompson to chat about "Habibi," his Wisconsin roots and his plans for the future.
OnMilwaukee.com: How long did you spend researching religion for this book?
Craig Thompson: I had five Muslim friends who served as core consultants for the Islamic details. I read the Koran. I guess you could say I have been researching religions, on some level, since I was 4. I grew up in an evangelical Christian household.
OMC: Do you write and draw the story at the same time, or do you focus on one aspect and then the other?
CT: I spent two years writing and researching "Habibi" before I started drawing seriously. I mean, I'm drawing all along, loose thumbnail drawings, but I started out with the story. In the end, "Habibi" was about 10 drafts.
OMC: "Habibi" is almost 700 pages long. Did you set out to write a graphic novel this lengthy or did it just naturally evolve into such a long novel?
CT: I started out with modest goals and expectations. I thought it would be between 200 and 300 pages, but then it spiraled out of control. But this is a necessary matter of working. If you knew how much work something was going to be from the beginning, you'd never get started. Simple goals got me going, and then letting it spiral was part of the pleasure.
One of the drawbacks of the comics medium is that it's too abbreviated.
OMC: How did the editors at Pantheon feel about such a lengthy book? Were they concerned about going over budget?
CT: The editors at Pantheon all have a literary take, and they let me roam freely as an artist. I didn't have deadlines – I got mostly everything I requested – from the gold foil on the cover to the type of paper used.
OMC: So when does "Habibi" take place? At times it feels like the past, at times the present and other times, it feels like a post-apocalyptic vision of the future.
CT: That's about right. I see it as a fairy tale that's drawn from all different time periods and places. People want to say the book takes place in the Middle East, because of the desert, but it is as much rooted in America as Persia as Vietnam or anywhere. Page 1 of 2 (view all on one page)
Next >>
Facebook Comments
Disclaimer: Please note that Facebook comments are posted through Facebook and cannot be approved, edited or declined by OnMilwaukee.com. The opinions expressed in Facebook comments do not necessarily reflect those of OnMilwaukee.com or its staff.