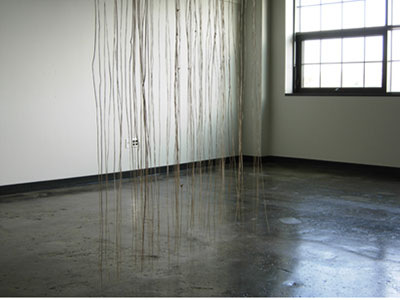 Dean Jensen Gallery "Not all Black and White"
As a former Milwaukee Institute of Art and Design professor and Milwaukee Sentinel art critic, gallery owner Dean Jensen has pondered cyclical transitions in the Milwaukee art scene. He has spent his life buying, selling, and foremost, appreciating good art.
The newest Dean Jensen Gallery exhibition, "Not all Black and White," combines the drawings of five artists whose inspirations and installations are as diverse and distinctive as Jensen himself.
"I have always been more verbal," Jensen says. "I am a writer. Even when I was in school, found that I enjoyed looking at good art much more than what I was able to produce myself."
"Not all Black and White," which runs through July 12, reveals the drawings of five Milwaukee-born artists. Ranging in age, technique and credentials, Kyle Fitzpatrick, Kevin Giese, Karen Laudon, Jon Schueler and Bradley Warsh represent the multiplicity of show-worthy artists in the area.
"This exhibition is fairly disparate," says Jensen. "It's really just about drawing. There are five different artists here all of whose directions are dramatically different. I like a certain discord going different directions. Sometimes there is much more harmony between the artists that we represent but sometimes I like that tension that exists if you show something urban against something more sublime."
Dramatic shifts in style, technique and affect are undoubtedly visible in the show. Fitzpatrick uses non-traditional mediums with traditional techniques; Giese plays with elements of organic material and concepts of space; Laudon reveals a fluctuating balance between life and death; Warsh's work is urban and raw and the late Schueler, by far the most prominent of the artists, exposes a transcendentally inventive process.
"We mix it up a lot in terms of what we do here," Jensen explains. "The only thing that guides what we do is that we have to find it interesting on some level. We have artists who are just beginning to emerge as well as pieces that climb up over $100,000. There are definitely interesting things that can be found for a modest amount of money."
The Dean Jensen Gallery opened more than 20 years ago, though it has relocated three times. The current space, 759 N. Water St., occupies the basement and first floor of a historically registered building, was completely refinished before the gallery took shape.
"This building had been empty for 12 or 14 years and in really bad repair when I acquired it," Jensen says. "Developers had wanted to tear down the entire block but luckily it was protected by the Historical Register."
Today, the gallery is a beautiful representation of Milwaukee's architectural history. Terra cotta tiling, steel-stained glass window framing and a 1920s staircase railing all contribute to the building's distinct design.
Jensen has been a part of the local, national and international art scene for 40 years, writing countless articles and reviews. As a gallery owner for over 20 years, he has witnessed times of growth as well as times of decline in Milwaukee's art world.
"Initially all of our business was done with people in Milwaukee or in Wisconsin," he says. "Increasingly over the years much of my business is done internationally. The Internet has really revolutionized the business. If I had to survive on just the business I do in Milwaukee alone, I probably would have had to lock my doors a long time ago."
The ability to sell art throughout the country and around the globe isn't the only thing that has helped Jensen stay alive all these years.
"You develop clients who are supportive of your gallery and come back again and again. You get to know their interests and look out for things you think they might be interested in. It is a business with a lot of trust. It's always changing. And it's a real exciting business too."
Facebook Comments
Disclaimer: Please note that Facebook comments are posted through Facebook and cannot be approved, edited or declined by OnMilwaukee.com. The opinions expressed in Facebook comments do not necessarily reflect those of OnMilwaukee.com or its staff.