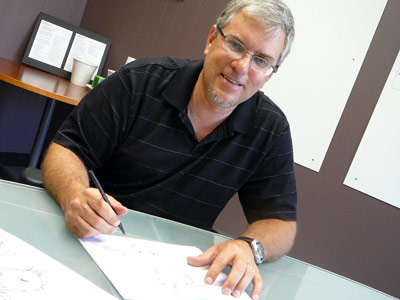 Former "Simpsons" animator now makes Milwaukee his Springfield
Podcast:
Former "Simpsons" animator Tim Decker talks about putting together a scene
Subscribe
to OnMilwaukee.com Podcasts
With the opening of "The Simpsons Movie" this weekend, there's one Milwaukeean who knows more about the show than even the most die-hard fans (this author included). That's because UW-Milwaukee and MATC professor Tim Decker, who also worked at Disney, served as an animator for the famous show in the earlier part of its 18-season run. Decker says it was a tough job with long and tedious hours, but it's also a part of his career that he looks back upon fondly.

Decker, who also owns Dig Design with his wife Amy, is a consultant, a freelance animator, and according to his business card, a "coffee connoisseur." In other words, he keeps himself busy beyond his full-time teaching position.

This Friday -- aside from being the premiere of the long-awaited "The Simpsons Movie" -- is also when Decker will participate in Gallery Night at Sprout!, 320 E. Buffalo St. From 4 to 6 p.m., he'll convert kids' scribbles into little cartoons on the spot.

We caught up with Decker recently to discuss his career, drawing Lisa Simpson and what's like to be an animator in a city like Milwaukee.

OMC: Can you give us the Tim Decker story?

Decker: I started out in art school in 1982, and while I was there, I sent out a letter to the Motion Picture Screen and Cartoonist Union. And I applied at the Ringling Brothers Clown College.

OMC: Clown college?

TD: I got accepted (to both). I was in Denver at the time. I'm from Winthrop Harbor, Ill., but my wife is from Milwaukee. So I'm weighing whether I should go to clown college or to Hollywood. I took off and went to Hollywood. That was 1982, there was nothing going on in Hollywood. Bud Hester ran the Cartoonists Union School, and he told us, "You guys are brave, because there's no work (in the industry)." So I fell flat on my face, and then I went into the Air Force to be a base cartoonist.

OMC: There's a job in the Air Force for a cartoonist?

TD: There are illustrators. I told my recruiter that I wanted to be an illustrator and she said, "Sure, bring your portfolio to boot camp." Kind of a big mistake. Drill sergeant kicked my butt. After the fifth week, I saw the career counselor who said, "Tim Decker, we're gonna make you a jet mechanic." I said, "No, no, no. I can draw." I drew a quick cartoon to show I could draw. So I had to go back to the snake pit where the drill sergeants were. I had to do 350 pushups. Then they got my portfolio for me, and I wound up getting stationed at Holloman Air Force Base in Southern New Mexico.

OMC: What kind of cartoons were you drawing there?

TD: Propaganda, you know?

OMC: Were you an artist as a kid?

TD: I've been drawing cartoons all my life. Also, while I was in Hollywood, before the Air Force, I went to Cal Arts. I got accepted but didn't have the $8,000 to go, so that's why I went to the Air Force. I thought I was going to end up in Germany, drawing cartoons, enjoying life. After four years, I got out and went to Cal Arts. I graduated and started working on "The Simpsons." While I was in Cal Arts, I worked on "Teenage Mutant Ninja Turtles" and "Alvin and the Chipmunks."

OMC: OK, tell me about "The Simpsons."

TD: "The Simpsons" was a blast. I really don't think you could say bad things about the crew. They were all professional. They all draw well, they all do great things. It's a fun job for someone single because you put a lot of hours in. The directors were all awesome. There was a lot stress, but it was a good job and was a lot of work.

OMC: What seasons were you there?

TD: I was there five and six. Old school.

OMC: That was right in the series' wheelhouse. What episodes did you work on?

TD: "The Boy Who Knew Too Much," I worked on. "Homer Loves Flanders," "Homer The Great."

OMC: I love the episode where Homer and Flanders become friends.

TD: I did the football game in that one.
Page 1 of 3 (view all on one page)
Next >>
Facebook Comments
Disclaimer: Please note that Facebook comments are posted through Facebook and cannot be approved, edited or declined by OnMilwaukee.com. The opinions expressed in Facebook comments do not necessarily reflect those of OnMilwaukee.com or its staff.