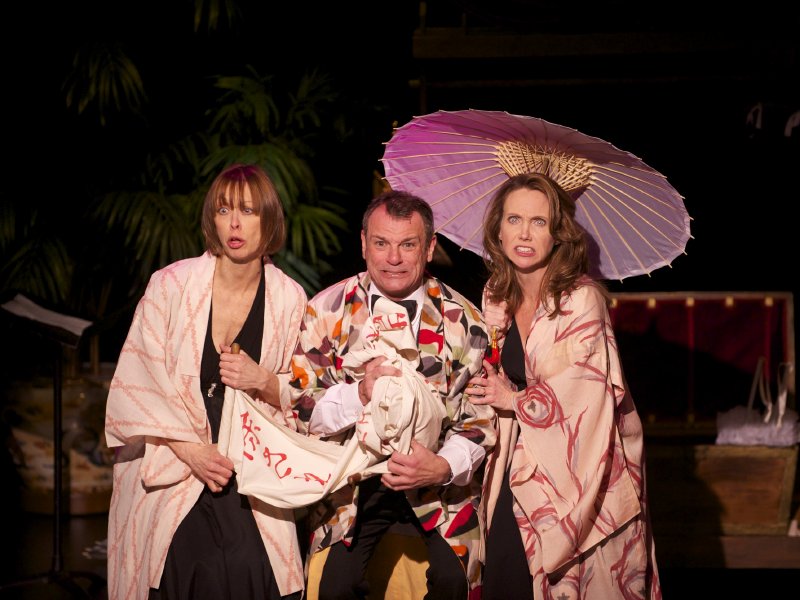 "Gilbert & Sullivan" gives a great musical experience
There are things in the world of culture that we are all supposed to like – things like Andy Warhol and public broadcasting and red wine and Yoko Ono.
You can add to that list the musical theater duo of Gilbert & Sullivan, who plied their trade in the Victorian era and who have many devoted followers to this very day.
Me? Not so much. I think I saw "The Mikado" once. I couldn't name a single song they wrote. I don't own a single CD or piece of sheet music. I admit this is a big hole in my cultural belief system, but that's the way it is.
And because of that, I am absolutely stunned at the incredible joy I got out of the Skylight Music Theatre's staging of "Here's a Howdy Do: The Mischievous World of Gilbert and Sullivan" this New Year's Eve.
It was with some trepidation that I sat down to watch what was billed as a review of G&S creations. But what it turned out to be was an eloquent testimony to one of the true theatrical geniuses in Milwaukee, Mr. Dale Gutzman.
He wrote and directed this frothy piece of musical and theatrical confection, and has assembled a cast that has made his vision come alive as the most welcome of gifts to lay before an audience in the new year.
I'm pretty sure there are many real G&S songs in this review. But the comedy that infuses the music – or maybe the other way around – carries the grateful audience along like a gondola sweeping gracefully down a canal on a warm summer evening.
This is Dale Gutzman at his absolute finest. He's staged dozens of shows at Skylight over the years and has run his own tiny Off The Wall Theater company for years. But this revue is where he knocks it out of the park with an effortless swing that needs no extra effort. The show is beautiful because he wrote it brilliantly and directed it equally brilliantly.
And he has assembled a cast of four who meet and exceeds all the demands of a complex score mixed with dialogue, dancing, costume changes and a range of emotions from tender to slapstick.
Ray Jivoff kind of leads this pack. The veteran song-and-dance man is a combination of Ray Bolger, Gene Kelly and Robert Preston. He can sing, act, dance and has almost perfect comedic timing. You look at Jivoff and you smile.
Diane Lane reminds you of a sleek combination of a stunning catwalk model and Carol Burnett. Her beauty is matched by her voice, which is no surprise to anyone who has been paying attention. But her comedic chops surprise here, pleasantly so.
Niffer Clarke, who may have the coolest name is all of show business, is the other soprano in the quartet and, as Lane gently reminds us, she has all the lovely ballads. Her subtle and sultry delivery of The Willow Song was enough to turn a chuckling audience breathlessly quiet. Clarke is a real actor who knows how to create a character with just a minor shrug or devilish glimpse out of the corner of her eye.
Paul Helm is the music man, with a grand piano and an everyman countenance that sparkles with good humor. He has a well-trained and pleasant tenor voice and the frantic movement from piano to stage and back is a major part of the humor of this play.
The first act of this review ends with a 12-minute rendition of "The Mikado" that has the audience roaring with laughter. And then Gutzman has the songs from "The Mikado" segue into one of the most familiar refrains from the musical theater world.
"We're doin' fine, Oklahoma. Oklahoma. O. K."
Oh, so funny. But "O.K." doesn't quite capture what we are seeing.
No wonder we're all supposed to like Gilbert & Sullivan. Now I get it.
"Here's a Howdy Do: the Mischievous World of Gilbert and Sullivan" runs through Jan. 13.
Facebook Comments
Disclaimer: Please note that Facebook comments are posted through Facebook and cannot be approved, edited or declined by OnMilwaukee.com. The opinions expressed in Facebook comments do not necessarily reflect those of OnMilwaukee.com or its staff.