Psychological horrors hit MAM's halls with "Haunted Screens"
The Halloween season is upon us. The inflatable pumpkin is perched outside the Pettit, awaiting those hunting for the perfect final accessory or a last-second Hail Mary of a costume. Parents are purchasing big bags of sugary treats – much to their mischievous candy-craving children's delight. And kids young and old are planning to flock to their nearest movie theater to be spooked by the latest … hey, where are the horror movies?
Indeed, in a pretty impressive Hollywood oversight, there are no new horror movies scheduled to come out next weekend for Halloween (unless you consider another Dan Brown book adaptation scary, which in that case, you are in luck!). For those seeking fascinating frights and tantalizing terrors, that might be the scariest news of all.
Luckily, there are a few options still out there; some theaters, for instance, are snagging screenings of some classic retro haunts.
However, if one really wants to venture into the depths of cinema's crypt of shadowy creeps and nightmarish creations, your best bet wouldn't be a movie theater this year. Instead, film fans and fright fans alike would be better off making like a doomed damsel running from a masked madman and sprinting over to the Milwaukee Art Museum for its new "Haunted Screens" exhibit, opening today and running through Jan. 22.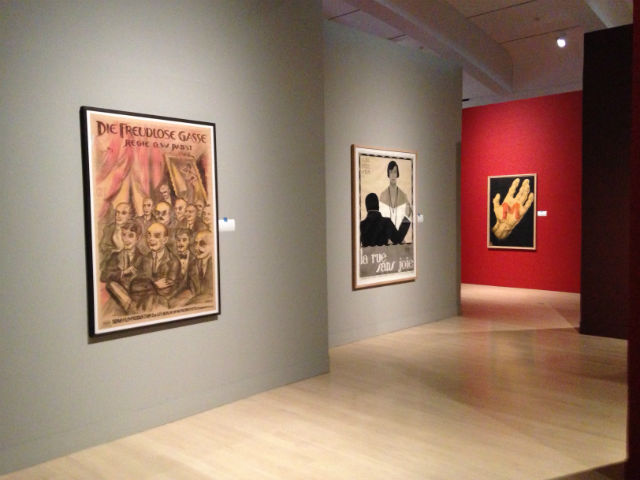 "I would love to say that it was intentional, but it just happened that this was when the exhibition was scheduled to be here," said Margaret Andera, adjunct curator of contemporary art at the museum, laughing.
The timing, however, couldn't be more perfect for the exhibit, an extensive tour – organized by the film archive at La Cinematheque Francaise – through German cinema after World War I. The crucial era in German history was just as crucial to film history, providing the foundation for a groundbreaking and influential movement characterized by stark shadows, sharply angled and off-kilter settings, and distorted psychological realities – a fitting artistic depiction for a defeated country finding itself surrounded by torment and destruction.
"Germany, between the wars, was isolated culturally, socially and economically, and they were isolated from Hollywood, so there wasn't the same exchange of ideas going back and forth," Andera explained. "A lot of these films dealt with the class system in Germany. A lot of them dealt with this dystopian idea; coming out of a World War, they were questioning community and the individual's place in a community, and they were looking to the future with machines."
That damaged sense of national unease dreamed up such cinematic nightmares as the iconic dystopia from Fritz Lang's "Metropolis," one of the earliest horror movie creations with the ghoulish vampire Count Orlok in "Nosferatu" and the beautifully haunted world of "The Cabinet of Dr. Caligari," filled with intense shadows and streets as canted, skewed and disjointed as the minds inhabiting them.
"It may not be necessarily 'scary,' but the idea of haunting, that word, comes through in nearly every one of these," Andera noted. "It's probably more of a psychological haunted than a physical haunted, but I think it's a great thing to do for Halloween. It's something different."
After a brief section dedicated to some relics, antiques and museum pieces gathered from La Cinematheque Francaise – including a few vintage cameras, script pages and old advertisements, including an amusingly misguided "Metropolis" one-sheet – "Haunted Screens" dives into the films themselves, organized into five main themes: nature, interiors, the street, staircases and the expressionist body.
Each section's walls are lined with grouped photos, sketches, drawings, posters and other behind-the-scenes imagery showing the process of bringing these incredible motion pictures to life – highlighted, of course, by a couple of projection screens in each section showing multiple clips of said films.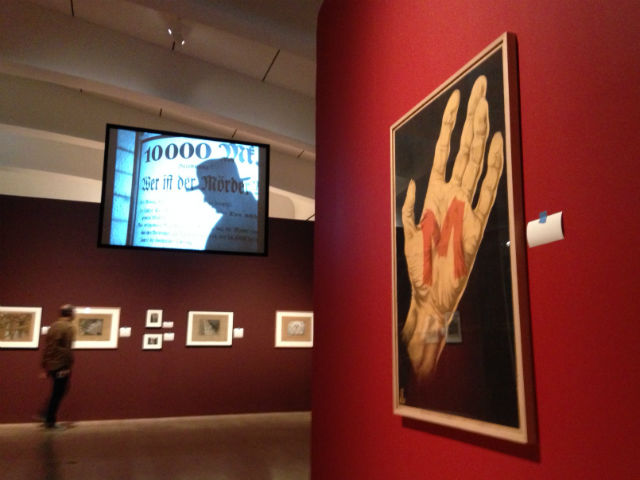 "The Milwaukee Art Museum has an extensive and world-class collection of German expressionist paintings and prints, so our audience is very familiar with this aesthetic overall; here is the version of how it manifested itself in cinema and film," Andera said. "There are moments where you can see a set drawing, then you can see a photograph and then you can be standing in front of a screen, seeing the scene play out. It's concept to execution, which is a rare thing to see."
The result allows attendees to witness how a knight's journey into a woods to slay a dragon in 1924's "Die Nibelungen" started as beautiful, evocative drawings and sophisticated technical blueprints, and grew into impressive early cinematic wizardry – complete with a practical (and kind of adorable) dragon breathing real fire. Or seeing how legendary director F.W. Murnau crafted an amazing flight scene in his 1928 "Faust" with immense models – and a flock of haunting birds that almost certainly inspired a certain beloved Hollywood creation just a decade later.
The walls of MAM's new exhibit are not content with merely being used to hold the projections and art pieces; in some places, the gallery's design contributes to telling the story and conveying the emotions of this early German film movement. For instance, in the interiors section, the normally open, straight-forward path is tightened into a series of smaller, winding rooms connected by dramatically canted doorways – all inspired by the emotionally heightened worlds of the films on display.
"The films that take place largely indoors are the ones that really use the architectural components to convey that sense of oppression," Andera explained. "A lot of times, the people in the film look very small compared to their surroundings, or they look cramped. Much of it couldn't possibly function … but it's all this idea that the architecture is practically a character in these films, a vehicle to convey emotion."
After the interiors section comes the fittingly much more open streets area, followed by the staircases section, which also gets into the thematic act with a major projection screen framed in a set of stairs. During one particular clip from "Nosferatu," a character even appears to walk down the steps surrounding the screen.
"The staircase, to me, is wrapped up with psychology – what's above and what's below," Andera noted. "It's used as a way to instill trepidation. Often times, a scene will have a staircase in it, and you wouldn't really want to go up or down in a lot of those scenes."
The exhibit then wraps up with an area dedicated to the body in German cinema – complete with a replica of perhaps the most famous body of the period, the robot Maria from "Metropolis," created by its original designer. However, much of the last section focuses on the place of the human body in these films, often used just as dramatically as the backgrounds framing them.
Since most of the movies in the exhibit are early silent films as well, many of the performances are emphatic and extreme as well – a product of having to convey emotions and story without sound, Andera explained, as well as a particular style choice for newcomers to the world of silent cinema to become acquainted to, and eventually appreciate.
"I would ask people to look at the acting at the same way they're looking at some of these extreme angles or crazy set designs where it becomes unnatural, because it's the acting equivalent of that aesthetic," she added.
While that style of acting is now mostly a relic of the past, the overall aesthetic, themes, ideas and merely haunting images of this era and culture of film are still as mesmerizing – and as influential – as they were in their heyday. Alfred Hitchcock took much inspiration from the canted angles, intense shadows and emotionally heightened visuals.
One can't look at a few scenes in the exhibit without thinking of Tim Burton's heightened light and dark worlds. A work by another modern filmmaker inspired by the era, Guy Maddin, even ends "Haunted Screens," a three-piece panel of old movie clips melding into one another like liquid smoke – a perfect final punctuation of history and modern technology combining together.
"I think it's an aesthetic that's dramatic in and of itself," Andera said. "It's an easy thing to become a character in the films. There's an emotionalism that comes through … an aesthetic where emotionalism is most easily conveyed."
With those big emotions and visuals, it's no surprise that the films showcased in "Haunted Screens" – like many of the Hollywood boogeymen that they would go on to inspire – refuse to die.
Facebook Comments
Disclaimer: Please note that Facebook comments are posted through Facebook and cannot be approved, edited or declined by OnMilwaukee.com. The opinions expressed in Facebook comments do not necessarily reflect those of OnMilwaukee.com or its staff.