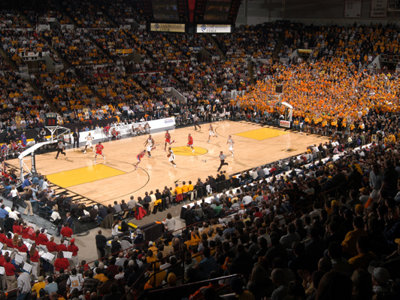 Panthers focused on return to NCAA Tournament
Five long years have passed since the Milwaukee Panthers last played for a trip to the NCAA Tournament.
Now, they stand just one victory away from the fourth NCAA bid in program history. The Panthers host Butler Tuesday night in the Horizon League Tournament Championship game at 8 p.m. at the U.S. Cellular Arena.
The chance might not have ever come were it not for a painful loss at Valparaiso in January. The Panthers were 4-5 in the league (9-11 overall) and pulled into Indianapolis in advance of their game against Butler two days later.
It was then, in a suburban Indianapolis Marriott, that Jeter's team finally came together. A late-night team meeting was held and the players were forced to look each other in the eye and figure out a way to save a season that was quickly slipping away.
"I just saw a group of guys who were confused and lacked confidence, really," Jeter said. "I had to remind them that nothing comes easy. If you're expecting something to be easy, that's when you get disappointed. When things got rough, we went further apart as a team. It was individuals out there. They weren't having fun."
Whatever was said, worked. The Panthers went into Hinkle Fieldhouse the next night and clawed their way to an 86-80 overtime victory over the Bulldogs, sparking a nine-game conference winning streak (Milwaukee lost a non-conference, ESPN Bracket Buster game Feb. 19 at Buffalo) that resulted in a three-way tie atop the final Horizon League standings.
"It was very important," said Anthony Hill, who leads the team with 15.6 points and 6.5 rebounds per game. "That meeting was a blessing because it let us know we could trust each other. I'm glad we finally came to our senses and finally got it going."
Standing between the Panthers and a return to the NCAA Tournament are the defending national runner-up Bulldogs, who are appearing in its sixth consecutive championship game.
In the teams' first meeting, the Panthers manhandled Butler in a 76-52 victory at the U.S. Cellular Arena. Milwaukee shot 55 percent from the field and connected on 11 of 23 three-point attempts while holding to just 38 percent shooting. Milwaukee also out-rebounded Butler, 36-24.
Point guard Kaylon Williams recorded the Panthers' first triple-double (10 points, 10 rebounds, 10 assists) since 1993 as Milwaukee snapped Butler's six-game winning streak.
In the second meeting, Williams had 16 points and 12 rebounds while Boyle added 15 and Ryan Allen had 10 off the bench as Milwaukee won at Hinkle for the first time since the 2004-05 season.
Winning a third time, however, might prove more problematic. While the Panthers finished the season strong, Butler won its last seven regular-season games to finish tied for the league title and knocked off tri-champion Cleveland State in the semifinals.
The Bulldogs are tough and have been tested both by their run to the national championship game last year and a challenging non-conference schedule that included a rematch with then-No. 1 Duke.
"They've been here before, many times," Jeter said. "They've been in hostile environments many times this season. They set their preseason up so that when they get to this point in the year, they're ready. "They know us very well, just like they know us very well. They're a lot to be concerned about so we just have to come out and play hard."
The home team will benefit from what is expected to be a packed house.
Though attendance hasn't been great for the Panthers this season, who were sixth in the league with 3,705 fans per game but the U.S. Cellular Arena was packed Saturday for the two semifinal contests.
The players were impressed with the atmosphere, which included a large and vocal turnout from UWM's student body.
"It was fun to see, it was exciting," senior Tone Boyle said. "Obviously, we're off campus so we don't get to see that too much. It was nice to have them out there and have the advantage on our home court."
It brought back memories of the last time Milwaukee advanced to this point, back in Jeter's first season.
"It was a reminder of how exciting this place can be," Jeter said.
Tickets are still available for the game. Fans can purchase tickets for $20 through Ticketmaster or at the Milwaukee Theater/U.S. Cellular box office. UWM students can purchase tickets for $10 at campus residence halls, the Panther Ticket Office or at the UWM Union.
Talkbacks
Midwest | March 8, 2011 at 10:50 a.m. (report)
Good luck to the Panthers tonight, and to Marquette. A pair of local teams playing for their NCAA Tourney lives tonight.
Facebook Comments
Disclaimer: Please note that Facebook comments are posted through Facebook and cannot be approved, edited or declined by OnMilwaukee.com. The opinions expressed in Facebook comments do not necessarily reflect those of OnMilwaukee.com or its staff.