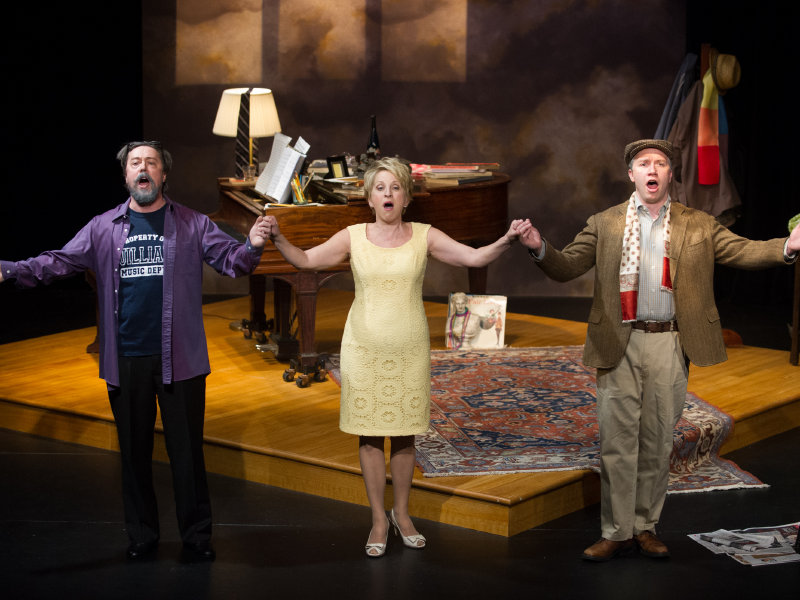 Skylight hits all the right notes with "I Hear America Singing"
With all due apologies to NBC's massive hit singing show, the aura of great music so often comes down to "The Voice." And it is the voice that's on full display in the original work created for Skylight Music Theatre by Milwaukee native and famed international composer Daron Hagen.
Hagen left Brookfield Central High School and embarked on a journey through the world, but he's returned home with "I Hear America Singing," which opened at the Skylight Friday night and runs through May 25.
The title of the show is a little misleading. This most certainly is not a series of Sousa-like marches or Kate Smith singing "God Bless America." Instead of a paean to patriotism, the show is a story of three friends who have been separated by work, sorrow and weakness who have come back for one more swing at the pinata of musical magic.
The three – Robbie a composer played by Robert Frankenberry; Roger, a singer played by Rick Pendzich; and Rose, Roger's soprano ex-wife played by Carol Greif – had been part of a big hit years ago. Now Robbie is remounting that show, with new songs and a new attitude.
Roger has come from his home in Milwaukee, where it turns out he is in hiding from the devils that had made him such a roaring alcoholic that he couldn't find work.
Rose has come from the road, where she flits from regional theater to regional theater, doing opera and musical theater – and wearing out.
Robbie wants to put together a snippet for potential financial backers for his production, and he wants Roger and Rose to join his enthusiasm.
Their steps are tentative at first. Roger is wary of Robbie and willing of Rose. Rose is warmed by Robbie and conflicted about Roger. And Robbie wants to parade his new-found gay pride sexuality for the world to see and savor.
Hagen, who wrote the music, lyrics and book for this production, takes his actors on a journey of musical love and with open arms invites the audience to come along.
At its heart, "I Hear America Singing" is about music and the power of music to move. It is about the voice, the words and music that can, and have, thrilled millions for centuries.
Each of us knows the power of the voice. I've heard Pavarotti, k.d. lang and Louis Armstrong. I saw Marian Anderson, Pearl Bailey and George Jones. And that is what music is about. It's about moments that stay with us forever.
Hagen has an envied reputation and an obvious love for the world of theater and musical theater. He knows its strengths and weaknesses, its heights of ecstasy and its perils and pitfalls.
I could quibble, I suppose, about the way the story moves at a slightly irregular pace. There are really no surprises in store. Despite the difficult personal histories, you know they are going to come together in the end, and we will all march off happily. That is musical theater.
But the story takes a back seat to some very interesting music. The words and music are both clever and compelling. The harmonies are rare and exciting. This is a work where you have to pay attention.
And it's easy to do with this cast.
Frankenberry, who served as music director, eloquently captured the dissolute composer, trying one more time for a ride on the merry-go-round. Greif has a soaring soprano that commands the stage, and she nails the worn-down diva who is tired of the road, tired of hotels and tired of her life.
Pendzich may well have been the busiest actor in Milwaukee this past season, and he delivers another bravura performance here. He is both funny and pathetic as he makes us chuckle and cringe in sadness. He is an actor of immense range.
Skylight closes its season next week when it opens "Hair," the tribal rock opera with a hash-pipe full of familiar songs.
But I think the real stamp artistic director Viswa Subbaraman has planted on this company has come in two works with music that is outside the familiar. One was the magnificent "El Cimarron" with a score by Hanz Werner Henze.
"I Hear America Singing" can take its place right alongside that impressive show as the kind of unique and fascinating productions that deserve a full house every night.
Facebook Comments
Disclaimer: Please note that Facebook comments are posted through Facebook and cannot be approved, edited or declined by OnMilwaukee.com. The opinions expressed in Facebook comments do not necessarily reflect those of OnMilwaukee.com or its staff.