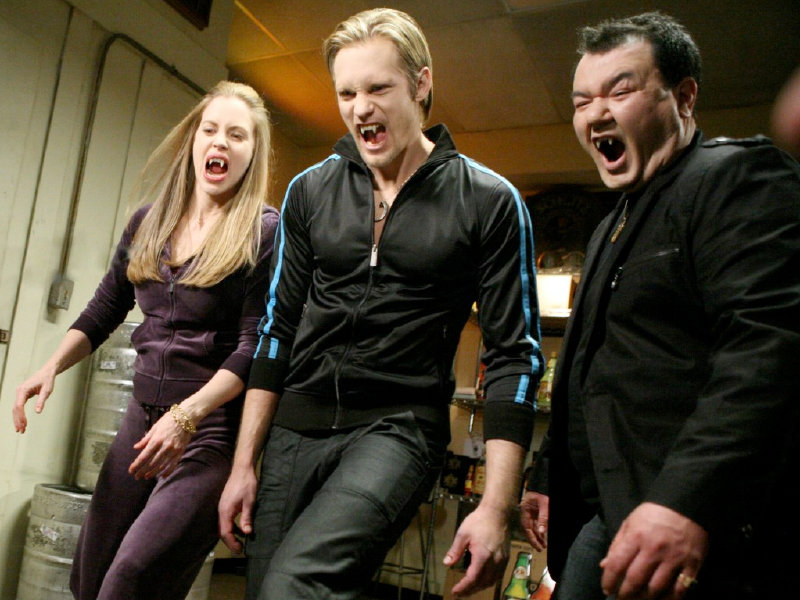 Milwaukee Talks: "True Blood" actress Kristin Bauer
Podcast:
"True Blood" actress Kristin Bauer talks about her green wedding in Racine
Subscribe
to OnMilwaukee.com Podcasts
Racine native Kristin Bauer keeps herself busy. In addition to playing Pam, the vampire club owner on HBO's hit show, "True Blood," Bauer is also an artist, an animal rights activist and a new bride who got married on her family's farm.
Bauer has 53 credited television and film projects -- everything from "Seinfeld" to "Desperate Housewives" to "Boston Legal" and now, "True Blood," which she says is her favorite project yet.
With "True Blood" approaching its season-two finale, we caught up with Bauer by phone to discuss "man hands," her new-found recognition, her memories of Mayfair Mall and more. Enjoy this latest Milwaukee Talks.
OnMilwaukee.com: What's it like working on a show that some critics are calling one of the best on TV?
Kristin Bauer: It's incredible, surreal and unexpected.
OMC: What part of it is unexpected? Because I've watched every episode of "True Blood" and knew it was a pretty unique show from day one.
KB: I don't know if it's me having been in the business a bit and have gotten my hopes up so many times, because there's so much about filming that I can't control. I've done some amazing things that people didn't really see, and some crappy things that everybody saw. I somehow have to focus on just saying the words and then forget about it. I assumed it would be amazing because of (executive producer) Alan Ball, and I love vampires, and the cast is so incredible. I was working on another show, and halfway through the hair and makeup, someone said, "We just have to tell you we love 'True Blood,' and you're incredible as Pam!" They were giving me attention that seems different than the other hit shows that I've been on like "Seinfeld." There's a real mysterious component to this level of interest.
OMC: The season is just about over, so I'm assuming you've been done filming for a while. Do you feel like every episode is just getting better?
KB: Yeah, I do. I feel the excitement, even though I know what is going to happen. I still can't wait for Sunday.
OMC: Do you watch the show?
KB: Yeah, they screen them at lunchtime on the set. I'm as excited as anybody.
OMC: What else are you working on?
KB: I'm doing "Private Practice" this week. It's totally different; I'm playing a human.
OMC: You're only 35, but your biography says you acted in 53 different roles. That seems like a lot. What are some of your favorites?
KB: I really am partial to comedy, which is one thing I love about "True Blood." I think Pam is hysterical. A lot of the TV stuff I do that is dramatic is harder work. It's great as an actor to show people that you can do that, but maybe I've just gotten lazy, but I really like playing fun roles. "Seinfeld" was fun, and "Romy and Michele's High School Reunion" was fun. "Desperate Housewives" and "Boston Legal" were fun. "True Blood" is the most fun of any job I've ever had.
OMC: Even better than the "man hands" episode of "Seinfeld?"
KB: That was pretty hysterical, because a sitcom set is a blast. That cast was so happy and so easy-going. They worked like three or four hours a day. "True Blood" is 17 hours a day. It's really cinematic, so the filming moves much more slowly.
OMC: Do people still ask you about the "man hands?" Do they all want to see your hands?
KB: Yes, they do. I get asked that all the time.
OMC: I'm assuming those weren't actually your hands.
KB: No, thank God. Can you imagine?
OMC: Speaking of special effects, how do the fangs work on "True Blood?"
KB: It's a magical CGI trick. We just say the line again with fangs, and somewhere these guys just make that happen.
Page 1 of 2 (view all on one page)
Next >>
Facebook Comments
Disclaimer: Please note that Facebook comments are posted through Facebook and cannot be approved, edited or declined by OnMilwaukee.com. The opinions expressed in Facebook comments do not necessarily reflect those of OnMilwaukee.com or its staff.