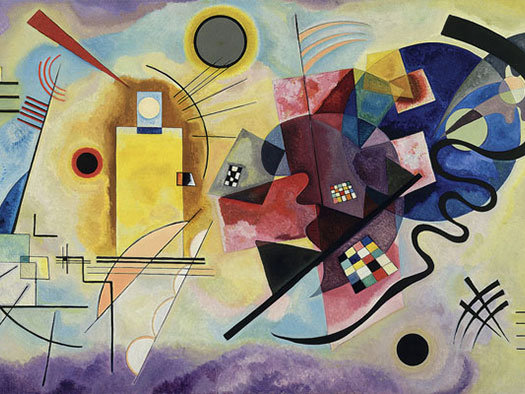 Kandinsky journey leads to U.S. debut of a major work at Milwaukee Art Museum
All through the impressive display that is "Kandinsky: A Retrospective," a show created in partnership with Paris' Centre Pompidou and on view at the Milwaukee Art Museum through Sept. 1, I couldn't stop thinking of John Coltrane.
Early on, in the section that captures Wassily Kandinsky's rather traditional impressionistic and figurative works created in Berlin from 1896 to 1908, I thought of Trane in Dizzy Gillespie's group, playing straight ahead bebop.
In the next room -- I admit I found it unusual that there were so few works by Kandinsky alongside works by his colleagues and collaborators in a gallery right at the start of a show -- the artist is in Murnau, collaborating with fellow Blue Rider group artists like Gabriele Munter and Franz Marc. The colors are more explosive -- think fauvism. And Coltrane is with Miles' group, exploring the fringes, leading folks to say, "he can't play."
With the dawn of the war, Kandinsky is forced to return to his native Russia and his work begins to move into abstraction, though he prefers to speak of it in terms of symbolism rather than abstraction. If you look closely, you can see it, but you have to look. Much like Trane's early Impulse outings.
By the time Kandinsky is back in Germany at Gropius' Bauhaus, in 1921, and after he moves to France in 1933, where he lives until his death in 1944, he's out there swimming in the freedom of his heightened symbolism, his abstraction, his experimentation with color and form. And Coltrane gives us "Kulu Se Mama" and "Sun Ship."
What made this connection for me was looking at the play of light and shadow in "Park of St. Cloud," early in the show. I saw a side of Kandinsky I hadn't seen before. The Kandinsky, that like Coltrane, learned the rules before he broke them. And a Kandinsky that grew into abstraction and visual freedom as he matured. A Kandinsky that didn't toss the baby out with the bath water.
Through the symbolism in his work, he grounded his abstraction in theory, in reality, in humanity. He wasn't creating pretty pictures simply to make the critics swoon and his elders shift uncomfortably in his seat.
The show is well-conceived, well-arranged and really, really interesting. And it's visually exciting. It is the work of MAM's Chief Curator Brady Roberts and Angela Lampe, who is curator of modern art at the Pompidou.
Works from both museums are augmented by loans from the Art Institute of Chicago and the Walker Art Center and the Guggenheim, as well as Milwaukee's own Bradley Collection. All of the works are arranged chronologically, according to geography.
"We conceived the show as a journey," says Lampe, "so that's the reason why we start here in Munich. It is a whole life but it's organized with different places where Kandinsky lived. He is the only artist that I know that twice switched citizenship (Russian to German to French) ... so geography is very important."
One of the first major career retrospectives of Kandinsky's work in Milwaukee in years, the show, according to Roberts, is both something of a homecoming and something altogether new.
"Milwaukee Art Museum was one of the venues for Kandinsky's memorial exhibition in 1945 that was organized by the Guggenheim," he said. "This is a full retrospective of Kandinsky's entire career, from his beginnings in Munich to his little known period in Russia -- which is one of the strengths of the Pompidou collection -- and his late period in Paris.
"This is a new look at kandinsky and (includes) something that's never been shown in the United States before, a major work from Kandinsky's Bauhaus period."
That something is an incredible room designed by Kandinsky for the 1922 Juryfreie exhibition in Berlin. Reconstructed 55 years later by his widow, Nina, the room is an almost indescribable experience and simply must be seen.
"The Milwaukee Art Museum is proud to be the premier venue for Kandinsky: A Retrospective. This exhibition celebrates one of the key figures in Modern art by showcasing two extraordinary institutions: the exhaustive collections of works by the artist in the Centre Pompidou; and the superb work of the related Blaue Reiter artists in the Mrs. Harry Lynde Bradley Collection at the Milwaukee Art Museum," said Daniel Keegan, director
of the Milwaukee Art Museum.
"This international collaboration tells the story of some of the most dynamic and influential modern art created in the first half of the 20th century."
The show will travel to Nashville after it closes in Milwaukee.
Facebook Comments
Disclaimer: Please note that Facebook comments are posted through Facebook and cannot be approved, edited or declined by OnMilwaukee.com. The opinions expressed in Facebook comments do not necessarily reflect those of OnMilwaukee.com or its staff.