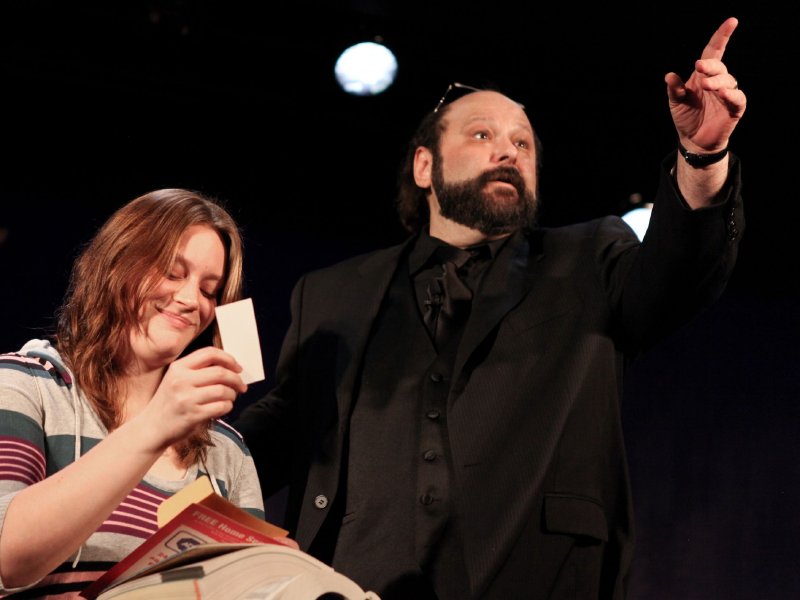 "Mind Over Milwaukee" is a spellbinding feat of entertainment
There is absolutely no logical explanation for the spectacle taking place at the Stackner Cabaret at the Milwaukee Rep.
It is, quite simply, the most amazingly unbelievable and entertaining example of creative and unusual theater I have ever seen in my life.
It's called "Mind Over Milwaukee," and the star – and only performer – is Marc Salem, a short, pudgy, balding wizard dressed in a black suit, black vest, black shirt and black tie.
This is not a magic show. Not even close. I've seen magic shows like David Copperfield and Doug Henning and Siegfried and Roy. They couldn't shine Marc Salem's shoes. They are horses on a merry-go-round. He is Secretariat.
The best way to describe this show is to take you step by step through one of his mind-bending exercises.
Follow closely here and remember, this is all done with the mind.
He starts by saying that he's helped cops all over the world. And now he and us (the audience) are going to create a robbery.
Step one is to come up with the name of the gang. He points to three different people in the audience and asks each for a letter. We get T, A and D. So gang is called the TADs.
He then points to a different person and creates a scenario. The robbery takes place at the Oriental Theatre. It is popcorn that is stolen. It took place in March. On the 15th, the popcorn was fenced in the Third Ward. It was worth $5,000.
After he created this story of a crime, he called a woman up on stage. He had her reach into his coat and take his wallet out. He had her open the wallet only to find an envelope. He had her remove the envelope. He had her open the envelope and take out a piece of paper. He had her unfold the paper. He had her read the paper, from top to bottom.
She read: "There was a robbery at the Oriental Theatre by a gang called Tad. They stole popcorn. The robbery occurred on March 15. The gang sold the popcorn in the Third Ward. It was valued at $5,000."
The word "incredible" is often used to describe amazing feats. Not this one. Watching it happen before your very eyes was absolutely believable. It was incredibly "credible."
There were no tricks, no sleights of hand, no plants in the audience, no sawing anybody in half. No Siberian tigers showed up. Nobody floated in air. There was no music and no pretty assistant models dressed in sequins.
This was a quiet night of one man reading people, reading their minds and their bodies and communicating with them silently or ... something. There is only one futility here, and that is trying to figure out how it happens. Don't bother.
Just sit back and make a personal commitment to the most enjoyable and entertaining show you will ever see.
He's funny. He's clean. He's generous. Nobody gets embarrassed. Nobody gets humiliated. He doesn't make anyone bark like a dog or shake and dance around a stripper pole.
Mark Clements, the artistic director at The Rep, has taken steps to make the Stackner a home for a variety of entertainment styles. He opened the season with the side-splitting "Gutenberg! The Musical" and followed that with the passion of "Blues in the Night."
Now he has brought the most unique and thrilling show you could imagine to the Stackner, proving once more that he is a theatrical impresario without fear and with a vast spot in his heart for storytelling.
Because, above all else, Marc Salem tells a story of wonder and amazement that should be on the must-see list for everyone who can get a ticket.
"Mind Over Milwaukee" runs through Feb. 24.
Facebook Comments
Disclaimer: Please note that Facebook comments are posted through Facebook and cannot be approved, edited or declined by OnMilwaukee.com. The opinions expressed in Facebook comments do not necessarily reflect those of OnMilwaukee.com or its staff.