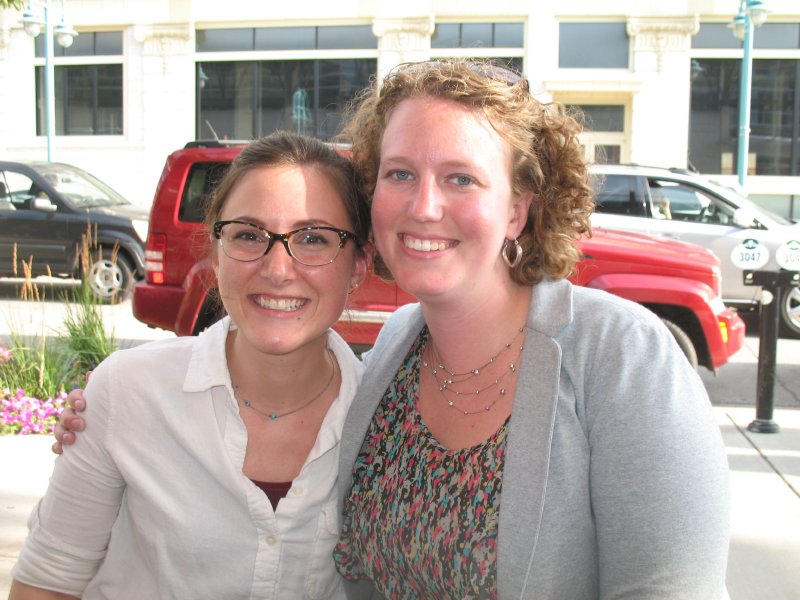 Young women directors make sparkling marks on Milwaukee theater
If there is one thing that marks the world of professional theater, in Milwaukee and just about everywhere else, it's the egalitarian nature of things.
Everyone who works in the theater knows that it takes lots of moving parts, working equally, to end up with a production that makes everyone proud. Young actors may well have stars in their eyes for those more senior and experienced, but those older actors are almost unfailingly generous with their time and answers.
Nevertheless, there are stars created in the world of theater.
Milwaukee's Jason Fassl is a nation-wide star as a lighting designer, and Josh Schmidt is a star as a musical composer and sound designer. Molly Rhode is a star actor and director. Deborah Staples is a huge star. And the thing about all of them is that they have paid their dues as they climbed the ladder.
Now we have two certifiable budding star directors – both women, both 27 years old and each with a future that seems unlimited. They couldn't seem more different.
Mallory Metoxen is tiny and dark with a pierced stud in her lower lip, glasses framing intense burning eyes. Leda Hoffmann is six feet tall with eyes as sparkling as a frozen blue lake and with a warmth and a smile that could charm the coldest of hearts.
But the similarities between the two are much more important than any superficial differences. They are both very smart. They both have deep level commitment. They both understand intimately that theater is not a solo, but rather a chorus of effort that sings out of the same hymnal.
Metoxen burst onto the scene last season with a stunning job directing "The Understudy" at Renaissance Theaterworks, her first solo flight with a major Milwaukee theater. Hoffmann has a series of directing credits since she was a Milwaukee Rep directing intern, but her job at Door Shakespeare with "Comedy of Errors" stamped her as a growing force in the directorial ranks.
Both are a little unusual because most young women in love with the theater grow up wanting to be actors.
"I acted a little," Metoxen said, "but I hated it. Everybody talked about the adrenaline rush of performing, but that was the worst part. I hated memorizing lines. But I loved the theater, and directing came kind of naturally. I was lucky to work at Renaissance and to assistant direct a number of productions. It was incredibly valuable."
"I did some acting, too," said Hoffmann. "But there aren't a lot of roles for a six-foot woman. And directing just spoke to me. I loved the idea of helping to find new and interesting ways to tell the story of the play."
Along their short journey, these two have learned some important lessons about leadership and the way to be effective as a director.
"This is a collaborative process," Hoffmann said. "No director ever has any success telling people what to do. What you hope is that you get the right people together, and each one brings strengths that make up a wonderful night of theater."
"I think a lot of it is about trust," Metoxen said. "The director has to let everyone know that she trusts them and that helps them trust the director. It's very difficult if that level of trust is missing."
Both Metoxen and Hoffman have already earned plenty of accolades from major figures in the theater community.
"Mallory is the most gifted young director I have ever worked with," said Susan Fete, the artistic director at Renaissance and part of the team that gave this untested young woman the reins for "The Understudy." "She has skill and passion; we will see big things from her."
Ken Williams is a wonderful Milwaukee actor who is enjoying a newfound grasp of challenging roles with major companies. He is well on his way to being at the top echelon of talents in this city. He was in "The Understudy" when Metoxen made her debut.
"Mallory is an intelligent director who is willing to share her vision of a play without being unwilling to change her vision if it serves the piece," Williams said. "And while she is more than willing to adjust if the actor brings something she didn't think of, she also has a clear vision of the piece so if something won't work she knows almost immediately.
"Working with her is an absolute pleasure she loves to have fun during rehearsal and yet I never felt like my time was wasted," Williams continued. "Her willingness and ability to collaborate is amazing; she loves to be a part of a conversation. She always came to rehearsal prepared and never flinched when issues would arise ... and in theater, they always arise. I love this next generation of theater artists; they are going to bring about a new renaissance of Milwaukee theater.
"With directors like Mallory and Leda," he concluded, "writers like the talented Liz Shipe, and actors like Allie Bonesho, Sara Zientek and Elyse Edelman – just to name a few of the strong female voices that already exist – Milwaukee is only going to get stronger. And that is exciting."
Hoffmann directed one of the very best renditions of "Comedy of Errors" I've ever seen at Door Shakespeare this summer.
"Leda is amazing to work with and inspiring in terms of constantly searching for the best way to tell the story," said Amy Ludwigsen, the executive director of the company.
"She works wonderfully with the artistic ensemble and trusts everyone involved to make choices that will result in a clear and creative performance. As a director, Leda is a unique combination of a confident leader, as well as an adaptable collaborator. Her work at Door Shakespeare this season was exemplary, and I can't wait to see what she is in store for the Wisconsin theater community in the seasons ahead."
Brent Hazelton is the associate artistic director at the Rep, an accomplished director and playwright, and the guy who originally brought Hoffmann to Milwaukee from Iowa when he headed the Rep's intern program.
"Leda's a really bright, emerging director," Hazelton said. "Not only is she one of the most singularly driven and committed artists that I know, but she brings a consistent and relentless curious joy to the work that she's able to pass on to her actors – who unanimously sing her praises and seem to be willing to go wherever she asks, and then a little bit further.
"She's also firmly interested in telling a good, clear, fundamentally human story, and even when the opportunity presents itself, remains blissfully free of "concept" and just keeps it about people and what they need from one another," he continued. "She doesn't do things to a play; she just does the play. And she does it well."
Metoxen is set to direct "The Effect of Gamma Rays on Man-in-the-Moon Marigolds" for The Splinter Group this season, while Hoffmann will make her Rep debut with the searing play "The Amish Project."
Watching their journey through the theatrical forest in Milwaukee is going to be both very interesting and, rewarding.
Facebook Comments
Disclaimer: Please note that Facebook comments are posted through Facebook and cannot be approved, edited or declined by OnMilwaukee.com. The opinions expressed in Facebook comments do not necessarily reflect those of OnMilwaukee.com or its staff.