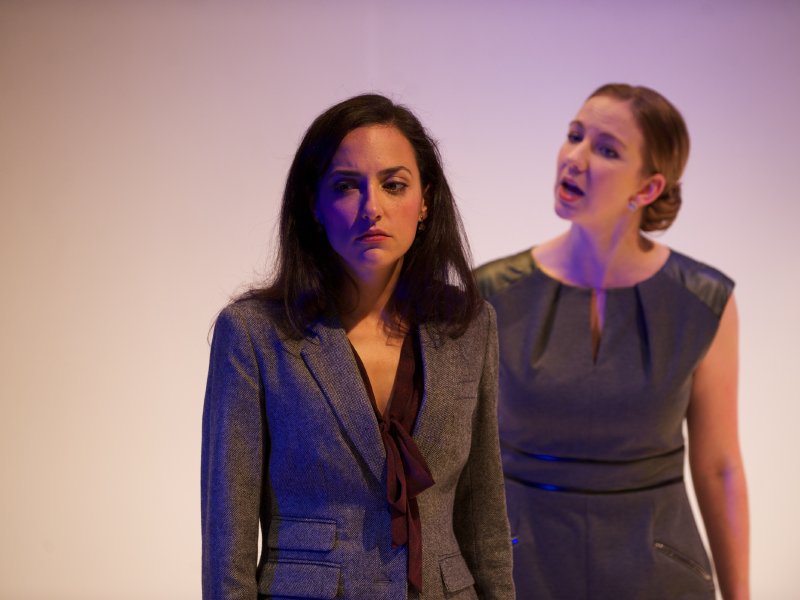 In Tandem's "The Nightmare Room" captures tense, brilliant theater
The best nights at the theater come when you see a play that makes an audience wonder, gives the audience some victories, provides some surprise and leaves them with a feeling that they aren't that far removed from the characters they just watched on stage.
That's the way it is in "The Nightmare Room," which over the weekend opened the 15th season for In Tandem Theatre, one of those "little engines that could" on the Milwaukee theatrical landscape.
Two women, Catherine and Helen, friends since they were little girls, are locked in a room. Catherine, wealthy and driven, married Michael, a suave ex-movie star. Helen, middle-class and content, has had an affair with Michael. Catherine has found out about the affair and is prepared to exact revenge.
When the play opens, Catherine, enshrined in a stark white coat, has tied Helen to a chair, blindfolded her and promises to make her worst nightmare come alive by playing a game to see who will drink the glass of water that has the poison in it.
The set, sparsely and wonderfully designed by Koren Black, is as white as Catherine's coat and as barren as her soul. Once the scene is set, it is time for the audience to go to work as Mary C. McLellan as Catherine and Libby Amato as Helen invite us along on their little sojourn through emotional wreckage.
First of all we wonder just who each of these women are and what makes them tick. Then we get our self-satisfied victories when we figure out where this trail is taking them. We pinch ourselves in surprise when something happens that we didn't come close to expecting.
And finally, not wanting to spoil the surprise, we see a little bit of ourselves in what these women do to each other and, perhaps more importantly, what they do to themselves.
It's clear at the end that the most painful nightmares are not those visited upon us by outside forces, but by those we create ourselves, the ones that wrap us in a cocoon of self-doubt, loathing and fear.
Make no mistake about it; this is no relaxing night at the theater. The audience needs to work on this one, to suspend some sense of disbelief and watch with clenched teeth as each of these women take turns as victim and abuser, as confessor and accuser. It's both painful and perplexing to watch.
That this play is such a satisfying experience is due, in large measure, to three people. Chris Flieller, who is the artistic director and co-founder of In Tandem, directed this play. And directed is the right word. This production moves along and, given the frequent flashbacks that establish both the relationship between Helen and Catherine and the strengths and weaknesses of each, it would be easy to find yourself confused by trying to keep up and wonder what's real and what's not. But, Flieller keeps this train moving forward and provides enough room in the club car for all of us to come along.
McLellan, who makes her In Tandem debut, is a relatively new face in Milwaukee after a solid career in regional theaters around the country. She is as buttoned up and bitterly severe as Catherine must be. She makes you wonder what in the world Michael saw in her that would make him marry this shrew that could not be tamed.
She has a remarkable poise on stage, no easy task with a character beset by enough devils to make every step a dance to the death.
Libby Amato, who plays Helen, continues her wonderful streak of amazing portraits she has drawn on Milwaukee stages.
Last summer she was the witch Vengeance in the Optimist Theatre production of "Hamlet." In this new play, she moves with ease from witch to bitch with not a single misstep.
She is by turn frightened, puzzled, guilty, full of passion and righteous determination. She can turn on a dime and give as good as she gets.
And through it all she has the kind of dangerous sexiness that makes every man know how she stole Michael and every woman want to keep her at bay.
The contrasting portraits of Helen and Catherine are so stark and so intermingled with sadness, viciousness and accusation. That contrast is one of the best parts of this evening.
This is not an enjoyable easy night at the theater. But it is as worthwhile a night as we have seen in a long time.
rzufebebbedvsdrxbyef
Facebook Comments
Disclaimer: Please note that Facebook comments are posted through Facebook and cannot be approved, edited or declined by OnMilwaukee.com. The opinions expressed in Facebook comments do not necessarily reflect those of OnMilwaukee.com or its staff.