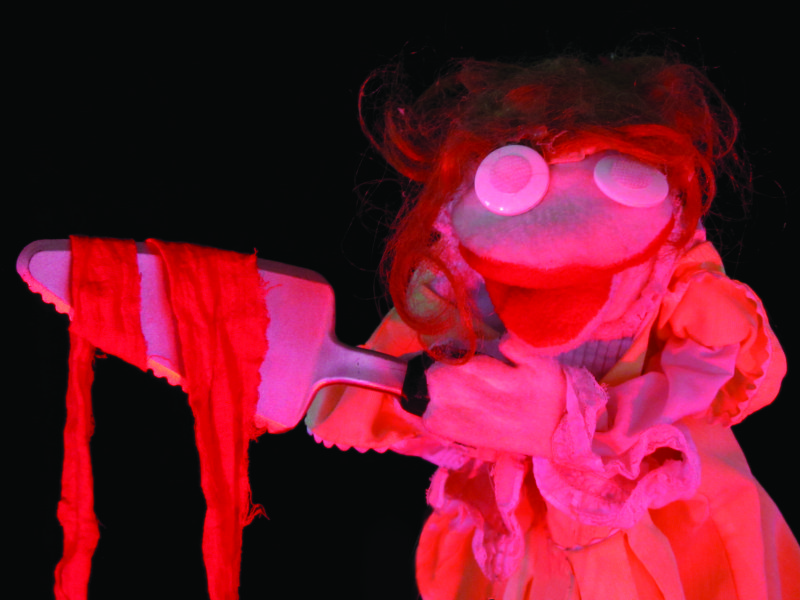 Romero's classic "Night of the Living Dead" comes to life ... with puppets
Not many people would associate classic horror with felt and handmade puppets. But since 2007, Bill Olsen and his fellow puppeteers at Angry Young Men, Ltd. have found a way to bring the two worlds together with hilariously spooky results, namely in a 30-minute rendition of George A. Romero's zombie masterpiece "Night of the Living Dead."
Much like the film that inspired it, Olsen's felt blood-filled puppet show has earned a nice underground following, resulting in their now annual performance Thursday night at the Oriental Theatre. The Halloween show comes complete with a stage magician, a hoop dancer, some pantomime bits, some extra puppetry and then, of course, "Night of the Living Dead: The Puppet Show."
OnMilwaukee.com caught up with Olsen to talk about where the crazed idea for a zombie puppet show came from and if there are any other horror classics down the road that should prepare to be puppet-ized.
OnMilwaukee.com: Where did this idea come from for "Night of the Living Dead Puppets"?
Bill Olsen: Some of my friends and I had been tinkering around with puppets to some degree with no real shows to speak of at that time. But some other friends in our circle were working for a little film festival called "It Came From Lake Michigan." It was held for two years, one time in Racine and a second time out at State Fair Park. A lot of their specialty was local filmmakers, so they had a bunch of small local low-budget horror films. It was a lot of fun.
For their second year, they wanted to do a little something. They had the film showings, and they had some horror shops, but they wanted a little extra push for something for people to do. We had a friend on their marketing team, and she said, "I got some friends who do puppets," and they said yes.
They allowed us to do pretty much whatever we wanted with puppets in our certain time slot – they gave us a little space in the basement – so we chose "Night of the Living Dead."
OMC: Why?
BO: We wanted something familiar and classic. Your Frankensteins and Draculas, they're not visceral enough, and anything that was visceral – like "Friday the 13th" or "Nightmare on Elm Street," anything that would have a good deal of blood and scary imagery – was owned by big corporations. I didn't want to take the chance of us getting sued.
But a few months before, I had seen a really bad 3-D remake of "Night of the Living Dead" with Sid Haig. I don't know if you've seen that one.
OMC: I've heard of it, but I don't think I saw it. It looked pretty bad.
BO: The 3-D is okay; the rest is garbage. But the idea was, "That's right; this is public domain. There's no way I'm going to get sued." In subsequent years, we actually met many people from the original movie, like co-producer and co-writer John A. Russo, and he pretty much gave us his blessing. He said if we ever get in any legal trouble with it, he'll set them straight. (laughs)
OMC: That's awesome.
BO: That's been really rewarding, taking it to horror conventions, showing it to people who influenced the work and really having them embrace this wacky idea of zombie puppets. It seems like such a natural idea, it's kind of surprising you don't see this more often.
OMC: The show is 30 minutes long. How did you decide what to compress, what to drop and what to keep in the show?
BO: One of the beauties of the film is that there's almost this sense of real time, with all of those pauses, all of the things they don't say to each other and all the time spent boarding up the house. It's that sense of cinema verite, the idea that like you're there, which is why the black-and-white works so well like a documentary. It really encapsulates this mood of these seven normal people trapped together, but in terms of turning all of that into comedy, there's going to be a long time without laughs. So it's fun to jump ahead and make fun of padding out the movie with arguing.
OMC: How long does it take to make the puppets?
BO: We're roughly on our third generation of puppets. We've been using them since 2009, and they're built like tanks. We tend to build an entire cast around the same time. It takes about a couple months to do them, but it depends on the puppet. We've got other puppets we've done since that took from about a couple of hours to a couple of weeks, depending on how intricate they look and how much time we have to work on them. We're all doing this outside of day jobs, families and relationships.
OMC: When did you decide that you wanted to make puppets and make that your hobby?
BO: Puppets are one of those things that were in the back of my mind. My background personally is in cartooning, and I had been involved in theater off and on for about 20 years. Once I kind of stumbled ass-backwards into it, it just seemed like a natural fit.
OMC: Obviously, "Night of the Living Dead" is a serious movie with serious themes in it. Was it hard to take a comical take on a story like that and one that people really look up to?
BO: It is, but in terms of a fictional movie, because it takes itself so seriously and because it is the absolute opposite of light-hearted, those moments where you can add a joke become that much clearer. It's a very dead serious movie, but with some of the silliness, like the limitations of the filmmaking because he was making this out of his spare time and money too – you kind of feel a kinship to him – I don't see how you can't quite joke. But then again, that just might be how my mind just works. (laughs)
OMC: So are you thinking of expanding this to other horror movies or other films in the future, or will it always be a "Night of the Living Dead" thing?
BO: Well, we do have our variety show that we do several versions of called "Full Frontal Puppetry," and that gives us a chance to expand on different characters and concepts that we can't necessarily jam into the "Night of the Living Dead" show.
As far as doing other horror movies, it takes us back to the question at the beginning: What is copyrighted? What would we get into trouble for doing if it got any audience? You actually can't touch "Dawn of the Dead" or "Day of the Dead" because the guy who owns the rights is notoriously litigious.
OMC: If copyright wasn't a thing, which one would be number one on your list?
BO: Oh, easily "Dawn of the Dead," mainly because we already have the zombies already that we could re-purpose for the characters in "Dawn." We've tossed around joke ideas for "Dawn" in the past, and it seems like we could do something that we could bring to horror conventions and be a cult favorite, but that's not likely to happen.
OMC: You've been doing this particular show since 2007. How have you kept it fresh and new over the years?
BO: We're constantly tweaking the script. If there's a section that for some reason isn't getting the laughs we believe it should, we'll tweak that. We're constantly upgrading the props and the puppets. And we also tend to change up our opening acts. We've been throwing more and more puppetry in there. So it's a fully rounded show; it's not just a half hour of puppetry. You get your money's worth.
"Night of the Living Dead: The Puppet Show" performs Thursday, Oct. 31 at 7:30 p.m. at the Oriental Theatre. Tickets are $10.
Facebook Comments
Disclaimer: Please note that Facebook comments are posted through Facebook and cannot be approved, edited or declined by OnMilwaukee.com. The opinions expressed in Facebook comments do not necessarily reflect those of OnMilwaukee.com or its staff.