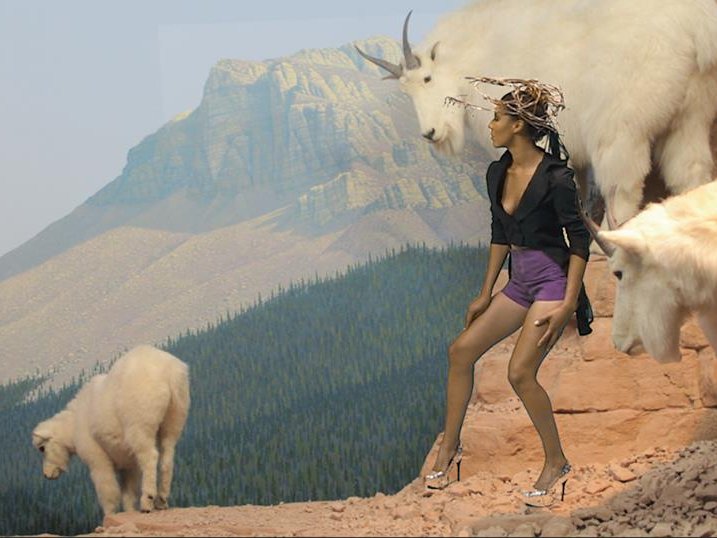 "Paleontology of a Woman" digs deep into fashion and sustainability
Timothy Westbrook describes himself as a "sustainability driven fiber artist" who, after appearing on three episodes of "Project Runway" this summer, is back in Milwaukee and about to present a performance / fashion show called "Paleontology of a Woman."
The event takes place on Saturday, Sept. 21 at the Milwaukee Public Museum. The show starts at 7 p.m. – doors open at 6:30 p.m. – and runs until 10 p.m.
The Hilton Milwaukee City Center will host a reception after the event. Tickets to the event cost $50 and include both the fashion show and admission to the reception.
"Paleontology of a Woman" is the unofficial kick-off to Fashion Week in Milwaukee, which runs from Sept. 22 to 28.
The fashion show will showcase 15 models wearing 15 different dinosaur-inspired dresses and masks. Milwaukee designer Laura Meyer created three of the garments and Westbrook created 12.
The garments will be transported by bicycle from Westbrook's studio at The Shops of Grand Avenue to the museum.
The dresses and accessories in the show were made from many found items including plastic bag strips, soda cans, wire hangers and discarded fabric (some from the set of "Project Runway"), along with vintage wedding gowns and curtains.
The woven strips of white plastic bags were perfect for creating a material with a bridal-gown feel. Westbrook points out that once you put a model in a dinosaur-inspired dress you have an "instant bridezilla."
"Again, there's a lot of playfulness in my approach," he says. "This show has a whimsical tongue-and-cheek approach to fossil fuel reduction."
He also jokes fossils are the new black, combining an overused fashion adage with the fact that fossil fuels are indeed black in color. He also came up with the tagline for his show "dinosaurs are cool because they're not fossil fuel."
Adding whimsy and a playfulness to a subject he's very serious about is important to Westbrook.
"Sustainability is such a heavy, heavy topic and at its core, it's a pessimistic thing, but what's great about being an environmentalist and a sustainability enthusiast is that we can have an optimistic outlook on a negative situation."
All of the models will wear Westbrook's signature paper punched aluminum can shoes and walk around at the same time (instead of one at a time like on a typical fashion show runway). The intention is to create what Westbrook describes as a "wandering herd of beauty."
Westbrook says the show is a reaction to the fact the planet is in rough shape environmentally, and to the systems currently in place that are not working, but that there are still things everyone can do to improve our situation from picking up garbage to questioning our choices.
"We are the solution," says Westbrook.
Westbrook has a talent for finding and rallying Milwaukee talent. Aside from the aforementioned Meyer, in this show he works with Gina Weber as a movement coach, composer Allen Russell, wardrobe stylist Alexis Rose, painter Gary Leonard, filmmaker WC Tank and designers Kylen Eberlein, Amanda Mills, Izzy Solvang, Becky Tesh and Jenna Wilson.
"The show was born out of the idea that plastic bags are fossil fuels, so they are as old as dinosaurs," says Westbrook.
"Paleontology of a Woman" is also deeply inspired by the year 1887, when scientists "discovered" the Triceratops, which is theorized to be the last dinosaur standing.
Also in 1887, Helen Keller began her education and the very first calculator received a patent.
"I was always inspired by the Victorian period. And this year in particular was a remarkable one for science, history, education and imagination," says Westbrook. "125 years later I began planning this event for you to experience and now it is time to excavate those plans and bring fashionable creativity to life."
The show was a long time coming. It began in Westbrook's junior year at Syracuse University when he wanted to make a dinosaur mask and a dress that went with it. Westbrook was particularly inspired by Keller because of the amount of knowledge and patience it took to teach her and for her to learn.
"It is so beautiful to me," he says.
Page 1 of 2 (view all on one page)
Next >>
Facebook Comments
Disclaimer: Please note that Facebook comments are posted through Facebook and cannot be approved, edited or declined by OnMilwaukee.com. The opinions expressed in Facebook comments do not necessarily reflect those of OnMilwaukee.com or its staff.