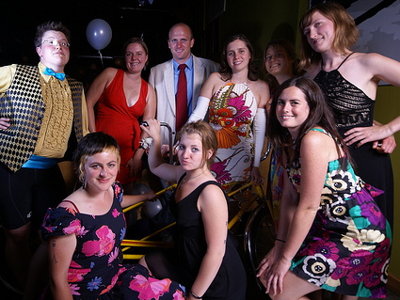 Crash the Pedal Pusher's adult prom
Whether you were on the prom court or wouldn't have been caught dead slow dancing in a gym, the Milwaukee Pedal Pusher Society -- a female bicycle group -- offers you the opportunity to create the prom experience of your dreams.
The Pedal Pusher Society's adult prom takes place Saturday, Sept. 18, at Stonefly Brewery, 735 E. Center St., from 10 p.m. to 2 a.m. The cost is $6.
The prom includes several DJs, contests for prom queen, king and "best calves" (remember, it's hosted by a bicycle gang), plus a kissing booth and a backdrop for take-your-own prom photos.
Once again, the prom's tag line is "No free food, no free drinks, just the most awesome night of your life."
Susie Seidelman is one of the event's main organizers, and she guarantees awesome-ness.
"We said that last year, too, but we didn't have the empirical evidence yet to back up the claim because there had only been one other Pedal Pusher Prom to date," says Seidelman. "But now that there have been two, and each one has been progressively awesomer, so researchers all agree this one is going to be the shiz-nitty. In scientific communities, 'shiz-nitty' is used to refer to events that trump the traditionally 'fun.'"
Smoking will be permitted on Stonefly's patio, and attendees are encouraged to dress in formal and creative fashion.
"There's something about this event that skews measurements of attractiveness to favor those heavily costumed. So, if you don't have a sweetie already, start planning that outfit instantaneously," says Seidelman. "You should wear something that will make all your dreams come true."
Seidelman says whether you had a good experience at your high school prom or a bad one doesn't matter, because the Pedal Pusher Prom will be completely different.
"This is nothing like your high school prom, unless your high school prom was held in a bar with music that was actually good. Then it's probably quite a lot like your high school prom," says Seidelman.
The Pedal Pusher Society was formed in 2005 in Riverwest by a few friends who wanted to ride bikes with each other more often and simultaneously challenge Milwaukee's male-dominated underground bike culture.
The society hosts group rides on the first Thursday of every month and informally provides bike repair and maintenance information. Women and transgendered individuals are invited to join the Pedal Pusher Society, but men are welcome at the prom.
Seidelman stresses that coming stag is totally acceptable.
"Do you really need a sweetie to dance your ass off? I mean, really! Besides, the structural integrity of Stonefly is going to be compromised by the sheer volume of babe-a-liciousness radiating outward from within its walls that night," she says.
"You don't need a sweetheart, 'cause on Pedal Pusher Prom night, you've got the whole world in your hands."
Facebook Comments
Disclaimer: Please note that Facebook comments are posted through Facebook and cannot be approved, edited or declined by OnMilwaukee.com. The opinions expressed in Facebook comments do not necessarily reflect those of OnMilwaukee.com or its staff.