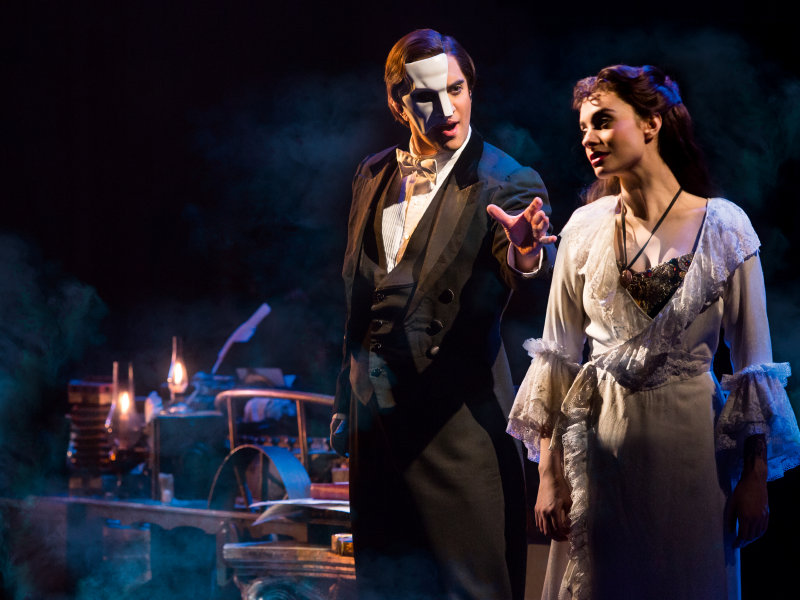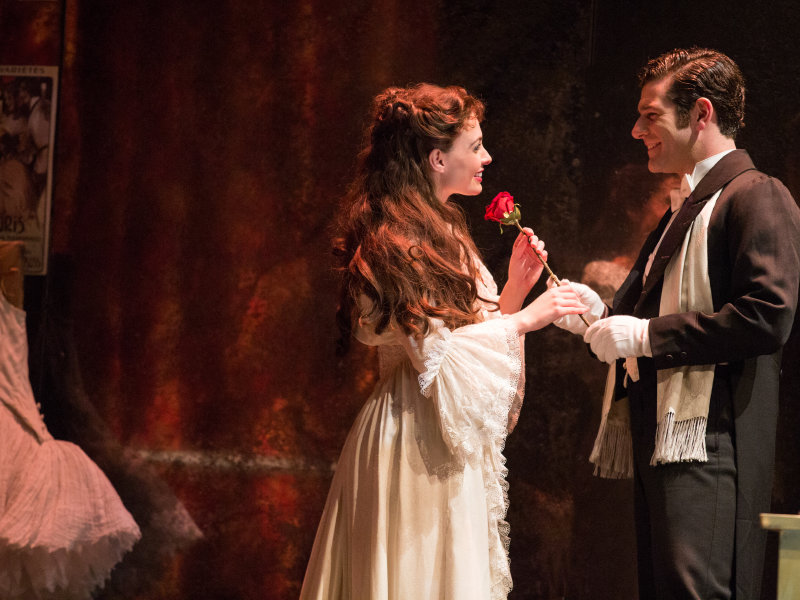 A new production of "The Phantom of the Opera" haunts the Marcus
Even though its origins trace back all the way to 1910, the story of "The Phantom of the Opera" lives on, whether through the classic 1925 Lon Chaney film or Andrew Lloyd Webber's Broadway smash (we don't talk about the 2004 Joel Schumacher film version).
Even though it's not even 30 years old, Webber's musical retelling of the tale has turned into a truly iconic story, one whose elements are engrained in the memory even if you haven't seen it. The white half-mask. The crashing chandelier. The emotionally intense music and drama of both profoundly, deeply felt romance and pain. It's a show so beloved that at Her Majesty's Theatre in London, it's never left. For 28 straight years.
Therefore, to tinker around with the show is a bold idea. But that's exactly the case with the upcoming production of "The Phantom of the Opera" coming to the Marcus Center for the Performing Arts, starting Thursday, July 23 and running through Aug. 3. OnMilwaukee.com got a chance to chat with Ben Jacoby, the actor playing Raoul in the show, about his acting career, his family connection and how they plan to breathe some new life into such a beloved show.
OnMilwaukee.com: When did you start getting an interest in theater?
Ben Jacoby: Well, I kind of always did as a kid, sort of on the side as a hobby I guess. I started as a singer when I was a real little kid, like three or four, I sang in my church choir and then worked my way up into doing the plays and musicals at school.
I think I feel like the beginning of deciding this is what I'm going to do was when I graduated from college. I went to Denison University, which was a large school, and I did a whole bunch of things there. Then I decided that I needed to make a decision about what I'm going to do, so I applied to graduate schools for acting. I think that's when I really started.
OMC: What was the first performance you saw that made you think, "I want to do that"?
BJ: It's such a hard question. I'm not sure that I ever had that moment. My family is in the business – my dad still is an actor; my mom was – so I kind of grew up in the business. So, in a lot of ways, it was always there. So I don't think there really was a particular show or moment where I said, "Now I know I have to do this." There was something gradual about it for me.
OMC: What kind of acting tips have you gotten from your family over the years?
BJ: The one thing across the board is that they encouraged versatility and not pigeonholing yourself into one category. That's a big reason why I went to graduate school. I found myself doing a lot of musical theater – which, of course, I love, and I'm doing it now again obviously – but I sort of wanted to get training in other areas, in film and television and in straight plays and in Shakespeare. So that was something instilled in me by my parents. That was probably the biggest tip.
They also kind of warned me of the perils of going into show business as a career. My mom and dad were lucky enough to be successful in business, but that doesn't happen with everybody. It's a very hard business, and people try and fail all of the time. So I think they also wanted me to know what I was getting into.
OMC: What are some of the new things you're bringing to this new production? It's such a common, well-known show so to revitalize it and bring these new attributes to it maybe risky isn't the right word, but it's definitely a daring idea.
BJ: I guess you might say that, but I think we think of it as an exciting new opportunity and a chance to breath new life into it. Of course, the music and the story are all the same. Everything that Andrew Lloyd Webber wrote is there, and that hasn't changed at all.
Physically, the production looks different. The set design, you might say it's more realistic. The office scenes are actually in an office. If you look at the original production still running in New York, that's sort of more stylized.
I think that translates to the performances as well. It's a little more, I guess you could say realistic. We were really encouraged to dive into the humanity and the true truth of the moments. One of my big scenes, "All I Ask Of You," is, yes, of course a pretty famous love duet, but there's also something very immediate about what both the characters are going through in that moment. There's something real there, and these characters are real. They aren't just figurines on top of a wedding cake singing a love song; they are real humans going through things.
OMC: Was there anything in particular that you wanted to bring to the character of Raoul that you hadn't seen in productions?
BJ: I don't remember a whole lot of productions or interpretations of Raoul, but something that was important to me going into it was that I wanted to remind the audience that Raoul is in love with Christine every bit as much as the Phantom is. That's a very real love for Raoul, and all he wants is to protect Christine.
I think people forget that sometimes; they get caught up in his aristocratic swagger and he's, I guess, a little arrogant. But like I said, I think that's maybe only a product of his aristocracy. But he's a real man, really in love with a girl, and I think if does react in ways that involved jealousy and resentment toward the Phantom, that's human. So I want to make clear that he's in love with Christine; he's not just a smarmy guy.
OMC: Obviously you guys are doing some new things with the production, but why does "The Phantom of the Opera" have such longevity in pop culture and musical theater culture?
BJ: I feel like the love triangle thing is coming out more and more – especially with the magic and the mystery – but of course, "The Phantom" is on a far different level than, like, the "Twilight" thing, that's what I think of. That's obviously very popular right now, and I think "The Phantom" is an entirely different thing altogether.
But I think the show brings up these themes that we all recognize in ourselves and in experiences that we've had of unrequited love and, in terms of the Phantom, feeling that we're not enough to be loved. I think that's very common, and people of all ages can commiserate with that. That's something; that's a universal truth about the show that people recognize and brings people back.
Facebook Comments
Disclaimer: Please note that Facebook comments are posted through Facebook and cannot be approved, edited or declined by OnMilwaukee.com. The opinions expressed in Facebook comments do not necessarily reflect those of OnMilwaukee.com or its staff.