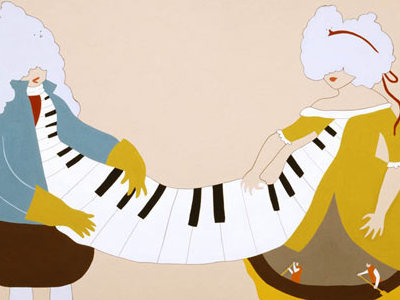 Hotcakes Gallery hears "Pitter Patter" and a roaring stampede
Riverwest's Hotcakes Gallery, 3379 N. Pierce St., falls in line with the old phrase "April showers brings May flowers" with its newest exhibit "Pitter Patter -- Jeremiah Ketner + Evah Fan" opening this Friday.
"'Pitter Patter' speaks to the changing of the season to spring," says Hotcakes curator and owner Mike Brenner. "It's the sound of rain falling. You can see the spirit of that in all of Jeremiah's work and certainly in Evah's piece, 'The Perks of Having a Rather Large Head.'"
The show, which Brenner says is one of the best shows he's had at Hotcakes thus far, features 14 pieces of art from both Ketner and Fan.
"Both artists use characters with influences from animé and Asian pop culture, but the strength of Jeremiah and Evah's work is the way even the most subtle brushstroke coveys so much emotion," Brenner says.
Brenner also finds the artwork's little characters have their own little stories.
"Their cast of characters seem to get themselves into all sorts of different situations with a certain childlike innocence," he says. "When I look at Jeremiah and Evah's paintings I always start to daydream and imagine what happens next. It's then I can hear the little feet of the characters 'Pitter Patter' all over the composition, getting themselves into even more trouble."
Although Brenner finds it difficult to pick a favorite piece in the show, but he does have a couple of favorites.
"The more time I spend with the work, the more my perspective changes. Evah's piece, 'Do-Si-Do Circa 1700,' is really beautiful in person. There are so many subtle details in the painting that you only see after you spend some time with it," he says. "Jeremiah's 'Shinny, Shinny' is pretty hot. I can always tell which paintings are gonna go first and I can guarantee you 'Shinny, Shinny' will be gone before the show even opens to the general public."
Brenner can predict this occurrence because Ketner has shown at Hotcakes before.
"I've had two solo shows of Jeremiah's work, and he's been wildly popular in Milwaukee. He was the first show at Hotcakes two years ago and I sold 31 paintings and 19 silk-screened prints," Brenner says. "His paintings are hanging in the homes and offices of writers, designers, artists and other creatives all over Milwaukee, so expect a huge crowd and a great party."
Every piece in the show is for sale, but the pieces are already selling like "Hotcakes," according to Brenner. Ketner and Fan have a rather large fan base from all over the country and as soon as the show was announced, Hotcakes was getting calls.
"Both Evah and Jeremiah have lowered their prices for Milwaukee and made works smaller than they usually do to be able to meet the Milwaukee market's ridiculously low price points," Brenner says. "I'll tell you this, Jeremiah's paintings have doubled in price since his show here two years ago, and both artists are selling paintings like hotcakes all over the country. Now's the time to invest in a Ketner or a Fan."
After celebrating its two year anniversary in February, Hotcakes has been receiving attention that Brenner is thankful for.
"After two years of running a gallery in Milwaukee, I feel great. I am developing a great collector base and getting national attention," he says. "People all over the country are talking about the art scene in Milwaukee. It's a really exciting time for Hotcakes."
"Pitter Patter" opens Friday and runs through May 7. Hotcakes Gallery's Web site is hotcakesgallery.com.
Talkbacks
OMCreader | April 18, 2006 at 1:47 p.m. (report)
Ketner Fan said: I already own one Ketner painting and I think I'm am gonna head down to Hotcakes for Gallery Night and pick up another one. I love his painting style. It's so fun. All my friends that come over and see the painting always make comments about how much they love it. Nice work Hotcakes!
Facebook Comments
Disclaimer: Please note that Facebook comments are posted through Facebook and cannot be approved, edited or declined by OnMilwaukee.com. The opinions expressed in Facebook comments do not necessarily reflect those of OnMilwaukee.com or its staff.