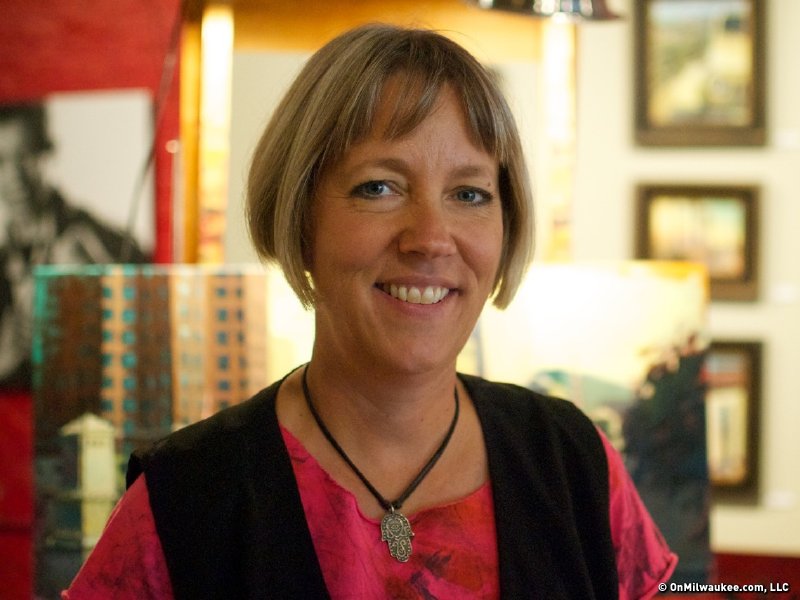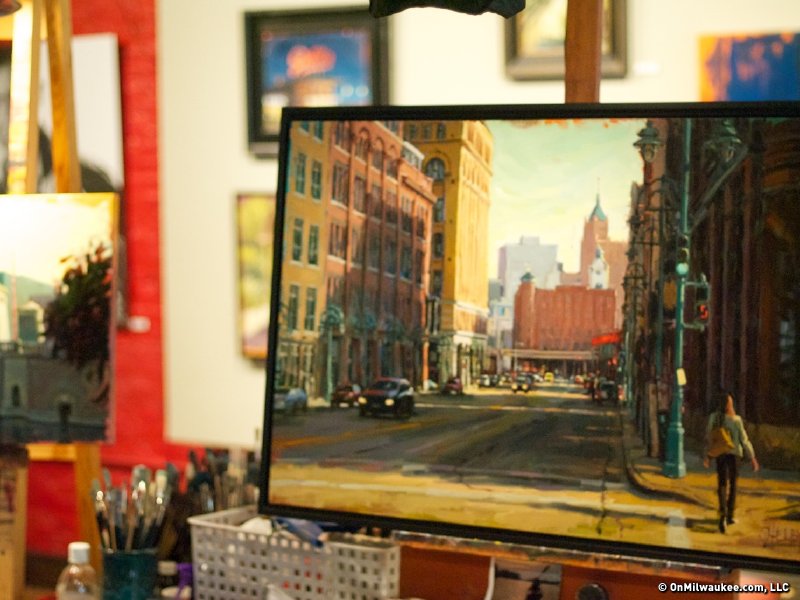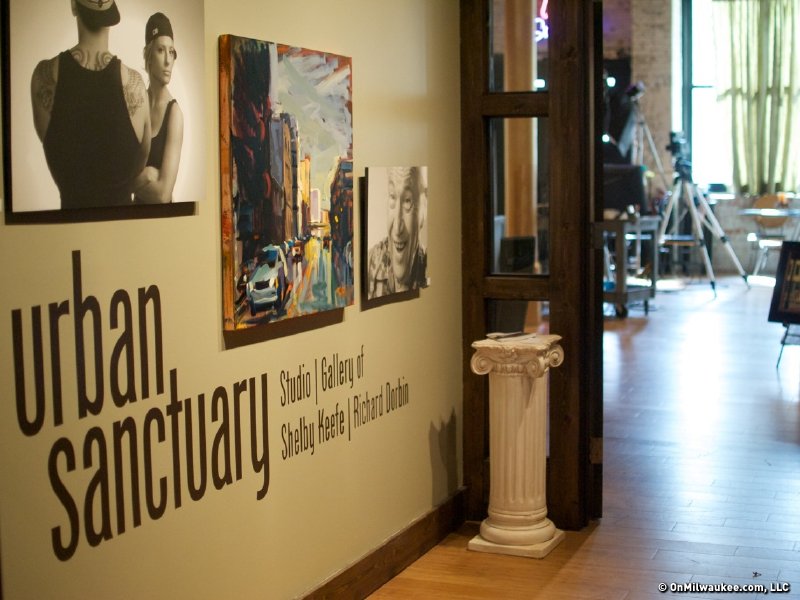 Award-winning Keefe to participate in Shorewood's Plein Air Festival
The Village of Shorewood hosts its first plein air festival, called Plein Air Shorewood, Sept. 19-21. The event will feature more than 50 artists who will set up their easels in the community's parks, businesses, schools, private homes and the lakefront.
"Plein air," which is French for "open air" and pronounced "plen-air," usually features artists painting outdoors and as entertainment for the public. The goal is often to capture the beauty and ever-changing aspects of nature, emphasizing shadows and light.
"The very nature of painting outside is to capture a quick moment of light, something that's fleeting, and to be honest to your environment – which is interpretive, of course," says local painter Shelby Keefe, who will participate in the festival.
Keefe, who usually paints from her Third Ward studio, Urban Sanctuary, is an award-winning plein air painter. Urban Sanctuary is located in the Artasia building, 181 N. Broadway.
She has entered (and won) numerous plein air competitions around the country.
"Plein Air painting competitions are sporting events for artists," says Keefe. "People come from all over the country or the region or the town depending on the competition to watch."
Most plein air competitions are 2-10 days long and require the artist to efficiently create multiple works that are then ranked by judges at the end of the competition. Artists are usually given a parameter of space in which it's fair game to set up their easels.
"Then you try to knock out your best pieces, frame them and bring them to the judges, ready to hang and ready to sell," she says.
Keefe's first plein air painting competition experience was in Cedarburg in 2000 and she started participating on the national level in 2010.
Earlier this year, Keefe's oil painting, "Alterations," won first place in the second annual Plein Air Salon Competition. (This is not a traditional plein air competition because work was submitted online.)
Keefe was awarded $15,000 and her painting appeared on the September cover of Plein Air Magazine.
The announcement was made at a plein air convention in Monterey, Calif., in April. Convention officials did not say when they would make the announcement and so, when they declared that Keefe had one, she was not on site.
"I was actually in the McDonald's drive-through at the time," she says. "I had run out to grab a canvas I needed, and a friend texted me and said, 'get over here now!' And then another friend texted me and said, 'you won it, girl!"
Keefe drove as quickly as she could back to the convention where she was greeted with an oversized check for $15,000.
"That part was a little embarrassing," she says.
And no, she did not get to keep the check. "It probably would have been a bit much to get on the plane," she says, laughing.
About half of Keefe's paintings are of Milwaukee. The other half are scenes from places where she's done plein air competitions, as well as the Southwestern U.S., a region that is near and dear to her heart.
Keefe, who received her BFA from Cardinal Stritch University, also teaches classes and workshops. She has taught at Peninsula School of Art and, this week, is conducting a five-day plein air workshop at the Madeline Island School of the Arts.
Prior to becoming a full-time painter in 2005, Keefe worked for 25 years as an in-house and freelance graphic designer.
Currently, Keefe shares Urban Sanctuary with her partner, photographer Richard Dorbin. Prior, she had studio space in the Hide House in Bay View.
Her paintings are also in WE Energies, Foley & Lardner, the Ozaukee County Country Club and The Pfister Hotel. Beyond Milwaukee, Keefe's paintings hang in The Marshall-Lekae Gallery in Scottsdale, Ariz., Castle Gallery in Fort Wayne, Ind., and Edgewood Orchard Galleries in Door County.
Keefe was also the third artist-in-residence at The Pfister Hotel in 2010-11.
"It was an experience that I don't think you can get anywhere else. It ramped up my game – made me work harder, longer," she says. "I have always been pretty at ease painting and talking, but the experience at The Pfister also made me even more comfortable talking to people while I'm working."
After her tenure at The Pfister was over, Keefe tried to return to the Hide House, but found it too quiet compared to her bustling hotel studio. Around the same time, she attended a plein air competition in Maryland where she met Dorbin, who was hired to photograph the finished paintings.
The couple had a two-year, long-distance relationship and Dorbin moved to live with Keefe and her two sons last year in Bay View. The couple searched for the right space for a joint studio, and found the current one to be the best fit.
Keefe, who is also a performance artist and musician, says she is focusing on gaining more national exposure for her paintings.
"It's a lot of work and it costs some money, but the returns are coming," she says.
Facebook Comments
Disclaimer: Please note that Facebook comments are posted through Facebook and cannot be approved, edited or declined by OnMilwaukee.com. The opinions expressed in Facebook comments do not necessarily reflect those of OnMilwaukee.com or its staff.