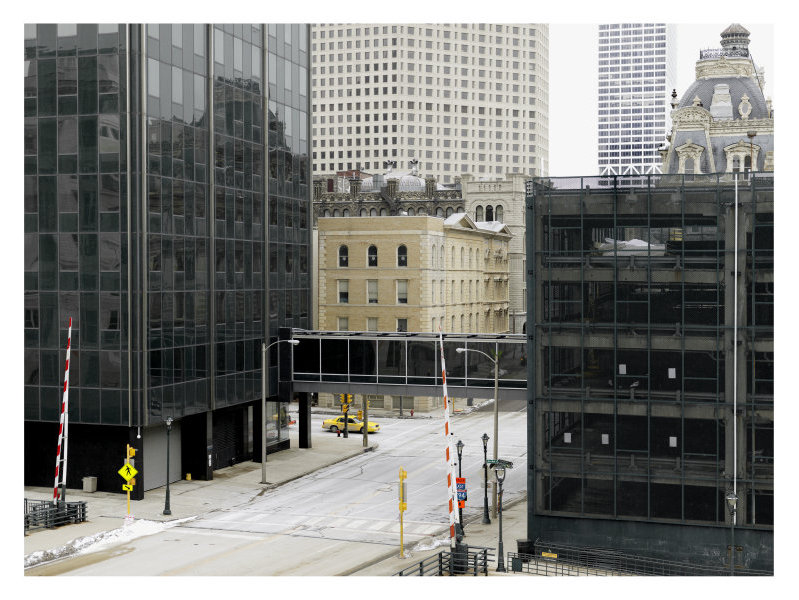 Wish you were here: "Postcards" offer new perspectives on Milwaukee
Often it takes a new perspective to see something differently.
In the case of Milwaukee Art Museum's new photography show, "Postcards from America: Milwaukee," 11 visiting photographers trained their lenses on Milwaukee and even those of us who know the city intimately will see it with new eyes at this show, which opened on Friday and runs through Oct. 19 in the museum's contemporary galleries.
Photographers Bruce Gilden, Jim Goldberg, Susan Meiselas, Martin Parr, Paolo Pellegrin, Mark Power, Alessandra Sanguinetti, Jacob Aue Sobol, Alec Soth, Zoe Strauss, and Donovan Wylie visited Milwaukee in three stages between August 2013 and April 2014.
"'Postcards from America' was begun so that a group of artists could work together, could think about the way collectivity works in photography, could create a kind of a safe, experimental place for them to think about how they can innovate," says MAM's photography curator Lisa Sutcliffe.
The photographers came to Milwaukee as part of a Magnum Photos project that beginning in 2011 fanned professional artists out across America, from Utah to Florida, Rochester, N.Y. and beyond. The MAM show marks the first museum exhibition of works from the project.
"If you think about what a postcard is, it's an informal souvenir that you send to your friends from a variety of places. In a sense, that encapsulates what they're trying to do here. They come to a place to make pictures that are their response to place," Sutcliffe says.
"Their first project they did was in an RV. They drove from Austin, Texas to Oakland, along the border of the U.S. and Mexico. Then they went to Utah's Rocky Mountains, and after that to Rochester, where Kodak was in its last days and then to Florida during the presidential election.
"Now here in Milwaukee is their fifth stop, and the first time that they've partnered with an institution and so we're putting on a large museum exhibition. At the end of all of their trips, there will be an exhibition of all of their work together. You'll get a chance to see all the different regions next to each other, by some of the same artists. You'll be able to see Martin Parr's photographs from Florida and Martin Parr's photographs from Milwaukee and that will be an interesting way to compare regions."
The most interesting aspect of the show is the variety of ways these photographers saw the city and chose to capture it.
Some viewed it in relation to a previous work that affected them. Minneapolis-born Alec Soth took inspiration from Chris Smith's "American Movie." And the American/Argentine photographer Alessandra Sanguinetti drew on the 1973 book "Wisconsin Death Trip" in creating her stunningly out-of-time portraits.
While some photographers pointed their cameras exclusively at faces -- like Americans Bruce Gilden, who captured weathered and expressive visages at State Fair, and Jim Goldberg -- others, like Belfast's Donovan Wylie and England's Mark Power, almost studiously avoid people in their images.
Among Wylie's large-format landscapes is an especially engaging image shot beneath the Marquette Interchange that recasts the freeway's supports as the columns flanking the nave of a grand cathedral.
Italian photographer Paolo Pellegrin has two sets of images. One focuses on stark, wide, uninhabited vistas; the other pulls in tight on a small square of the city occupied by a single, unidentifiable pedestrian. Oddly, the latter images -- the ones with people -- feel lonelier than the ones without.
One of the most powerful contributions is American photographer Zoe Strauss' section on Evon Young, created with his family as a tribute to the murdered Milwaukee rapper.
Nearby, Goldberg's almost Polaroid-y portraits, scrawled with messages by the subjects really capture the diverse personalities that populate the city.
"Magnum photographers are people who go out into the world to make photographs. That's what they have in common, and yet these aren't pictures that you would think of like in the 1930s, when photographers like Dorothea Lange, associated with the Farm Security Administration, crossed the country looking to take photographs to tell the story of what was happening," says Sutcliffe.
"These are more like artistic responses to place. The photographers weren't just interested in looking at the places here, but also in our cultural heritage."
That's why some went to State Fair and why Susan Meiselas went to a number of local manufacturing plants to capture our blue collar culture by photographing women at work.
"The artists went out into the community and worked with community organizations," says Sutcliffe.
"We held three artists' panels so we could make the process transparent, so that we could talk about the capabilities and responsibilities of the documentary style. Now we're doing this exhibition. The hope is that we can get people to talk a little bit about what photographing in Wisconsin and Milwaukee means."
33 images from the show will be reproduced in three sets of 11 posters that have already begun to appear around town -- returning these images to the streets of Milwaukee -- and will be available for purchase at the museum.
Facebook Comments
Disclaimer: Please note that Facebook comments are posted through Facebook and cannot be approved, edited or declined by OnMilwaukee.com. The opinions expressed in Facebook comments do not necessarily reflect those of OnMilwaukee.com or its staff.