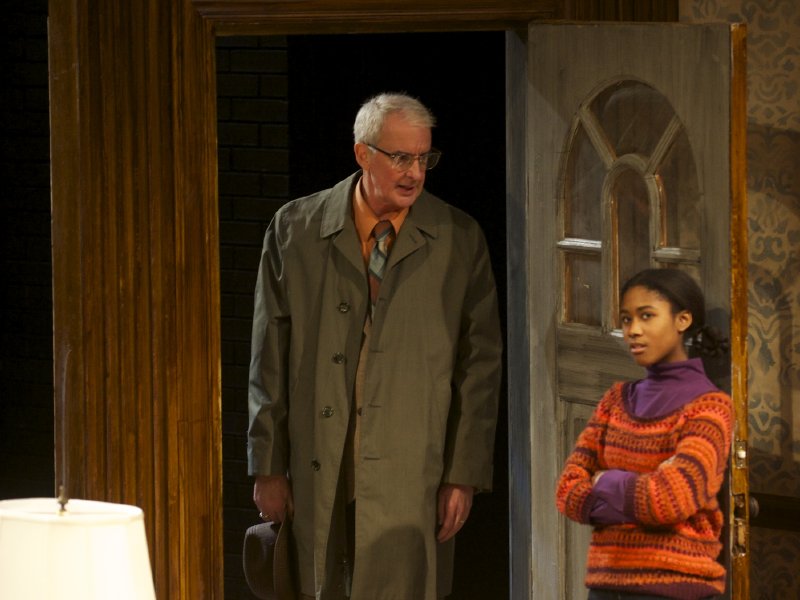 "To the Promised Land" weighed down by lofty ambitions
The world premiere of "To the Promised Land" that opened Friday night at First Stage Children's Theater has some lofty ambitions.
The play looks at an imaginary confluence of a young black girl in 1969 Milwaukee and Golda Meir, the first female prime minister of Israel, who had moved to Milwaukee six decades earlier.
The time in Milwaukee was turbulent, with almost-constant battles over civil rights for black people. The Milwaukee police department, under controversial Chief Harold Breier, roamed the streets constantly trying to put down any demonstrations, especially those led by Father James Groppi and his band of young black men called the NAACP Commandos.
The first act of the play tells two separate stories.
One is of Ruth, the young black girl who is mourning the death at the hands of the police of her brother, Cliff. Her brother appears and urges Ruth to start asking more questions and be more curious about life. He is a Commando, complete with black shirt and beret.
The other story is of the the 14-year-old Golda who has already shown the iron-willed style that would carry her to the peak of political power. At 14 she organized a drive to get more schoolbooks for her and her classmates.
The second act puts Golda and Ruth together as the Jewish organizer and the black teenager continue to search for answers. Ruth draws inspiration from the life that Golda led. She also goes to the school named for Meir and meets with her during a visit by the prime minister.
This play was written by Jonathan Gillard Daly, one of this city's best actors who has long been affiliated with the Milwaukee Rep. It's clear that Daly did a lot of research before constructing this play, which is designed for children older than nine.
This is a serious play about a serious subject, the search for truth and for your place in the world around you. Ruth's family came north to Milwaukee from Alabama, but met with racism and had to split up when her father returned south, where he was killed by white policemen.
Golda's family came from the Ukraine to Milwaukee, also in search of a better life. And the Golda story is both a guide and an inspiration to Ruth.
In a larger sense, this is more than the story of two women. There has always been a bond between Jews and blacks and their shared struggles have, at times, made for strange bedfellows. That is especially true in Milwaukee.
It is, however, best not to rely on this play as a history lesson. It is two individual stories overloaded with symbolism. It is not easy to translate the stories on stage to the lessons the play obviously hopes we learn.
Daly, who plays Golda's father, along with the other adult actors give the characters great life. Lonnae Hickman, who played Ruth opening night,and Katherine Pollnow, who played the young Golda, both gave solid performances.
The play closes with a speech by a young Ruth and then by Ruth as a grown woman. The speeches try to wrap things up and leave us with profound lessons.
But perhaps the most enduring lesson of all comes when Golda is hugged by her mother, who says to her, "Someday you will find what you are looking for. Then you will be home."
That's a lesson for all of us.
"To the Promised Land" runs through Feb. 10 at First Stage. Information is available at www.firststage.org.
Facebook Comments
Disclaimer: Please note that Facebook comments are posted through Facebook and cannot be approved, edited or declined by OnMilwaukee.com. The opinions expressed in Facebook comments do not necessarily reflect those of OnMilwaukee.com or its staff.