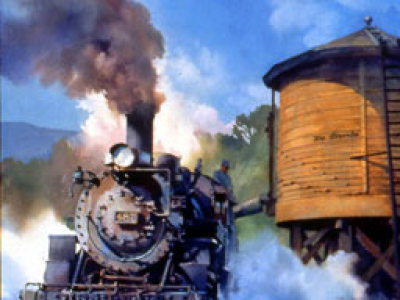 New exhibit takes viewers for a ride on the rails
Milwaukee artist Ted Rose was fascinated by trains and Marquette University's Haggerty Museum of Art hopes the public shares his passion. The new exhibit, "Railroads and the American Industrial Landscape," features over 50 photographs and paintings by the late artist.
Haggerty Director Dr. Curtis Carter says the exhibit is replacing a current showing of recent gifts and acquisitions of the museum while "Bob Thompson: Meteor in a Black Hat" stays on display.
"Ted Rose grew up in Milwaukee. His father was a prominent Milwaukee architect," Carter says. "In 1950s he became fascinated with trains and actually bold enough to get engineers and conductors let him ride on their trains."
Rose rode trains all over the United States and even to Canada. He then headed off to the University of Illinois at Champagne-Urbana.
"The photographs (the Haggerty) are showing were done when he was in college between 18 and 21," Carter says. "They show railroad machinery, the shops, the locomotives.
Carter says the photos also show the workmen working on the trains. Sometimes the trains are featured in a landscape, sometimes a cityscape, hence the exhibition's title.
Rose not only took photographs of railroads, but also took to painting them.
"The last 20-some years of his life, he did watercolors and developed body of work of several hundred paintings," Carter says.
All of the photos and paintings depict some representation of the railroads, whether it be the workers or a train at the station.
"It's kind of a social history of the railroad depicted in photo and watercolors," Carter says.
Carter, who curated the exhibit, became interested in Rose's work after being approached by one of the Haggerty's architects who knew of Roses' work.
"His work is very high quality work and I learned with investigation people are interested in railroads," he says.
With this exhibit, the Haggerty hopes to garner a new following from the Milwaukee public.
"We're here to enrich not only students and the Marquette community but also a wide general public appeal," Carter says.
The exhibit opens Thursday, March 9 with a 6 p.m. lecture by Arizona State University Professor of Art History, Betsy Fahlman with a reception to follow.
"Railroads and the American Industrial Landscape" runs through May 29. The Haggerty Museum of Art is located at 13th and Clybourn Streets on the Marquette University campus. The museum is open seven days a week and admission is free. The museum's Web site is marquette.edu/haggerty.
Talkbacks
OMCreader | March 10, 2006 at 10:54 a.m. (report)
F.K. Plous said: I met Ted Rose when we were both students at the University of Illinois in 1959. I believe I also ran into him once when we were both working summers on the Chicago & North Western Railway in Milwaukee. He was a superb artist and should not be relegated to the railroad-art ghetto. Even if he never painted a single train he would have become famous for his landscapes.
Facebook Comments
Disclaimer: Please note that Facebook comments are posted through Facebook and cannot be approved, edited or declined by OnMilwaukee.com. The opinions expressed in Facebook comments do not necessarily reflect those of OnMilwaukee.com or its staff.