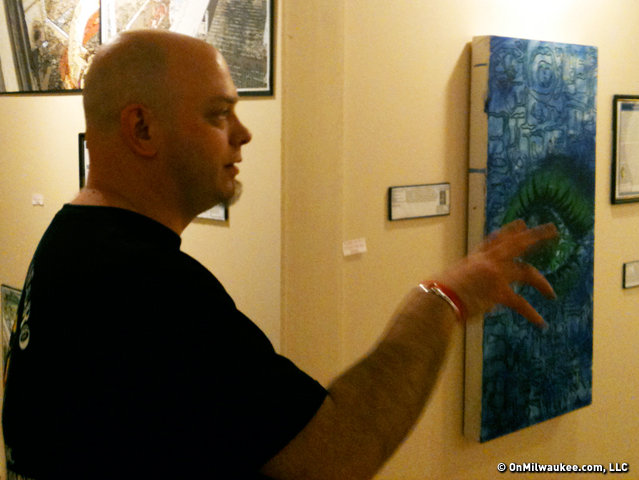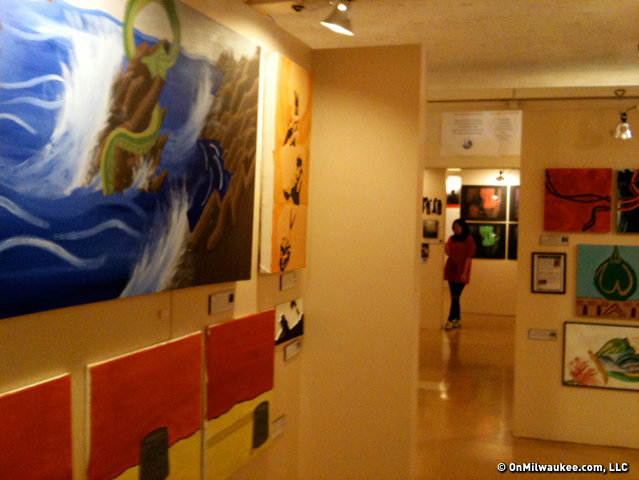 Reagan High galleries testify to school's world-class art program
At the start of May, Milwaukee's ArtMail featured the accomplished work of more than a dozen senior art students at Ronald Wilson Reagan College Preparatory High School, 4965 S. 20th St., on the city's South Side.
That coincided with news that the proposed MPS budget would heavily cut art teachers in the district and led to many impassioned pleas at school board budget hearings to reconsider the move.
Much of the testimony focused on the broad benefits of an arts education.
"It scares me that they're cutting all of these art courses and it's completely proven even if it's not an IB art class, just the creative process increases graduation rates 10-fold," Reagan art teacher Chad Sperzel-Wuchterl (aka Mr. Chad) tells me on a recent visit to the school to see its impressive art galleries, echoing that testimony.
"So accessing those kids and reaching to those kids, if you don't supply this even at the minimum level ... well, our graduation rates are a problem as it is. And now we're not even addressing the right brain learners and the multiple intelligences that we know exist and we know improve scores. We're digressing our education at a time when we should improving it, with the higher class sizes that we're going to have."
Sperzel-Wuchterl, has been at Reagan for eight of its nine years of life, where he teaches art, curates the galleries and also does related things like help students produce their annual yearbooks.
The acclaimed Reagan is compelled to offer art to maintain its International Baccalaureate status. Since February it is the state's only full, four-year IB high school. Walk into one of the two third floor galleries and you can immediately see that Sperzel-Wuchterl and acting principal Mike Roemer take the IB art mission very seriously.
"I've been to a lot of schools, all over the state," says Sperzel-Wuchterl, " but I've never been to a school with a gallery like this."
The International Baccalaureate program requires that student art be shown in the school.
The senior gallery is in a large space that originally served as two classrooms when the building was opened as Sholes Middle School. When another school occupied part of the building, the rooms were opened up into a single, larger space. Across the hall is the smaller junior gallery.
Both are packed full of impressive student paintings, sculptures and works on paper and are staffed by art students, who are also required to hang their own work in the galleries, which were created about three years ago.
Sperzel-Wuchterl says that while the junior gallery contains works that were created on assignment by students, the senior gallery reflects the freedom that fourth-year students at the school have earned.
"We really make sure that they get all different media in their work," he says, walking through the senior space. "Senior year I do not assign a project. Senior year is, 'you've got to have five pieces done and what are you going to do? Show me what you've got.'
"Junior year is showing them how to put together their sketchbook. Because there are eight categories that just their sketchbook is graded on, between their culture, their artist research, their citation, their ability to use vocabulary in the art field, their ability to bring in connections between what they research and their work."
While most of the works show some pretty impressive skills, Sperzel-Wuchterl says skills are just one of many components that go into art students' grades. If you think art class is an easy A or a low-impact educational workout, you didn't go to Reagan.
"A lot of kids will be like, 'I can't do this'," says Sperzel-Wuchterl, who tells them, "'Yeah, you can. But I'm going to push you really, really hard.' Kids in the school know this is one of the most rigorous programs in the school.
"The only reason why we get kids that wouldn't take art here are for the same reasons why colleges get kids who leave art. They get into it going, 'Hey I made something in school. That was kind of fun." But they get into college and it's, "Oh, my God, this is so much work." Because you've physically got to do it and the kids realize that here. So, kids who leave here and go to MIAD or go to an art program at a university are committed to the arts and are sticking to it. They understand what it takes." Page 1 of 2 (view all on one page)
Next >>
Facebook Comments
Disclaimer: Please note that Facebook comments are posted through Facebook and cannot be approved, edited or declined by OnMilwaukee.com. The opinions expressed in Facebook comments do not necessarily reflect those of OnMilwaukee.com or its staff.