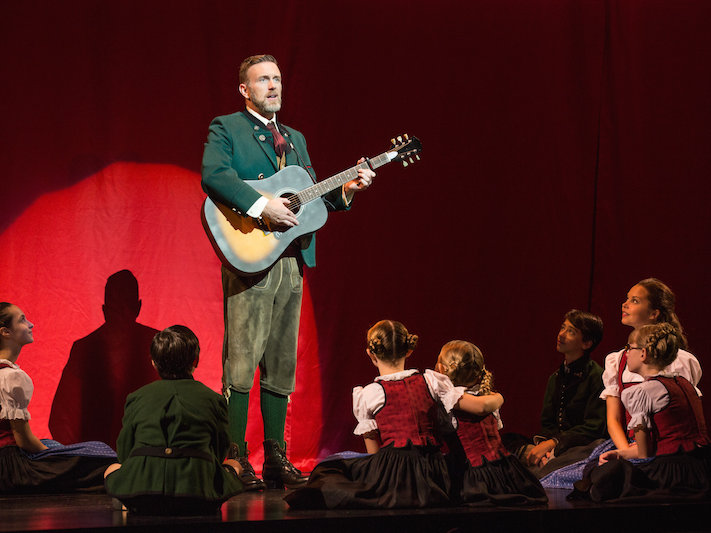 "The Sound of Music" moves into a new world with Marcus production
As the sexual chemistry sparked off the Marcus Center stage Tuesday night, it was clear Maria and the captain were meant for each other.
"Sexual chemistry" is not a phrase normally associated with the Rodgers and Hammerstein musical "The Sound of Music," but this is not your grandmother's "Sound of Music." This one has a fully realized and womanly Maria, the postulant made famous first by Mary Martin on Broadway and then by Julie Andrews in the chaste and pure performance ingrained in American movie lore in 1965.
This production, under the direction of Tony winner Jack O'Brien, brings us a Maria who is – horror of horrors – a little bit sultry and a lot of bit conflicted about the feelings stirred by the distinguished Captain von Trapp.
The national tour of this 50-year-old musical rings with as much truth and warmth as it ever has – and makes things like that terrible live NBC broadcast with Carrie Underwood, in comparison, seem like a whiter shade of pale.
"The Sound of Music" sparkles in a live theater setting unlike any movie or television show could ever do. Four years ago, Molly Rhode directed a version for Skylight Music Theatre and it was one of the best I've ever seen. And just as Rhode found things in this script that never showed up in the movie, so has O'Brien, starting with the relationship between Maria and the captain.
Charlotte Maltby plays Maria and Ben Davis the captain, and both have an almost immediate connection. In their opening scene together, when he introduces the pipe with which she is supposed to call his seven children, she patiently explains that there is no need for the pipe and that she will call the children by their names.
In the movie, this is a cute and moderately defiant moment, but Maltby and Davis play it as a woman telling a man to straighten up and fly right. And Davis, rather than press his authority, shows a kind of vulnerability that has never been the hallmark of this sea captain.
It's impossible to see this show without drawing comparisons to the version so many of us have seen, the movie with Andrews and Christopher Plummer.
In the movie, for example, the scene with the oldest daughter, Liesl, and her about-to-be-a-Nazi suitor Rolf is played with a kind of cute dismissiveness, a kind of kids will be kids thing while the song "Sixteen Going On Seventeen" is performed.
O'Brien has given this number a whole new feel, real moments of early love in the life of a couple of teenagers who think they are older than they really are. It's a touching and moving number – and the kind of thing that makes you know that there are treats in store the rest of the way.
It's not as if this production strays too far from the original Rodgers and Hammerstein creation that it becomes unrecognizable. It's just that there are new interpretations of familiar moments, ideas that move the story into an adult atmosphere despite the overwhelming presence of seven adorable children.
A big part of this subtle but significant change is the two leads, Maltby and Davis.
When Andrews played Maria, what you saw was what you got. She was cute and naive and a will o the wisp. With Maltby, I got a sense that there was something else roiling beneath her surface. There was a depth with a fully drawn person, not a cardboard cutout. Maltby has a great voice and a warmth about her that seems genuine, not an artificial picture drawn upon a movie star.
Davis has created a captain who is struggling to recover from the death of his wife, has hidden his demons on a ship and regulates his life in the hopes he won't have to face any more disappointments. His children are part and parcel of his struggle to maintain some sense of equanimity amid the turbulence of his soul and the disaster awaiting his beloved Austria as the Nazi driven Anschluss is on the horizon.
It is to the captain that some of the most moving moments belong.
When Maria and his children return music to his home and he hesitantly joins in the reprise of the title song, it either sends chills down your spine or you don't have a heart.
The same can be said for Melody Butts who gives the Mother Abbess a kind of humanity that is not often seen. She not only has a depth of care for Maria, but she also understands and shares in the humor surrounding her life.
"Climb Every Mountain" is a show stopper under almost all circumstances, but when she closes the first act with it, sending a frightened Maria back to the von Trapp home from which she has escaped, unable to face her feelings, it brings down the house. Rarely have I ever heard that song sung with more warmth and intelligence.
"The Sound of Music" is one of those revered musicals that has a special place in the hearts and memory banks of so many of us. This production is one that makes all of those memories that much sharper and sweeter.
"The Sound of Music" runs through Jan. 8 and information on showtimes and tickets is available here.
Facebook Comments
Disclaimer: Please note that Facebook comments are posted through Facebook and cannot be approved, edited or declined by OnMilwaukee.com. The opinions expressed in Facebook comments do not necessarily reflect those of OnMilwaukee.com or its staff.