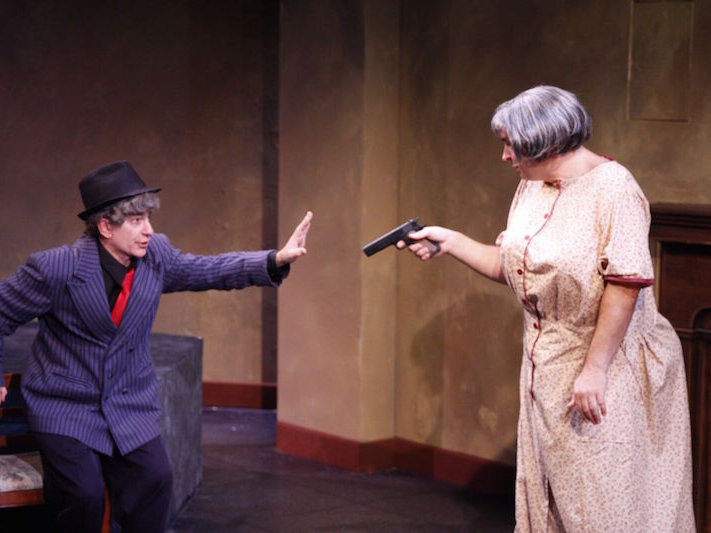 "Dracula vs. the Nazis" is the most unfunny comedy on MKE stages in years
How bad was it?
This bad.
A couple who were the invited guests of the couple that sponsored the play, slept through giant chunks of the play. Not dozing. Not resting. Sleeping. Sound asleep in their front row center reserved seats of honor.
How bad was it?
This bad.
Three women sitting behind me couldn't stop laughing, but not at what was supposed to be a comedy.
"What's going on," one asked another.
"I have no idea," came the reply.
It was opening night of "Dracula vs. the Nazis" at In Tandem Theatre Friday night. A capacity crowd was in attendance, as was Milwaukee playwright Michael Neville.
Two very accomplished comedic actors, Chris Flieller and Doug Jarecki, were on the stage. I assume they tried their very best. But what ended the evening was my firm, unshakable belief that this may well have been the most unfunny comedy I've seen in a couple of years.
I can't bring myself to even consider trying to tell readers what this play is about. Allegedly, it's supposed to be a funny tale of the efforts of Dracula to thwart some quest by Adolf Hitler.
Just a couple of weeks ago, I saw another play about a quest, "Man of La Mancha" at The Rep. The key song was "The Impossible Dream." Impossible dream could well apply to the people who paid money to see this in the hopes that it might be good. It may also apply to the people at In Tandem who hoped that their show would be a hit.
Trying to explain just how uncomfortable this performance was is a case of "where the hell do I start." The story itself is so convoluted that it's virtually impossible to determine what it's about, what's the tale being told.
Jarecki and Flieller each played several characters, both male and female. Their costumes were funny. But the humor was full of mugging and slapstick, and poses that were designed to laugh. The laughter was virtually absent.
One joke, fully intended to get laughs, came when Eva Braun asked Hitler, "So, are you still playing patty cake with Mengele?" This is funny? Not even a titter from the audience.
Costume changes and switches of character took place offstage during interminable blackouts with the audience left to listen to music while wondering who was going to show up next. By the time the second act was halfway done, at least a few members of the audience were audibly hoping that neither of the actors would come back.
The sleeping couple were the guests of Steve and Nancy Einhorn, who were sponsors of the play. The sleeping man dropped off and stayed that way. The woman was deep into that kind of sleep where you doze off, your head bobs, and you wake up for a moment before falling asleep again. By the second act, she stopped bobbing and just slept.
I will say that they were occasionally briefly awakened by what may well be the loudest play of this or any other season. Shouting and shrieking were the coins of the realm for Flieller and Jarecki.
I'm not sure how a play like this ever saw the light of day.
In Tandem has done amazing work in the past. Flieller and his wife Jane, who directed this mess, have always had a keen nose for staging memorable productions. Their staging of "The Glass Menagerie" a couple of seasons ago was one of the best I have ever seen.
Somewhere along the line, this train jumped the tracks and there is no way to get it back on the right path.
Like many of In Tandem's productions, this one was memorable, but for all the wrong reasons.
"Dracula vs. the Nazis" runs through Oct. 30 and information on tickets and showtimes is available here.
Production credits: Director, Jane Flieller; Set Design, Keith Pitts and Emily Allen; Sound Design, Jonathon Leubner; Costume Design, Kathy Smith; Lighting Design, Jeffrey E. Saltzberg.
Talkbacks
InTheView | Oct. 11, 2016 at 12:03 p.m. (report)
these butthurt comments.... don't put on a crap play if you don't want a crap review....
dschley | Oct. 10, 2016 at 6:54 p.m. (report)
Clearly, Mr. Begel has lowered himself to the basest level of online commentary. I have a personal mantra of "Don't read the comments," due to the hateful and nasty comments found after articles on online news services (and the sites of published sources). I never thought I would see such rude and vile comments from a paid staff member. Calling out people in an audience? Do you know what their day was like? Do you know if they were having health issues? Do you know anything at all? And calling out and ridiculing benefactors by name is such terrifying behavior. I now realize there must be no editorial oversight or supervision at OnMilwaukee.com. The service has lowered itself to such a level that it is no longer a viable information source in our community. And Mr Begel, those guests weren't the only ones in comped seats. I know you never pay for a ticket, making companies comp you with your "I'm so important" attitude. I hope no theatre company in the city ever comps you a seat again. The drivel you write, not just in this "review" but in most of them, just isn't worth it. There are many other, smart, well spoken writers in Milwaukee with a command of the English language far higher than yours. Clearly, you must feel enjoy being a school yard bully.
James8072 | Oct. 9, 2016 at 10:24 a.m. (report)
We think this review exceeds the brief of the critic. However much you deplored the quality of the play and the performance, you went out of bounds by pointing out personal details of members of the audience, citing the names of benefactors in such a way as you have. This sort of reporting comes perilously close to violating the 'talkback terms and conditions' listed by OnMilwaukee--rules we feel you should follow in writing the very notices we read and respond to. You have written'attack journalism,' Dave, and it is not worthy of you. --Jim Pickering and Tami Workentin
bqvtqqbacuxazecescscqfu
Facebook Comments
Disclaimer: Please note that Facebook comments are posted through Facebook and cannot be approved, edited or declined by OnMilwaukee.com. The opinions expressed in Facebook comments do not necessarily reflect those of OnMilwaukee.com or its staff.