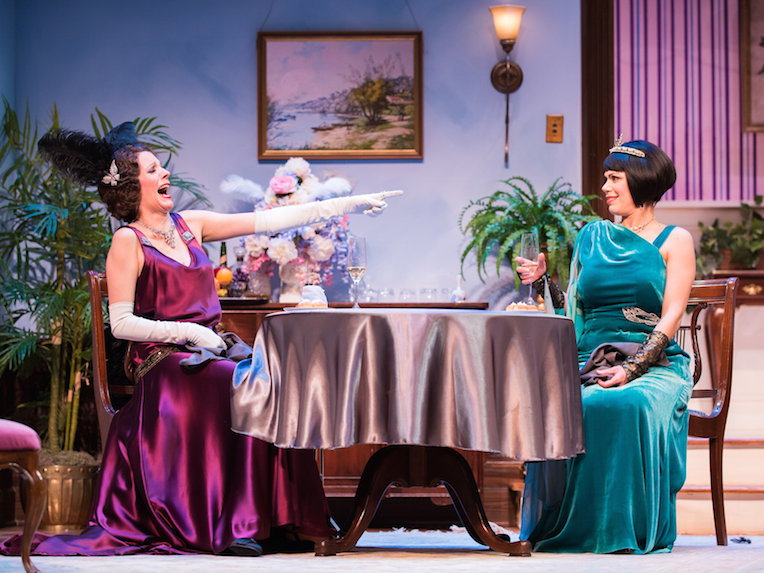 Chamber's "Fallen Angels" is a tour de force of delightful drunkenness
There are so many different ways to make an audience laugh during a theatrical production: sarcasm, slapstick, wild farce, slamming doors, identity switches and poking fun at serious topics.
One of the most difficult is the drunk scene when it's played for laughs.
For a master class on how to put a drunk scene on stage, let me recommend "Fallen Angels," the Noel Coward drawing room comedy that opened Friday night at Milwaukee Chamber Theatre.
In all my years of theater-going, I have never seen a better scene of drunkenness than the one between Kay Allmand and Beth Mulkerron in this production.
Allmand and Mulkerron play Julia and Jane respectively. They are two married women in the early throes of the famed "seven year itch." They love their husbands, though the passion of the early years has vanished. They are both renegades from a pre-marital liaison with a dashing young Frenchman, Maurice Duclos.
While their husbands take flight for a weekend of golf, the two women receive separate notes from Maurice, indicating he is back in town and ready to resume play.
Jane's initial reaction is to flee. She arrives, suitcase in hand, peppering Julia that the only alternative to jumping back into the arms of Maurice is to flee London immediately. Julia, being either the wiser or more romantic of the two, is against flight and tries to convince both Jane and herself that they have the strength – both of character and wedded faith – that will keep them free from the Frenchman.
Coward understood, perhaps better than most, that the English have long had a jealous streak and fear of the French. Englishmen have thought themselves a dusty coal bin to the blazing fire of the Frenchman.
Once the men have left and the ladies decide to stay, they are kept company by the maid, Saunders (a remarkable Molly Rhode), a woman of immense achievement and experience who shares all of her remarkable knowledge as quippy wisecracks with both women. Saunders is prim and proper and as obnoxious as could be.
Once settled at the table, Jane and Julia begin to share martinis, champagne and assorted other bits of alcohol. Their conversation is about themselves, Maurice, the value of fidelity, the lure of the forbidden, the memory of a lustful past and all things that make up a fantasy.
The women alternate between pledging their friendship and loyalty to each other and the rivalry of girls who were seduced by the same dreamboat in different cities and on different occasions.
The frequent appearance of Saunders to serve dinner courses spawns a hilarious spate of non sequiturs, delivered at the pitch and pace of gradually being over served.
Playing a drunk on the stage is a task fraught with difficulty. Many a play and many an actor have stumbled by overdoing the whole thing.
However, the secret to being drunk on stage is to act like a drunk off the stage. The thing that everybody who has ever been drunk tries to do is convince those around him and, indeed himself, that he is not drunk. Your speech is more pronounced. You talk slowly and even loudly. You walk with intense purpose although the alcohol makes you both dizzy and unbalanced.
Allmand and Mulkerron are two actors at the very top of their game in this play. Director C. Michael Wright has helped design a pace that smacks of truth, making the scene all the more funny.
We all may laugh at the drunk who is over the top. But the humor when they seem truly drunk runs deep. This play rides smoothly on the shoulders of Allmand and Mulkerron, and the surrounding cast of Rhode, Rick Pendzich, Chase Stoeger (as the husbands) and Matt Koester (as Maurice) all understand that they are players in a story much larger than they ever expected.
The drawing room comedy is not everybody's cup of tea. But this drawing room, sumptuously designed by Maureen Chavez-Kruger, is filled with a story of love and jealousy, truth and lies, and passions and prejudices.
That's enough of a filling to make for an evening of theater much richer and funnier than most thing playing on stages in Milwaukee now.
"Fallen Angels" runs through May 1, and information on tickets and showtimes is available here.
Production credits: Director, C. Michael Wright; Production Stage Manager, Judy Martel; Scenic Designer, Maureen Chavez-Kruger; Costume designer, Jason Orlenko; Lighting Designer, David Gipson; Sound Designer, Megan Henninger, Properties Master, Melissa Centgraf; Dialect Coach, Raeleen McMillion; Production Manager, Brandy Kline.
vwxyxffarzucdrfxevzsaqbqzf
Facebook Comments
Disclaimer: Please note that Facebook comments are posted through Facebook and cannot be approved, edited or declined by OnMilwaukee.com. The opinions expressed in Facebook comments do not necessarily reflect those of OnMilwaukee.com or its staff.