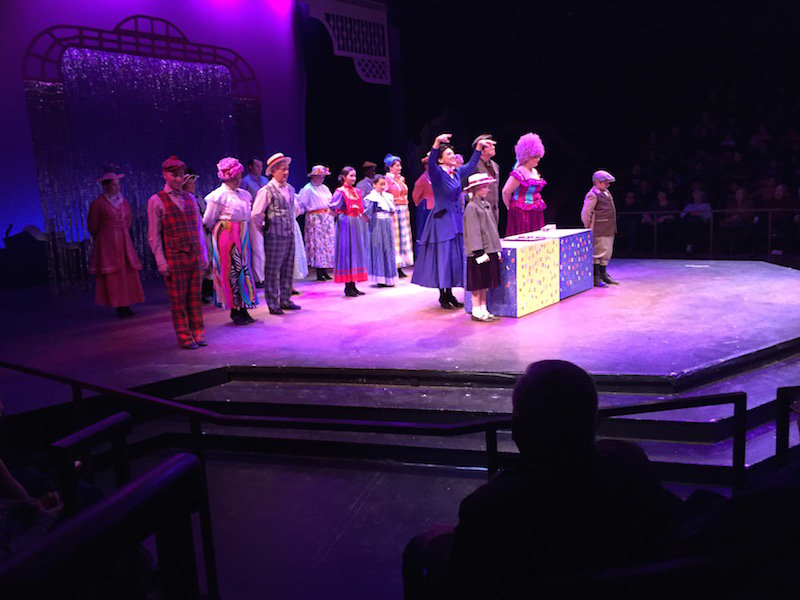 Racine's "Mary Poppins" is a perfect example of great community theater
The continuing wonder of live theater is a treat unmatched by just about any other form of entertainment.
And an almost perfect example of the wonder of live community theater is unfolding with the Racine Theatre Guild's beguiling performance of "Mary Poppins," currently on the boards of the guild's sparkling almost 400-seat theater set in Wusten Memorial Park.
This production says everything you need to know about a well-run and ambitious community theater.
There is a cast of 25 actors, singers and dancers. But there are 156 people who get their names in the program for contributions ranging from playing Mary Poppins (Jamie Johnson) to the people who sewed the costumes and ushered the audience members to the correct seats. You've got everyone from the production stage manager (Frank Russ) to the box office coordinator (Kathy Berg).
The costumes designed by Sharon Molina and Bob Benson are far above what you normally see in a community theater production. And they had to dress 25 people, some in multiple costumes. It's quite an achievement.
Everybody knows the story of the magical English nanny, Mary, who comes to work at the Blank household, a place where the father (Brian J. Schalk) is the boss who partly ignores his wife Winifred (Megan Seager) and almost totally ignores his two children (two adorable sixth graders Christopher Sumislaski and Bella Niederer).
Mary works her magic, and the story takes twists and turns (including three actual flights by Mary, achieved with a great display of stage magic) until there is, of course, a happy ending, and Mary leaves, on her way to find another family in need of her particular style of healing.
Music director Greg Berg and choreographer Kara Ernst-Schalk took this large cast of actors with various singing abilities, ranges and various senses of rhythm, and filled the stage with song and dance. The choreography was demanding, especially in the numbers with every actor in the place on the stage.
This large cast is led by Johnson, as cute as Mary is supposed to be with a magnetic stage personality. She can act, she can dance and she sings with a lovely and lilting voice, especially in her lower register. The fact that the upper register is occasionally difficult only seems to add to her humanity. Mary is supposed to be magical, and Johnson captures that spirit perfectly.
The other lead is Robert Kroes who plays Bert the chimney sweep (think "Chim Chim Cher-ee"). Kroes is also a commanding presence on stage. His voice is full of the kind of quixotic glimpse of the world that Bert has, and he dances with verve and skill with the kind of loose-limbed style we expect.
Many actors in the cast all have special moments, not the lead of whom are the two children who play Michael and Jane Blanks. They are both funny, cute and have real acting skills that deliver some of the funniest lines in the play.
This production is so very charming especially with the entire ensemble on the stage. You can see some people silently counting the time, and others straining to hit the notes they need to hit.
The entire production was directed by Douglas Instenes, who is also the managing and artistic director of the company that was founded in 1938. He's been at the helm for 14 years and runs an impressive array of activities that includes a season of eight main-stage plays and musicals, Racine Children's Theatre, Jean's Jazz Series, Comedy Tonight, theater trips to Chicago and New York City, theatre classes for kids and adults, daytime performances and workshops for schools.
Sunset Playhouse in Milwaukee is often used as the benchmark for community theaters in Wisconsin, and they have an impressive record of both performance and education in a space they own.
But I'd put the Racine Theatre Guild up against them any time, and the RCT's beautiful auditorium space with the thrust stage is a very special advantage.
If you are a theater fan in Milwaukee, this production is a wonderful experience to see with a child or two at your side.
"Mary Poppins" runs through Dec. 20, and information on tickets and showtimes is available here.
fssarbwsfsfbrevtfdxdwvvvxyrtvvvy
Facebook Comments
Disclaimer: Please note that Facebook comments are posted through Facebook and cannot be approved, edited or declined by OnMilwaukee.com. The opinions expressed in Facebook comments do not necessarily reflect those of OnMilwaukee.com or its staff.