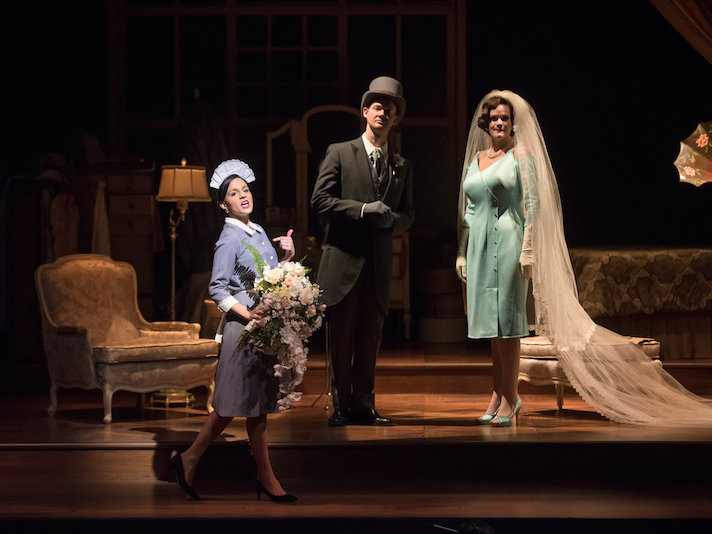 Sex a lure for "Powder Her Face" but it's really a tale of just looking for love
First of all, we see the hotel electrician and the maid having sex!
Then, on his wedding night, the Duke takes his turn with the maid.
Then the Duchess calls room service and says she wants"wine, meat, more wine and anything you have."
The "anything" is sex on the floor, sex on the bed and, finally, oral sex behind a flimsy curtain we can almost see through!
Then the good Duke hooks up with a tart who strips to her black underwear, hands the Duke a riding crop and off they go.
Got your attention yet?
I hope so because all that sex stuff is what the Skylight Music Theatre offered up Friday night at the opening of "Powder Her Face," the chamber opera by Thomas Adés with a libretto by Philip Hensher.
To say that this production is unique for a Milwaukee audience is like saying Donald Trump is just an average rich white guy.
This moving, romantic and brave production is something everyone in Milwaukee should rush to see. It doesn't promise to be the most comfortable evening you've ever had in the theater, but it may well be one of the most interesting.
The story is about Margaret, Duchess of Argyll, a woman who captivated much of the world as a startlingly beautiful London debutante through her several marriages and her float through the highest circles of society.
In 1951, she married the Duke of Argyll; it lasted until 1963 when he filed for divorce. And what a divorce hearing it was before Lord Justice Wheatley. It was the sexual scandal of the '60s and maybe a few decades after that.
The trial revealed a woman of insatiable sexual promiscuity, having bedded at least 88 men during her marriage to the duke. There were photos and diaries and descriptions of all kinds of sexual practice. The Duke, who was certainly as unfaithful as she, remained the aggrieved husband, while she was cast out as the offender.
The opera begins in 1990 in a hotel apartment where she has been living. We then see the drama of her life in a series of flashbacks and finish in the same apartment where she is being evicted for failing to pay her bills.
As much as sexual activity is a part of this production – and as useful as it is as a marketing tool (or the opening of this review for that matter) – this is not a story about sex. It is a story of a woman not on the prowl for sex or drama or wealth or fame, but a woman searching for love, or something that resembles a comfort that can fix the sorrow of loneliness.
As I listened to the glorious and powerful libretto, I found my mind wandering to the famous Johnny Lee hit from the movie "Urban Cowboy."
"I was lookin' for love in all the wrong places
Lookin' for love in too many faces
Searchin' their eyes, lookin' for traces
Of what I'm dreamin' of."
That was the Duchess of Argyll. The wrong places. Too many faces. Searching empty eyes to fill an empty heart.
This production, brilliantly staged by Robin Guarino and conducted by artistic director Viswa Subbaraman, tell the story of a woman who continually spent her capital on bargain basement goods only to find that, in the end, she was done in by her desire.
Guarino and Subbaraman resist the startling temptation to exploit the sexual activity. If it is possible to say that onstage sexual activity is modest, this is it. The two of them, instead, focused on the life of longing.
Adés music is absolutely fascinating beginning with a sultry tango that immediately sets the tone for a story with heat. At times, the score sounds like a Cole Porter tune, at others like a Disney film score and at others like an elementary school band at their first ever concert.
Meanwhile, a quartet of gifted singers and actors give soaring voice to the music. This is a difficult score to perform for an orchestra and for the singers.
The cast is led by the marvelous soprano Cassandra Black, who performs an almost magical feat of moving from a sultry siren who absolutely oozes sexuality to a woman on the edge of life, alone and adrift.
Tenor Benjamin Robinson, bass-baritone Joseph Beutel and coloratura Kaleigh Rae Gamaché, fill in various roles all of them well sung and, perhaps even more importantly, beautifully acted.
I'm no opera expert, but I do know that growing American opera is a big part of our cultural journey. It's a big part of our civilization, to find homegrown stories told with great music and lyrics, and "Powder Her Face" is a prime example of another step down the road.
In the world of theater, there are things that you want to do for a joyous and intelligent evening out. Then there are the things you should do.
"Powder Her Face" is that rare treat: both.
"Powder her Face" runs through Feb. 14 and information on tickets and showtimes is available here.
Production Credits: Director Robin Guarino' Conductor, Viswa Subbaraman; Scenic Designer, Liliana Duque Pinero; Costume Designer, Cesar Galindo; Lighting Designer, Carrie Cavins; Assistant Music Director, Anne Van Duesen; Assistant Costume Designer, Jason Orlenko; Stage Manager, Debs Ramser.
wyftdqssatscfaxtcverde
Facebook Comments
Disclaimer: Please note that Facebook comments are posted through Facebook and cannot be approved, edited or declined by OnMilwaukee.com. The opinions expressed in Facebook comments do not necessarily reflect those of OnMilwaukee.com or its staff.