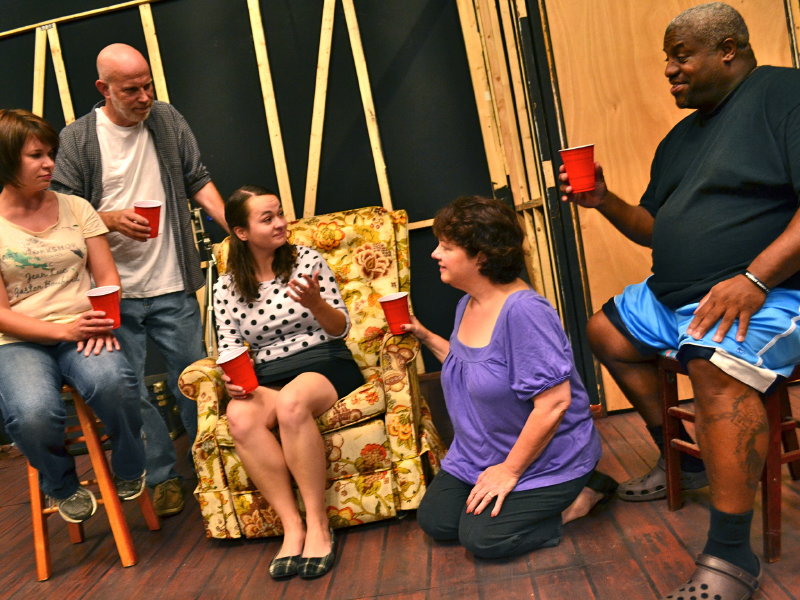 Soulstice Theatre's "Rocket Man" fizzles
Live theater is not a function of budgets, despite the complaints you hear all the time from the people who create live theater.
Cotter Smith, one of the best actors Milwaukee has ever seen, got invited to do a play several years ago. The play was "Next Fall" and all they could offer Smith was a couple hundred dollars and a sleeping spot on a couch.
He took the job and in a short time the magic of that play took it to Broadway and a Tony nomination. It wasn't about budget. It was about the play, the actors and the creative staff.
So it isn't a small budget that makes the Soulstice Theatre production of "Rocket Man" by Steven Dietz so unsatisfying.
There are several problems with this show, but standing head and shoulders above all of them is the play itself.
The story concerns Donny, a man in his early 40s, who has had enough of his life going around surveying land and has decided to give everything away by putting it out on his front lawn. He's divorced. He has a 16-year-old daughter he doesn't understand. He's got a buddy who is a bumbling numbskull and friend and co-worker who he may or may not be in love with.
Plays about a man's journey from something old to something new are full of dramatic potential and important discussions. But, this play is neither dramatic nor important.
In short, it is hard to understand or be engaged with this play.
In order for this play to work on any level, we have to care about what happened to Donny in his past and what may happen to him in whatever future awaits him. Dietz never commits to Donny or his life, instead saddling him with an anger that seems to have sprung from some secret we will never know about.
Dietz is something of a minor-league phenom, having written more than 30 plays performed in regional theaters around the country. He's kind of like a pitcher who never quite makes it to the majors.
Nobody doubts that Dietz can write a good play, but sometimes theater companies decide to ignore the great works of a playwright and instead choose to mount some obscure work by the playwright. It's kind of like ignoring "Macbeth," "Hamlet" and "King Lear" and deciding to do "King John" or "Titus Andronicus" just to prove you can be different.
The second act of this play is so confusing that audience members spent a lot of time whispering to people next to them, wondering if anybody "got" what was going on. Dietz created an alternate reality for the same characters. We didn't care about them in the first act and in the second we didn't care about or understand them.
This play is built on people talking to and at each other. Rather than show us they are lonely, they tell us over and over they are lonely. We are tempted to say, "We know already. We know."
It was not just the play, however, that did not live up to its billing.
Too many times actors were unsure of their lines. There was the distraction of a drummer practicing upstairs from the theater. The sound effect that was supposed to be rain sounded instead like water rushing through a pipe after a toilet had been flushed.
A critical element of any play is to find a pace that moves the play along. For some reason, director Alan Piotrowicz thought it would be a good idea to fill the dialogue with long pauses for no apparent reason. Every director worth his or her salt continually stresses the need to keep the dialogue moving, but that was not the case here.
A simple moment early in the play showed just how they were trying to fool us.
Donny sold a saw to his friend Buck for $12. Buck pulled out his wallet and gave Donny one bill. Everyone knows that it's going to be at least three bills to come up with $12. It's details that make or break a production. Details.
In his notes in the program, Piotrowicz unknowingly provides some advice that sums up this night at the theater.
"We make choices," he wrote, "and we make mistakes and we must live with those consequences ..."
fzffwqwabsadvzerfufuawxrxbrtdyqfb
Facebook Comments
Disclaimer: Please note that Facebook comments are posted through Facebook and cannot be approved, edited or declined by OnMilwaukee.com. The opinions expressed in Facebook comments do not necessarily reflect those of OnMilwaukee.com or its staff.